A Weekend Trip To Jinan City
Time: 2019-07-08
My son's final exam of the term finally finished last week after a long time stressful preparation for it. On Friday he asked where we should go on the following weekends. Yes we've got only Saturday and Sunday only since from this Monday he is going to start his Summer time study. We needed to go out of Beijing city, to be away from where our regular life is, so that we could feel we are having a vacation.
So we started to check the high speed train routes around Beijing. There is this 2-hour high speed train circle which covers cities of Hebei Province, Henan Province, Shandong Province. Shandong was new for us. Qufu and Tai'an looked like a great two-day trip. But train tickets were all sold out on Saturday morning! Then we still have this Jinan option. There were only a few tickets left and we bought them immediately through the train ticket app on mobile phone. The tickets back to Beijing on Sunday afternoon were only a few left as well. Obviously a weekend trip to this direction is quite popular for Beijingers.
What did we know about Jinan? It is the capital city of Shandong Province, known as the Spring City since there are many springs (72 famous ones) in the city. Other than that, we had no clue what Jinan was like. I concluded it is not a small city since the train from Beijing to Jinan can stop at 3 train stations: Jinan West, Jinan, and Jinan East. We booked the train to Jinan West which has the most train stops. The train ride took 2 hours and it took us about 30 minutes by taxi to the Shimao International Plaza where we stayed. The plaza is right in the city center, with a lot of shopping malls, restaurants, small shops etc. Let's start the tour from here.
Shimao International Plaza(世茂广场)– Many clothes shops and restaurants inside. There are even more people coming here at night.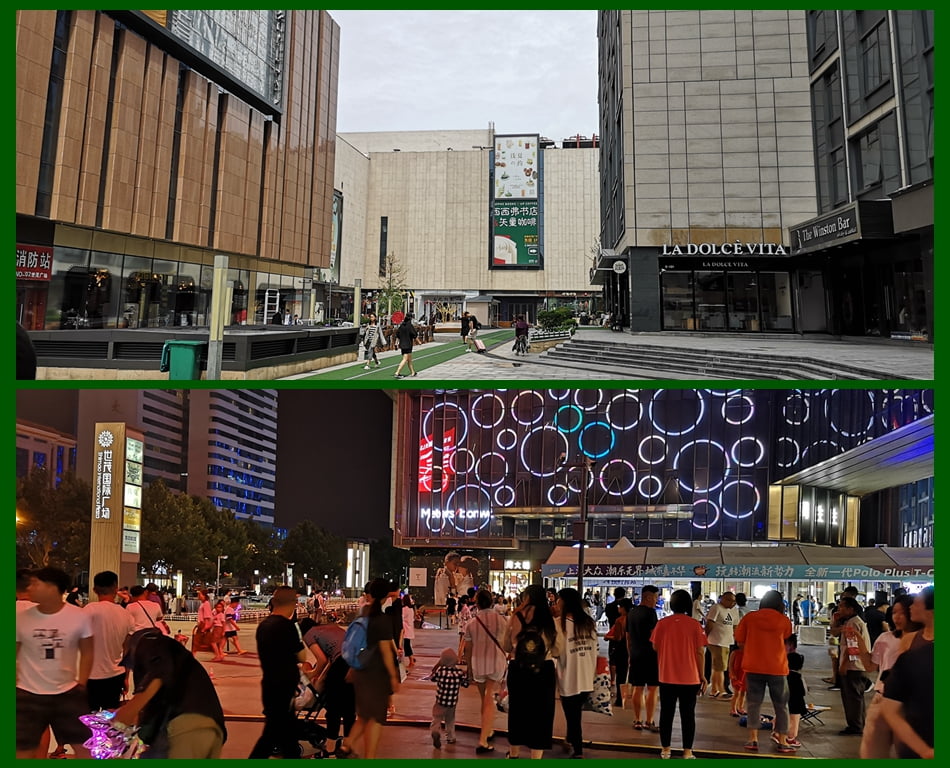 Kuanhouli(宽厚里) – Right next to the Shimao International Plaza, a big area with shops, restaurants, cafes, teahouses and bars in the traditional settings and buildings. The contrast between the historical environment and the modern commodities and fashionable people is interesting and yet also harmonious. It is a heaven for my son, who is a big eater. We walked around a lot to decide what to eat. There are famous local Jinan foods and popular foods from the rest of China or even the world.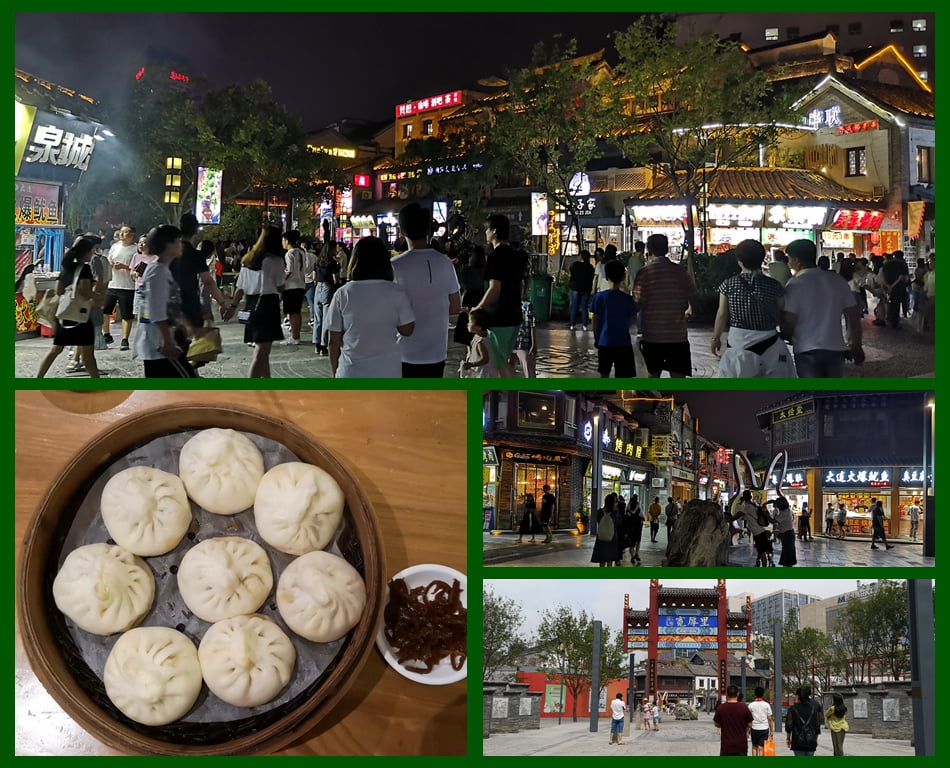 Qianfo Mountain(千佛山)- It is named after the thousands of Buddhist statues in the mountain. It was a pity that the Buddha Cave was closed due to renovation when we were there. However, we enjoyed the mountain a lot. We took the cable car to the mountain top where we had a full view of Jinan City. Then we walked down amid the green trees and breezes.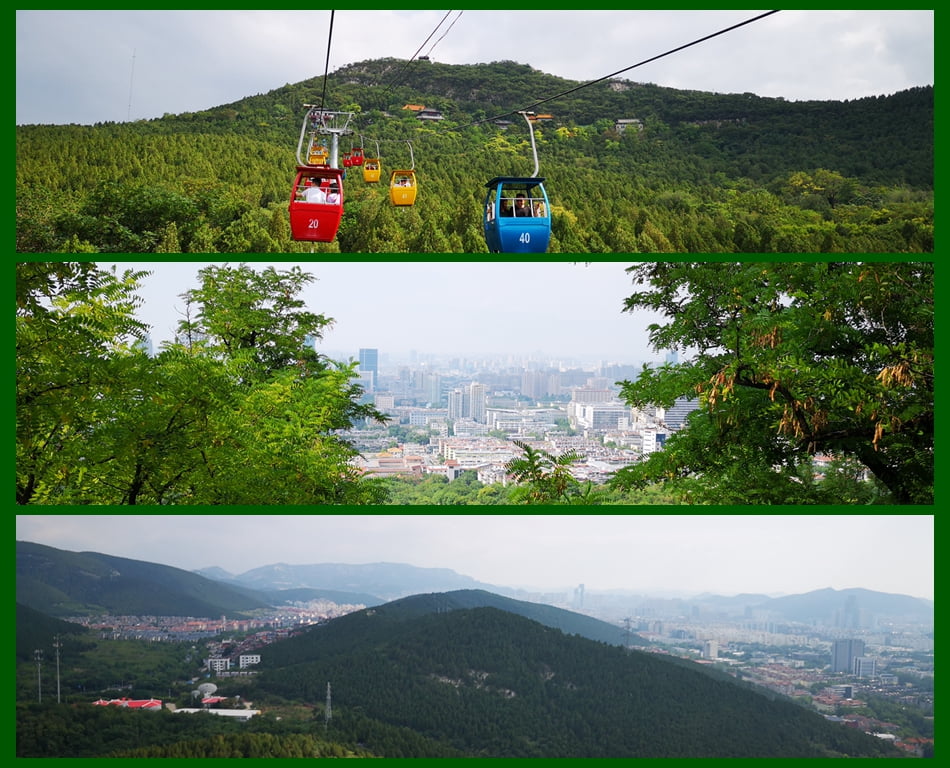 Baotu Spring Park(趵突泉公园) – Baotu Spring is called The First Spring Under Heaven, the name given by Qianlong Emperor(1711-1799) when he visited Jinan for its nice taste. Besides it, there are over 30 springs in the lush green park and there are Memorial Halls of the artist Li Kuchan and the great Song Dynasty poetess Li Qingzhao. We took some nice photos here.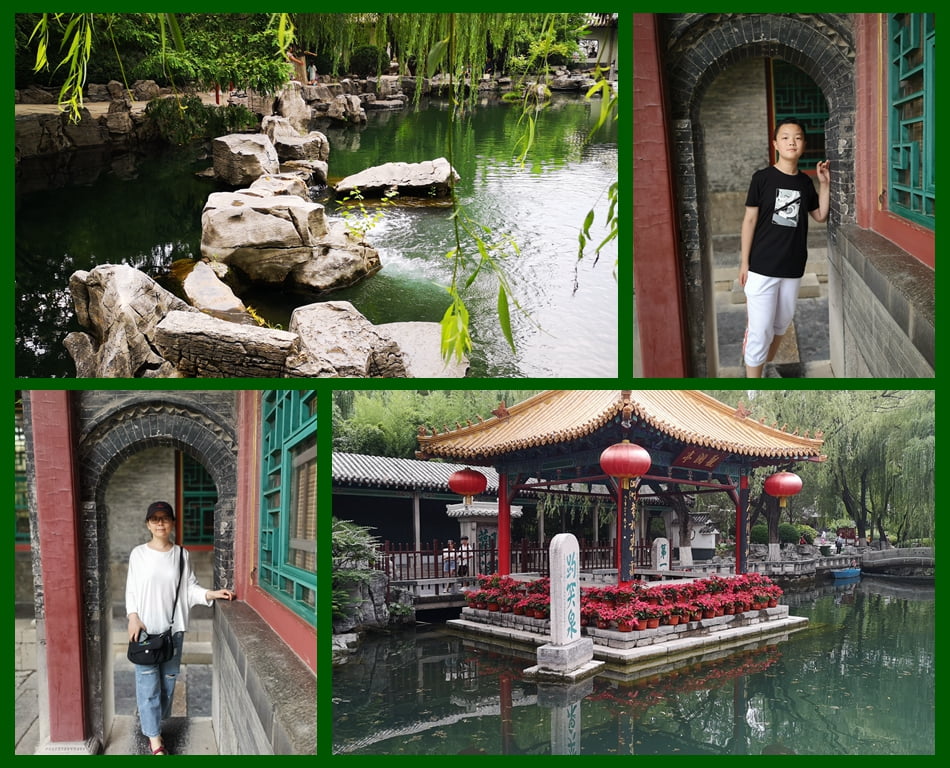 Parc 66 (恒隆广场) – It is a huge mall where you can spend several hours. We had our dinner here on Saturday. Many choices for food and we chose a Jinan cuisine restaurant.
Daming Lake(大明湖) – Awarded as the First Spring Lake In The World by CHINA WORLD RECORDS ASSOCIATION, reputed as the Pearl of The Spring City. It is not only big, but also has beautiful, well designed sightseeing. We took a boat cruise on the lake and also had an enjoyable walk around the lake.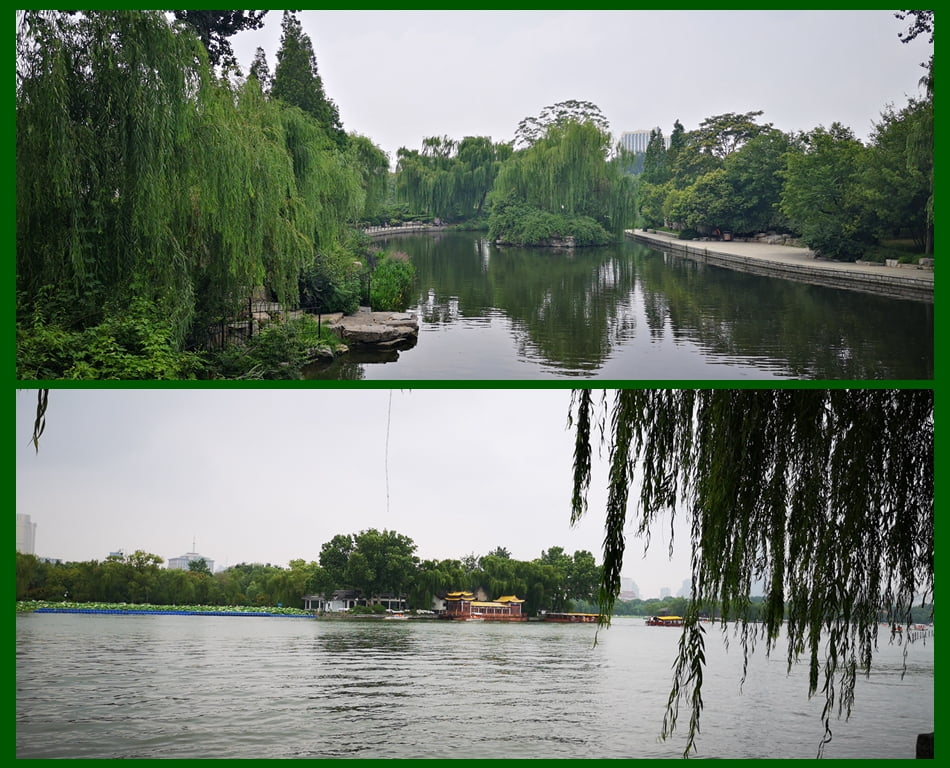 Qushuiting Street(曲水亭街)- It is a historical area where old houses and some of the traditional local cultures are preserved. There are vendors selling handcrafted little things and of course a lot of things to eat and drink too.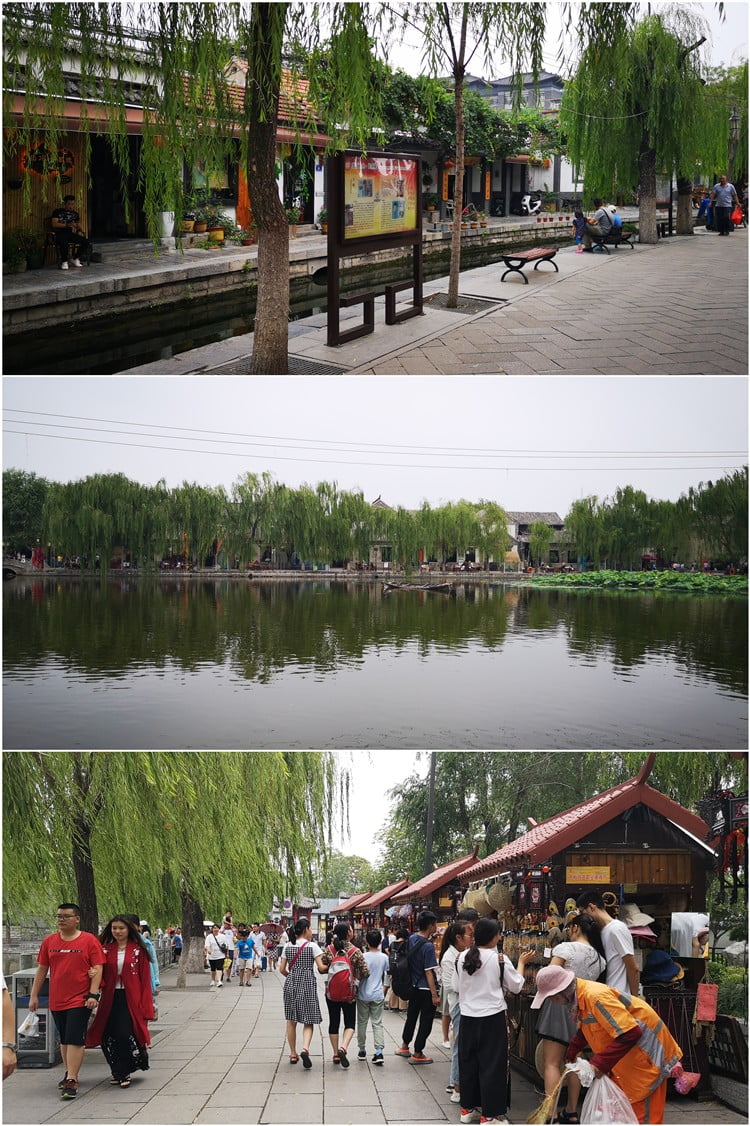 Around-city Park(环城公园) – It is built along the moat in the old city center of Jinan, altogether 6km, like a green necklace, connecting the major spots like Heilong Spring, Baotu Spring, Zhenzhu Spring, Wulong Pool, and Daming Lake. When we walked there, we felt glad for Jinan People to have such a wonderful environment. Some people come to the springs to get the spring water in their big bottles. There are spring water fountains provided for pedestrians to drink for free on the streets as well.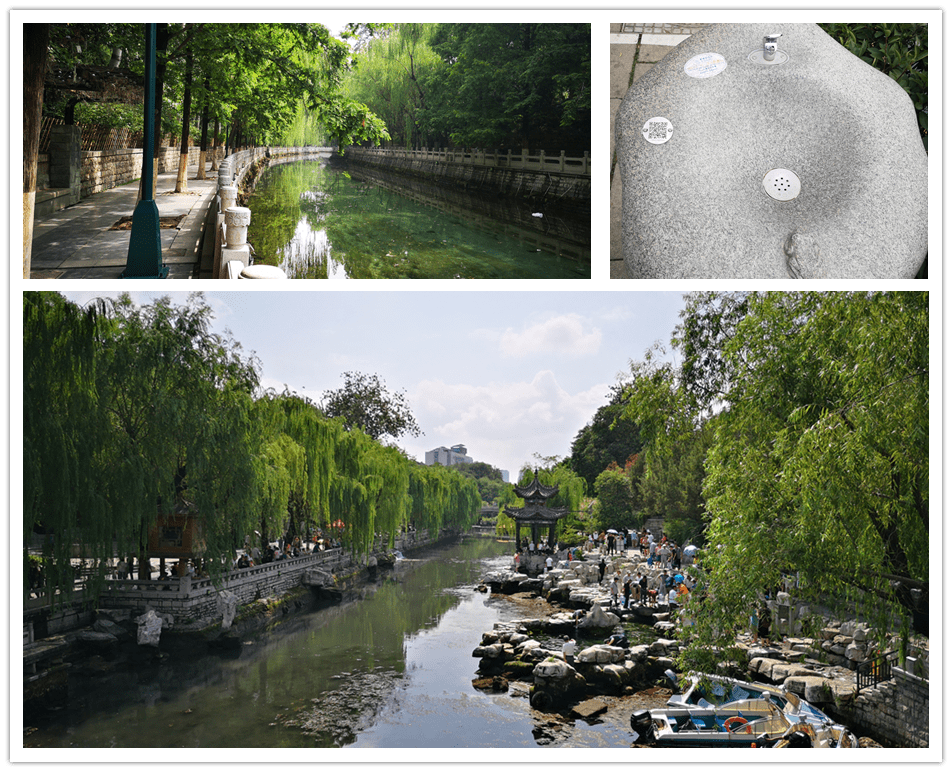 Furong Street(芙蓉街)- Warning: Very crowded here. A local people told us it is even more crowded at night. He said on a regular weekend there are 200000 visitors a day and there are 300000 visitors during the golden week. Most shops sell popular snacks from all over China. If you are not a fan of crowd, better avoid here. If you like people watching, then it is a great place for you!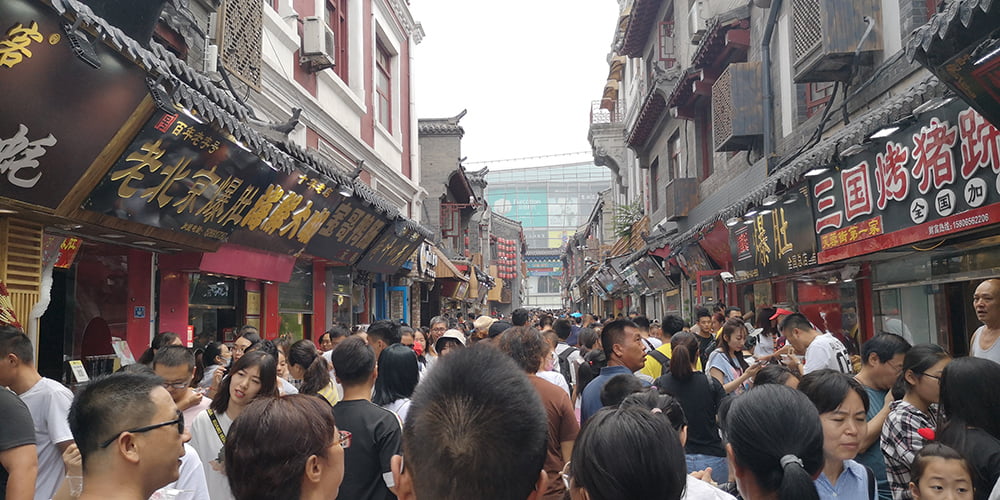 Good thing is when we walked out of Furong Street, we saw Parc 66 right in front of us and had our second dinner there. Very delicious Thai food this time.
The drive to Jinan West took us about 60 minutes and we almost missed our train! The traffic can be very slow on weekends so please always prepare more time for it.
Some pictures of the train: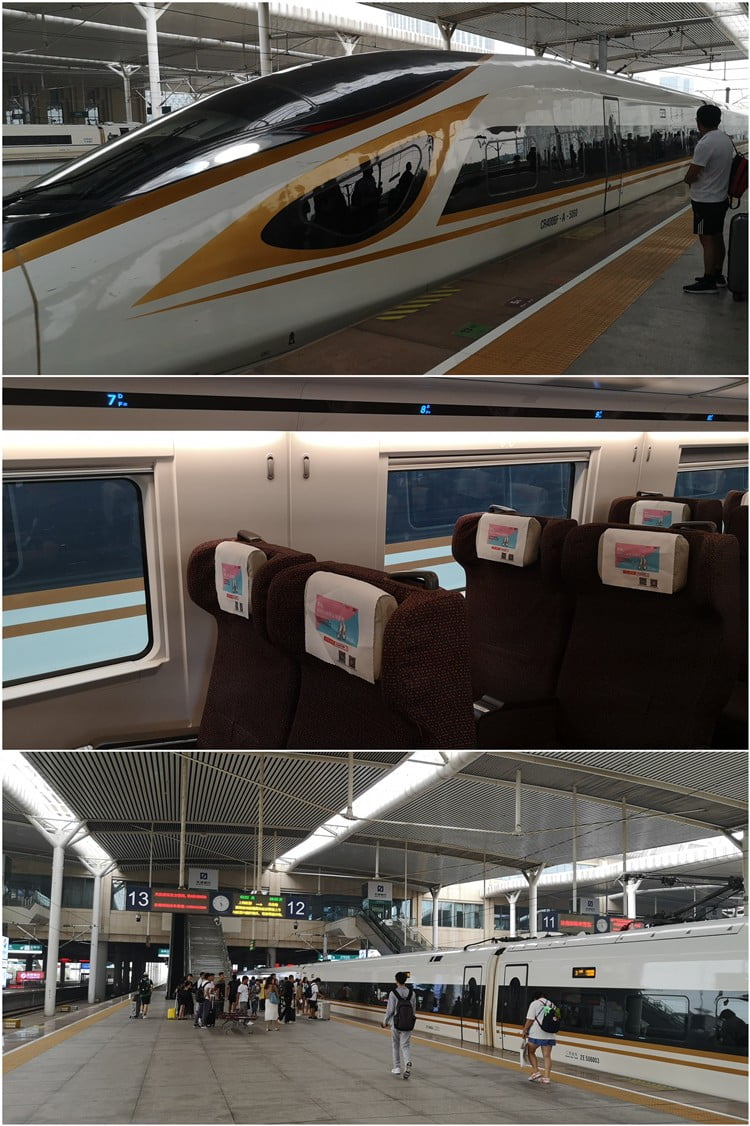 The whole trip was enjoyable and convenient. The first impression of Jinan is very good: a prosperous, green, well organized city with springs and mountains! And I really liked it that from one spot to another spot, it usually took us less than 30 minutes by foot or by bike.
By Angie Guo - Charmisson Travel