Our Holiday In Dalian & Yantai
Time: 2019-08-18
This summer my colleague Nelly and I (Penney), together with our family, had an excited and relaxed holiday in coastal cities: Dalian and Yantai during Aug 10 to Aug 17 2019.
Our first station is Dalian: a coastal city located in Liaodong Peninsular. Unfortunately the weather was not gelievable—raining all day, and many places in coastal area were closed; but even the rain cannot stop our enthusiasm for exploring this city.
Day 1: Lianhuashan Mt & Xinghai Square in Dalian:
Lianhuashan Mt, with sea level of 259.6m, is the highest place in Dalian. It's the best place to overlook the city: the vast seaview, the famous cross-sea bridge: Xinghai Bay Bridge and Asia's largest square: Xinghai Square, etc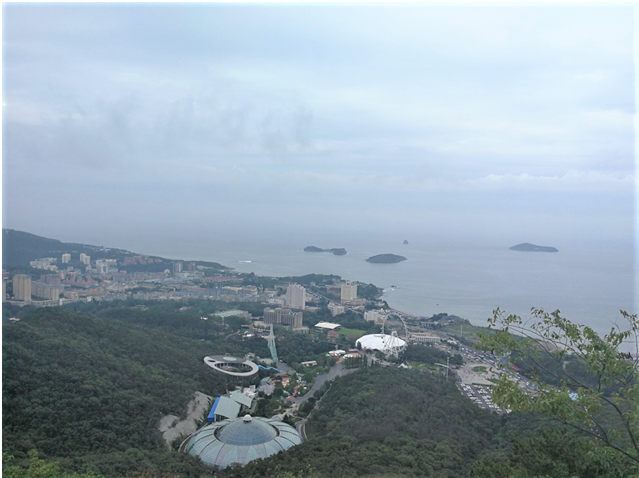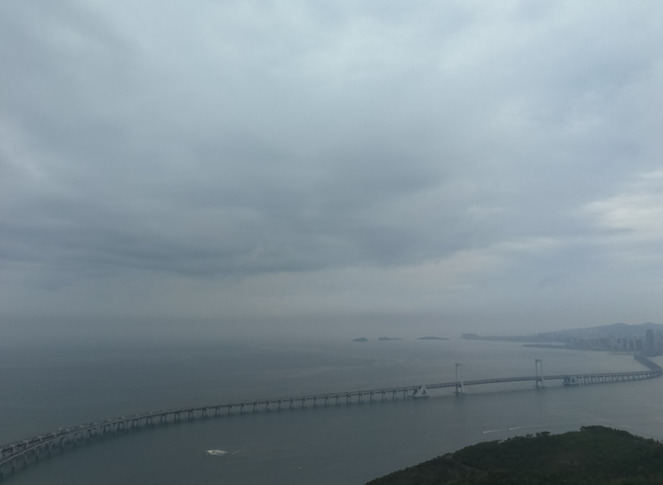 Xinghai Square is the largest square in Asia, about 4 size of Tian'anmen Square. It is built to memorize the returning of Hongkong. Here you can have a close look of the amazing Xinghai Bay Bridge, and you can also closely feed the sea gull. It's a famous landmark in Dalian now that you cannot miss each time you come.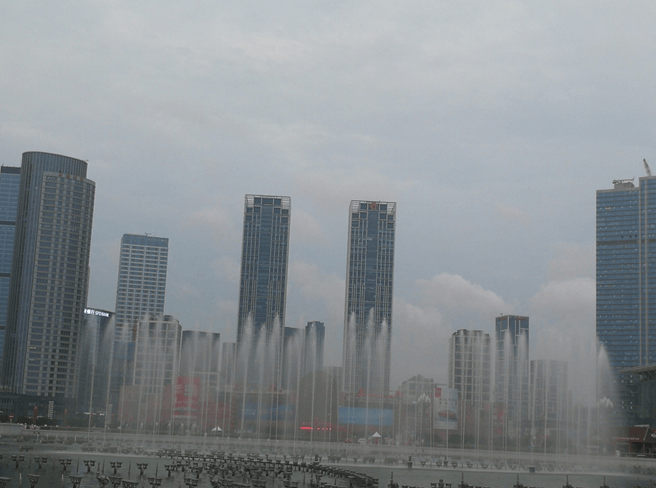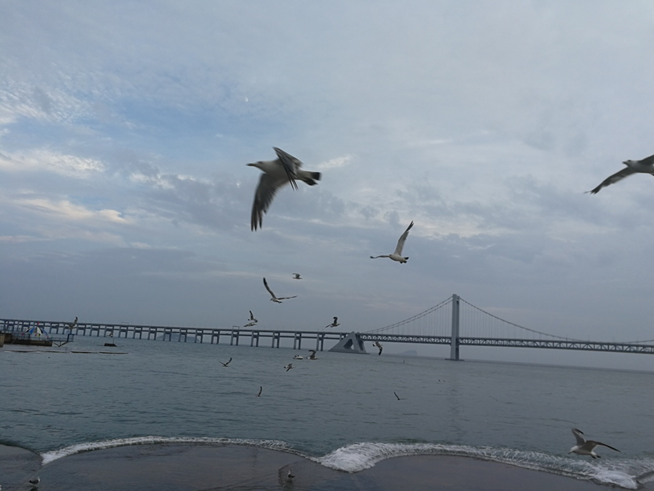 D2: Lvshun:
It's an unforgettable day for me today. I expected Lvshun most, because of its history and military power. However, after one hour driving to Lvshun, we found all scenic spots were closed because of weather. It's a pity we cannot visit lvshun Museum, submarine museum, etc as scheduled. Here are some pictures of Lvshun in rain, and I will definitely come back in future to see the sunny Lvshun.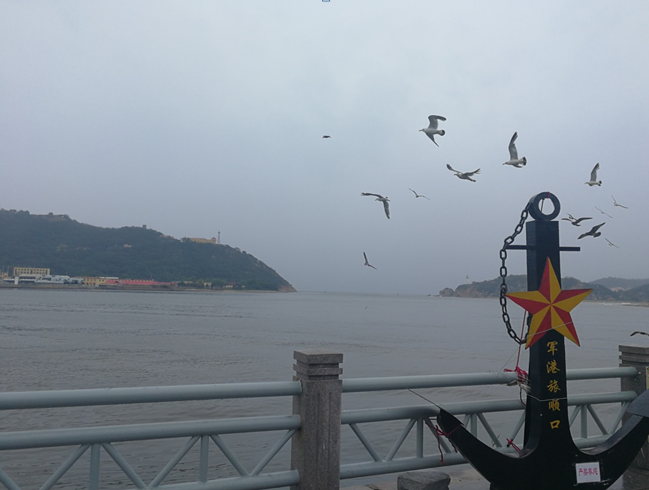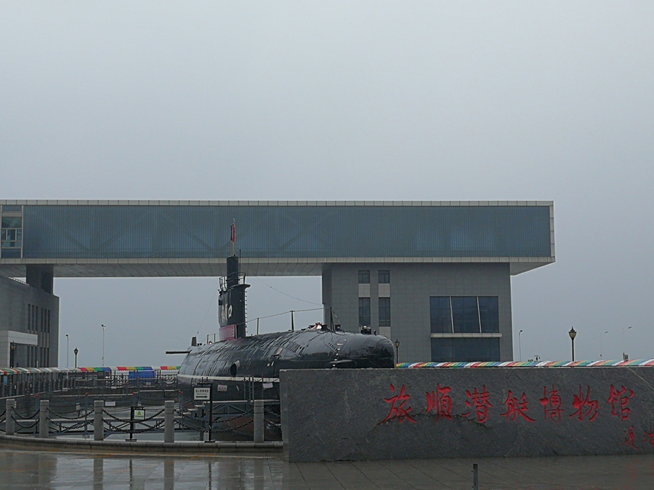 Day 3: Dalian Laohutan Ocean Park+Venice Street
Ocean Park is a must-go place for family trip especially with kids. In the morning, we heard that there were still many scenic spots not open. Luckily at 10:00am, Ocean Park opened to public with only small part (seaside area) not open. Kids really enjoyed themselves here.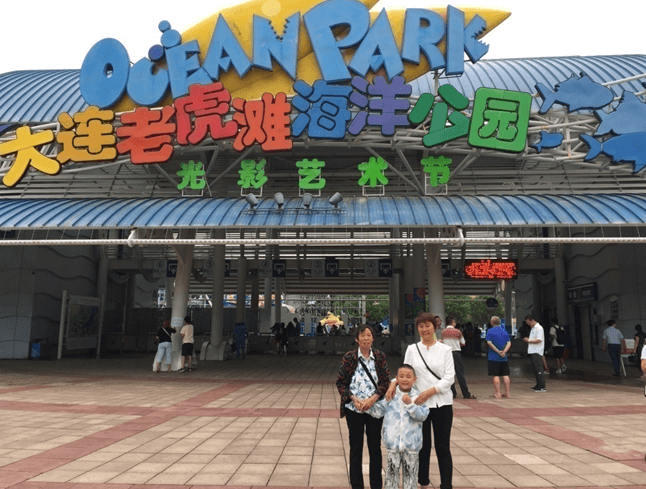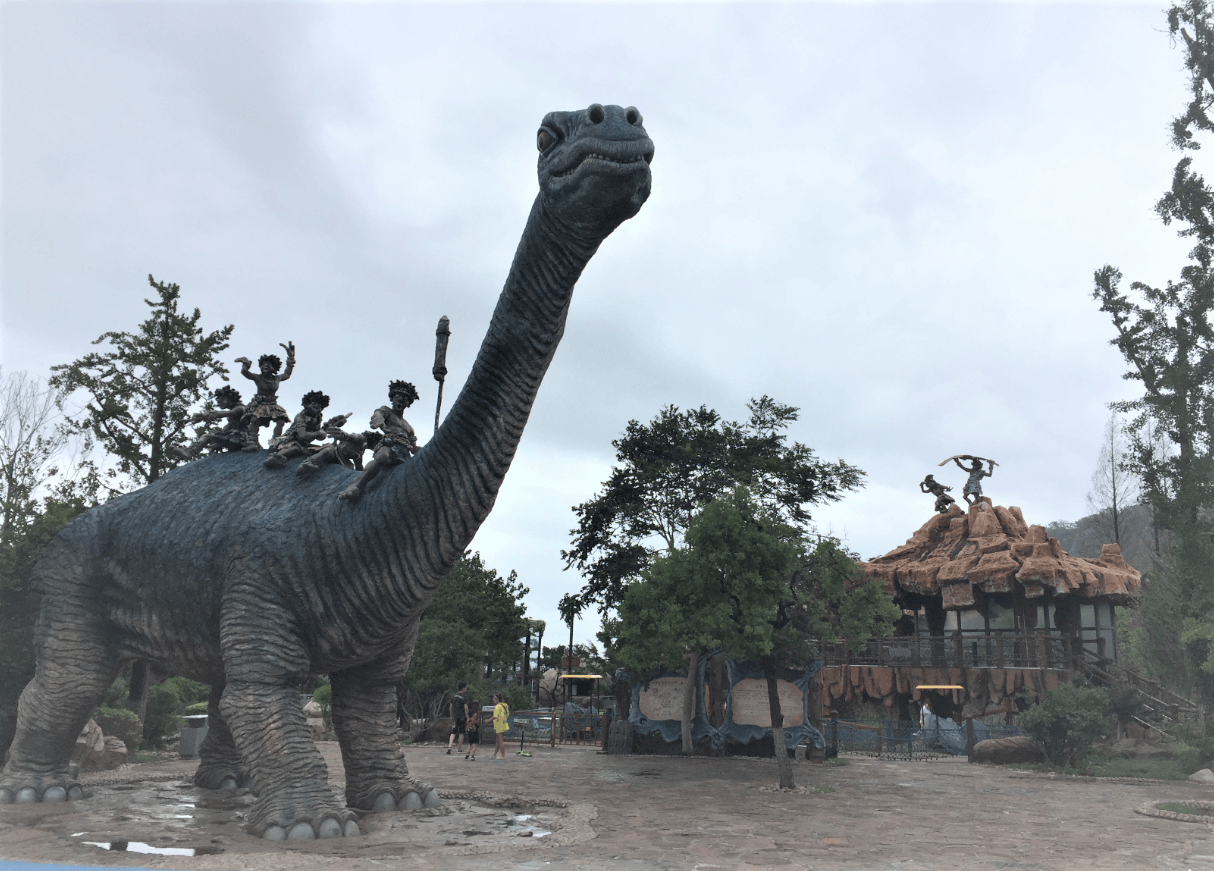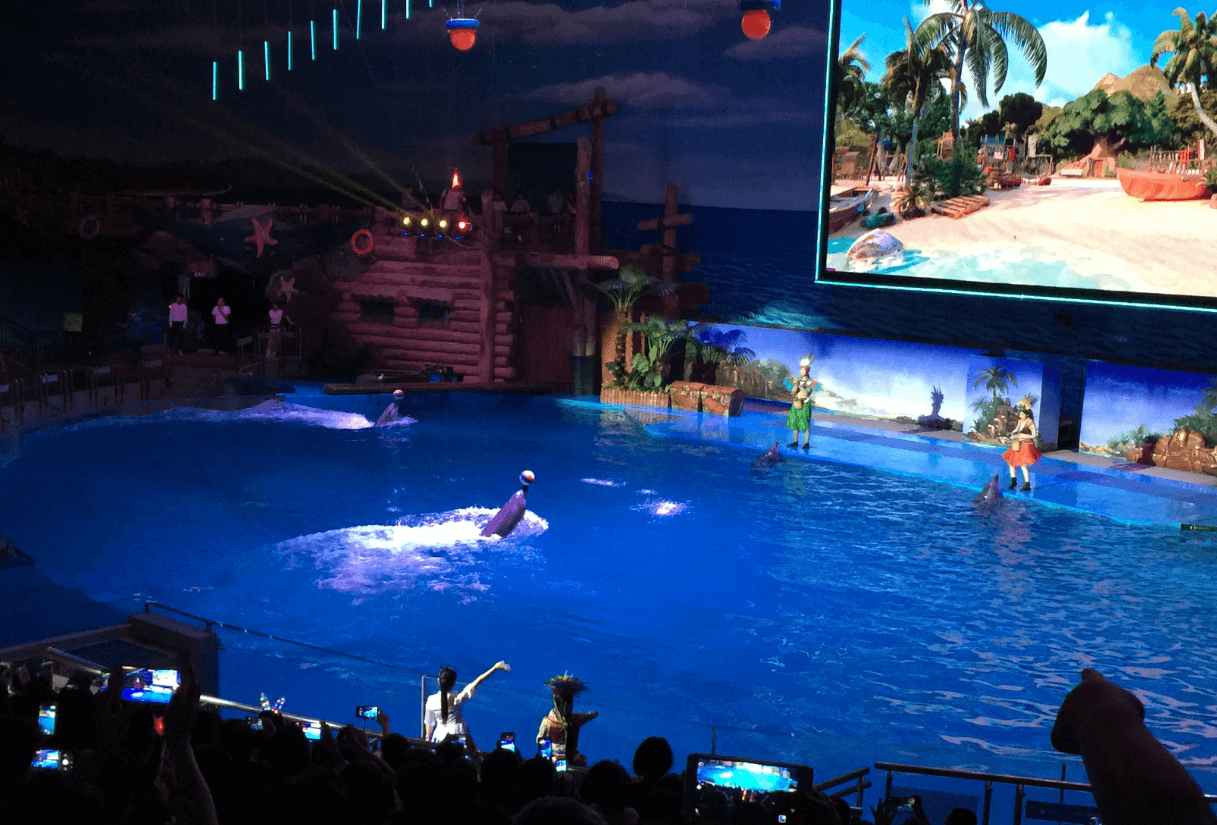 After visiting the Ocean Park, we still had some time free. Our driver suggested us to visit the Venice Street, which is free to Public and tourists can visit it at any time. Venice Street is located in new district of Dalian, and it is European style buildings with water-street along them: a copy version of Venice. It's really relaxed to walk here.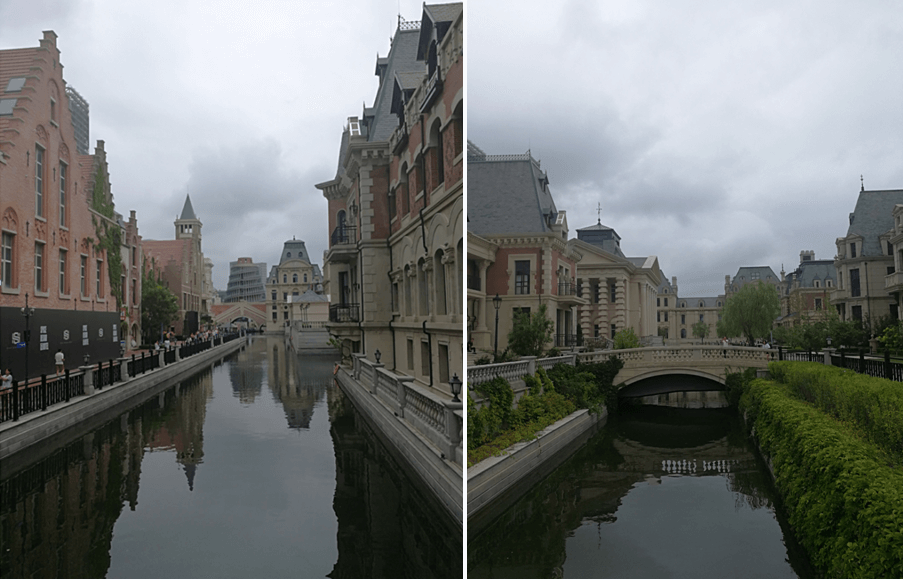 Day 4: Dalian-Yantai
In early morning around 5:30am, our ferry ticket office informed typhoon would come, so ferry was cancelled this day. Luckily ticket office called me at 09:00 that we can take another ferry to Yantai. The scenery on deck is quite impressive.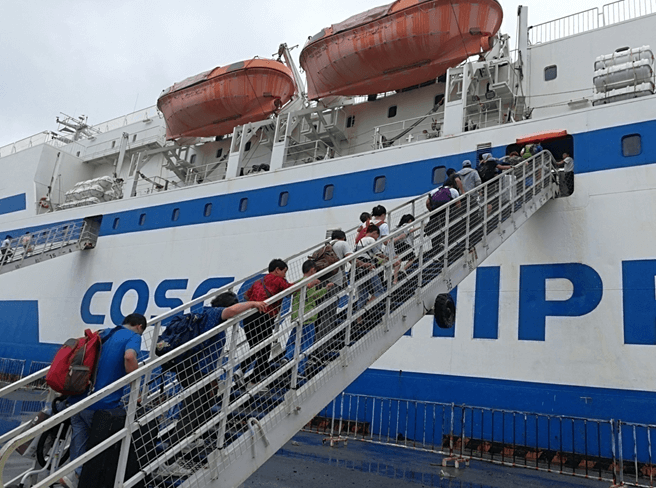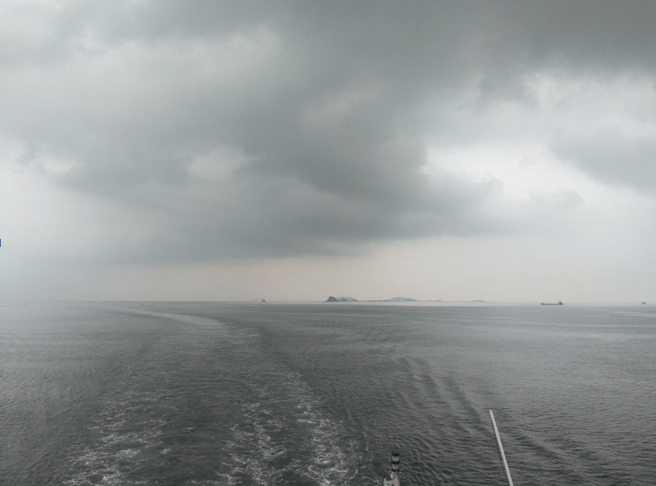 After 6h on ferry, we arrived at Yantai, our 2nddestination. Yantai is located in Shandong Peninsular and is an important port city in Bohai Economic Zone. As we arrived in late afternoon, we had some simple dinner near the hotel and rest directly for tommorrow's sightseeing.
Day 5: Daytour in Yantai: Yangma Island, East turret and the Moon Bay
Yangma Island is quite popular in recent years because of many related videos on Tik-Tok app. After passing a large bridge, we arrived at the island. The roads on the island are one-way roads for traffic convenience. Our driver drove us along the island and stopped at three famous spots. We stayed around 3h on the island, and it's really relaxed and wonderful to stay here.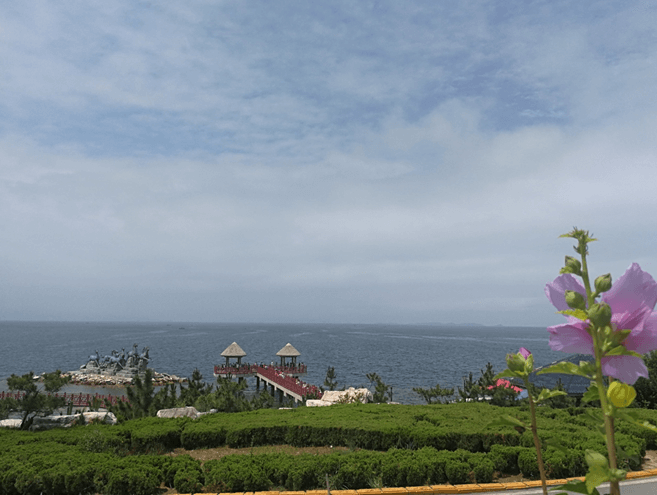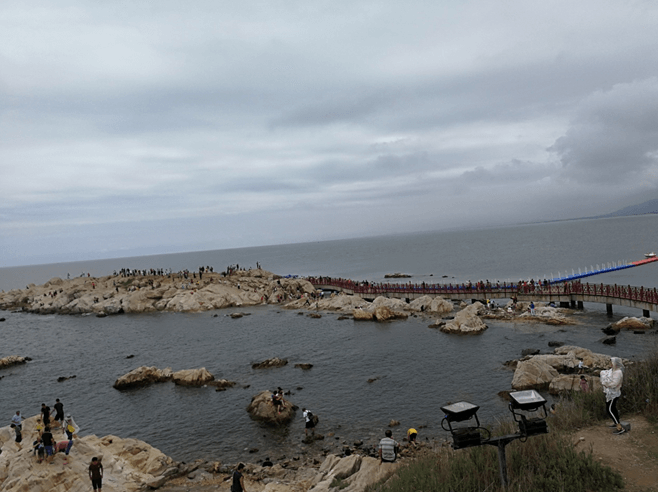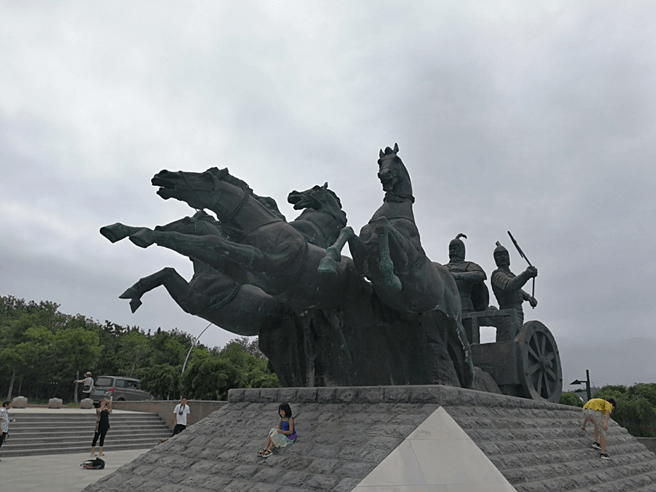 At around 12:00 we drove back to Yantai city and had a simple lunch near Yantai University. Then we came to East turret and Moon Bay.
Yantai East Turret was built at the end of Qing Dynasty, and was equipped with a German Krupp Cannon, the most advanced cannon in the world. It was one of well-reserved coastal defense facilities in north China.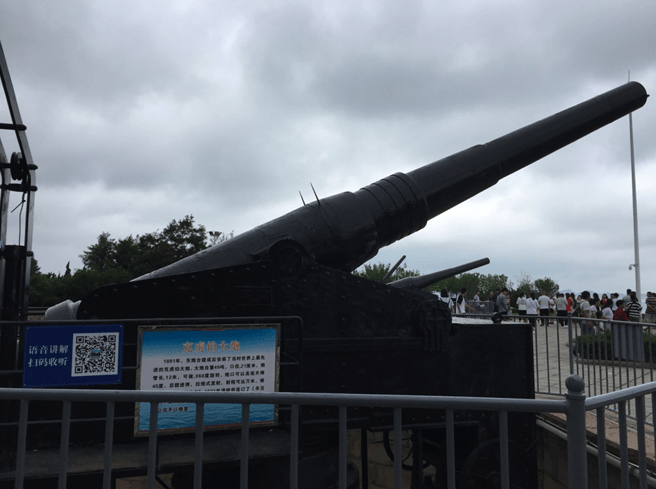 The Moon Bay got the name because it looks like a crescent moon. A moon elder statue stands here, witnessed love of a lot of couples. Next to the bay is a beach, where many people were collecting shells, etc. It's a pity we didn't take pictures here as we're busy picking stones and shells.
Later at around 15:00 we went back to hotel. After a short rest, we came to Binhai Square, which is about 5 minutes walking to our hotel. Binhai Square is near Yantai Mt, Yantai Art Museum, Zhangyu Wine Culture Museum and Polaris Horologe Culture Museum. Many citizens spent their leisure time here.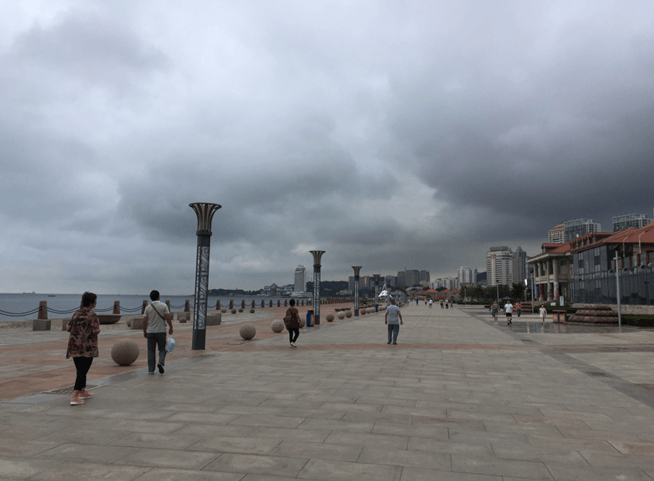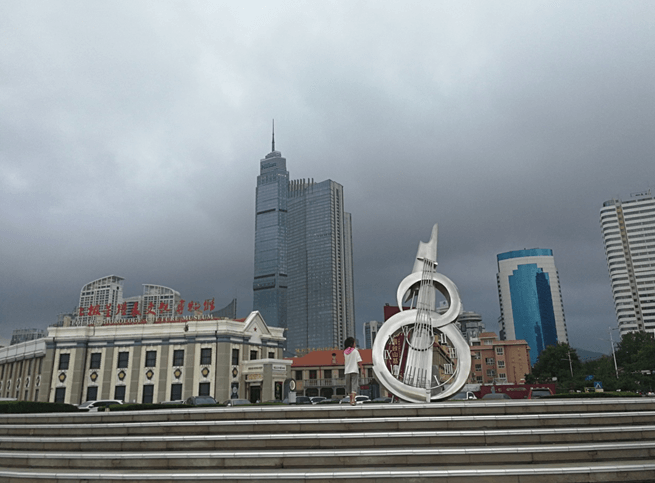 Day 6: Yantai-Changdao Island
At 08:00am, our driver picked up us from hotel and drove 90 minutes to Penglai Port for the ferry to Changdao Island. Changdao Island was closed several days before because of typhoon and was just re-opened. We waited in a long queue and bought the ticket at around 11:00am. After 40minutes on the ferry, we arrived at Changdao Island.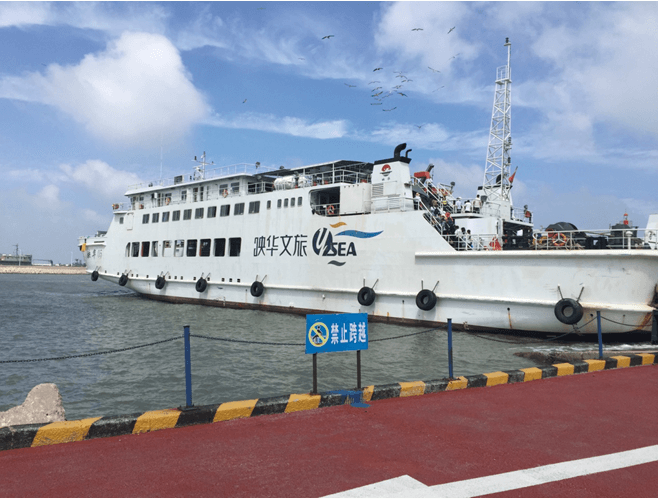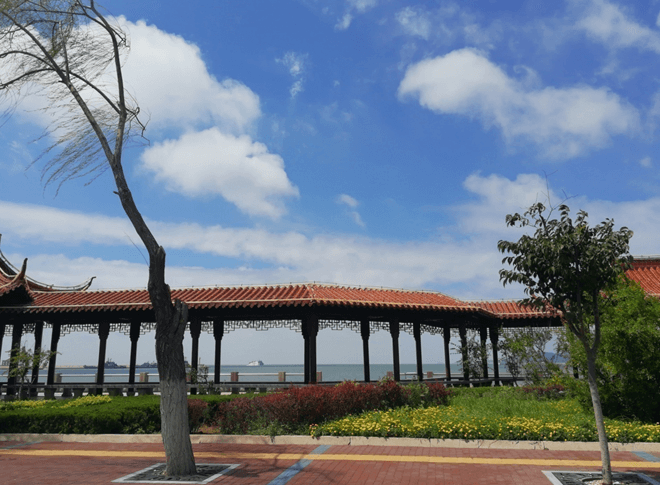 We met our driver and he took us to our hotel, a local homestay. The homestay owner was very kind and warm-hearted. She already prepared a big lunch for us: different kind of shells, fish, shrimp, crab, etc. Well, the local people are quite rich of all kinds of seafood.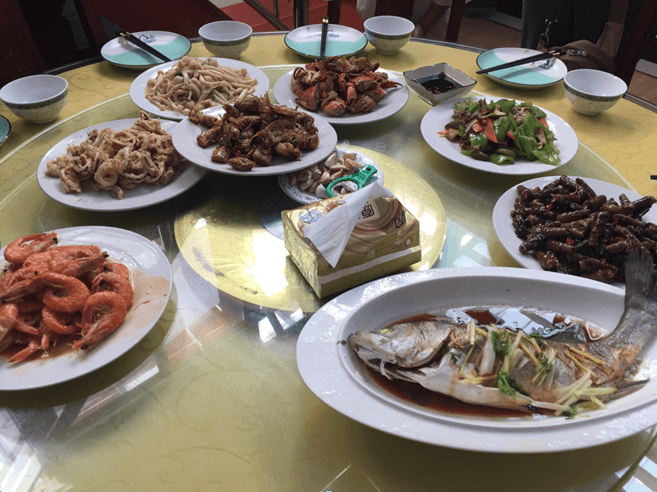 After lunch, we had some rest, and at 14:00pm, we started our trip in the island. There ar two tourism lines (South line and north line). We visited the main spots in north line this afternoon: Jiuzhang Cliff and Moon Bay.
Jiuzhang Cliff is famous for steep cliffs, Pearl tunnel, Pearl Bay, and Gull Fin Bay, etc. The beach here is with rocks, not sands.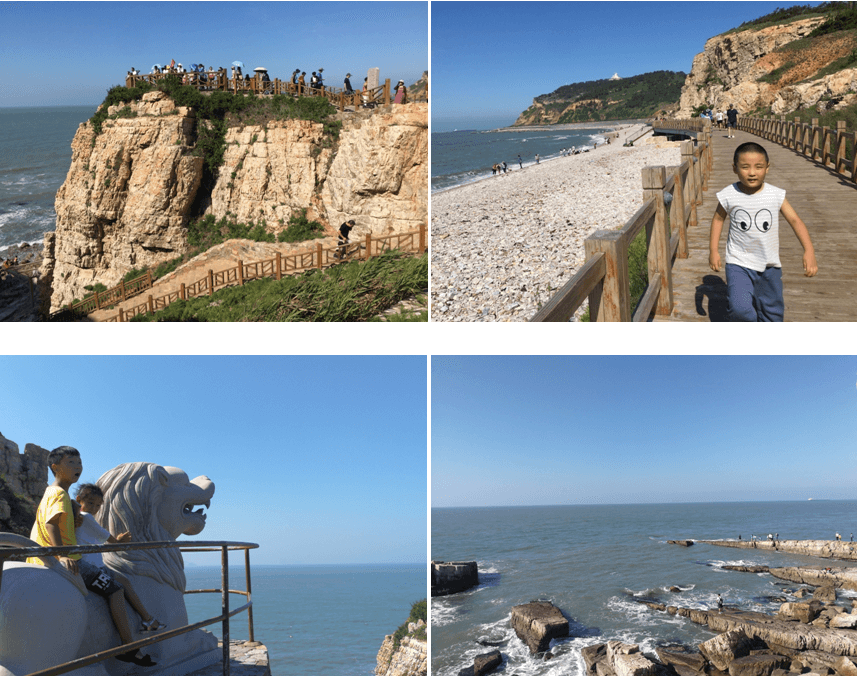 Moon Bay has man cobblestones on the beach. We picked a large bag of cobbles here, a lot of fun~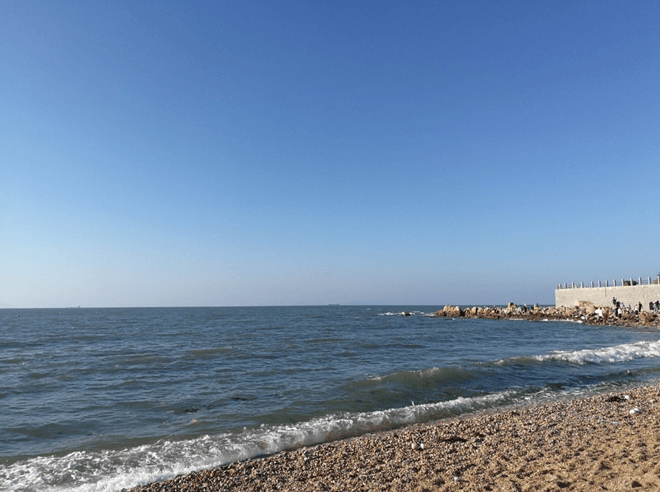 Day 7: Changdao-Yantai
In the morning, we visited the south line: Linhai & Fengshan scenic area. Fengshan Mt is the highest point in Changdao, where you can see the panoramic view of Changdao. There is a big eagle on the mountain. Birds usually stop here during their migration.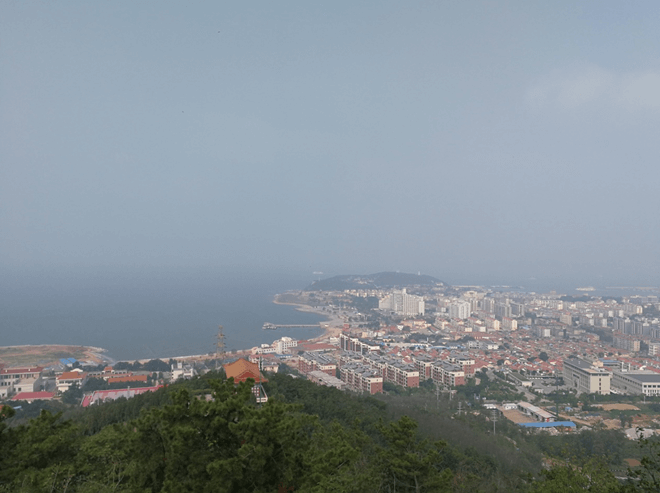 Later we came to the boundary of Yellow Sea & Bohai Sea. We can see a natural line between Yellow Sea and Bohai Sea. It's very special to stand on the line.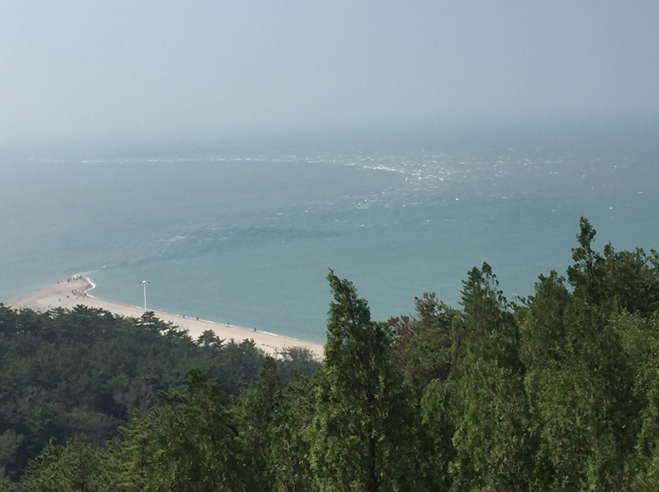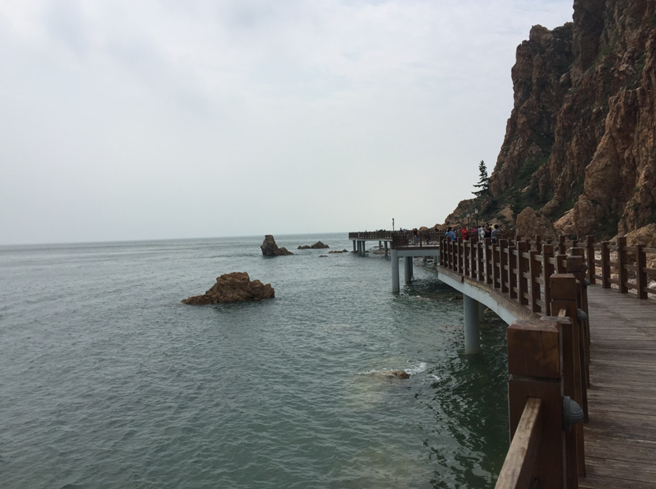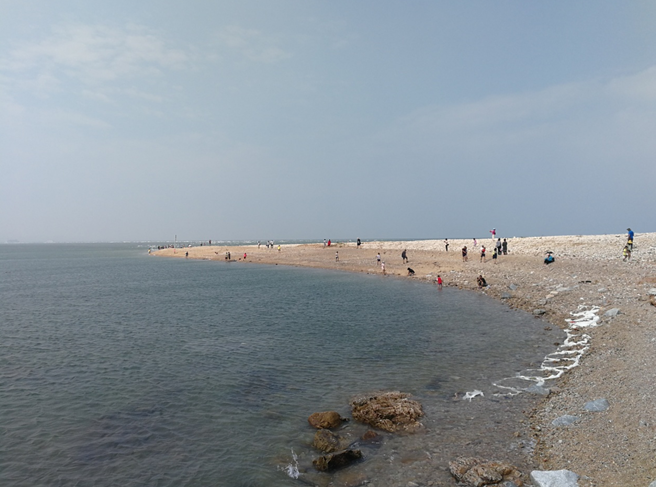 Day 8: Yantai-Zhengzhou:
In the morning, we walked to Yantai Shan Park, which is just 5 minutes walking to our hotel. Yantai Shan is a landmark in Yantai. With a history of 600 years, it witnessed the development of this city. Here we visited the former American Counsil's residence, Peking Opera Museum, the beacon tower, etc, and had a better understanding of Yantai's history and culture.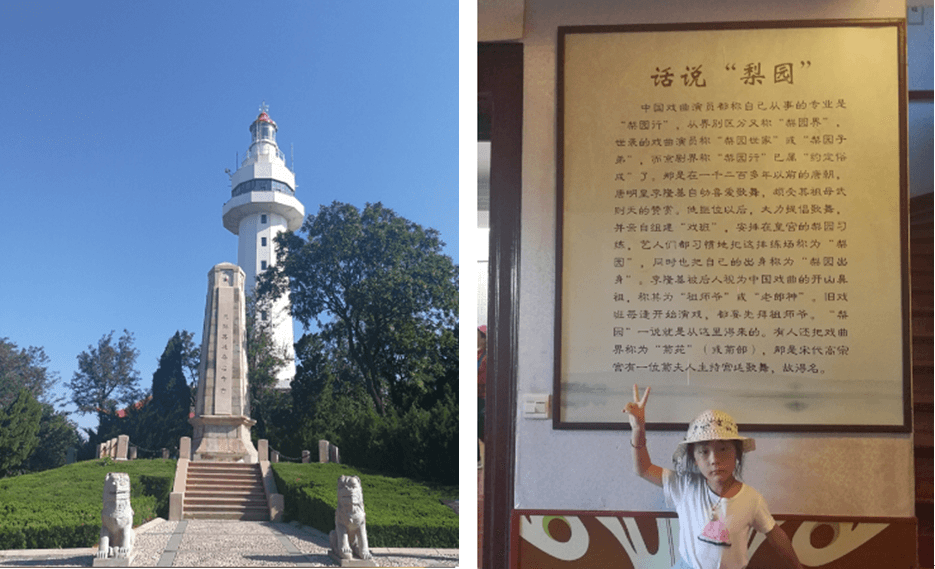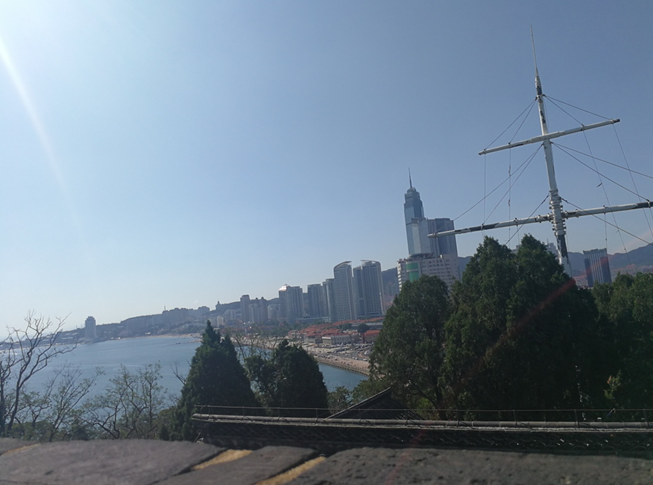 Then we visited Changyu Wine Culture Museum. Changyu Wine is quite famous in China; it has a history of over 100 years. The museum fully introduced the history, development and culture of Zhangyu wine. The underground wine cellar is quite impressive, especially the three "Asian bucks".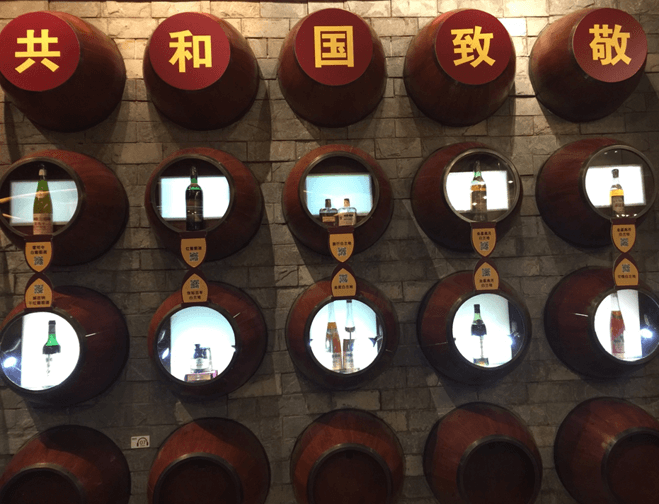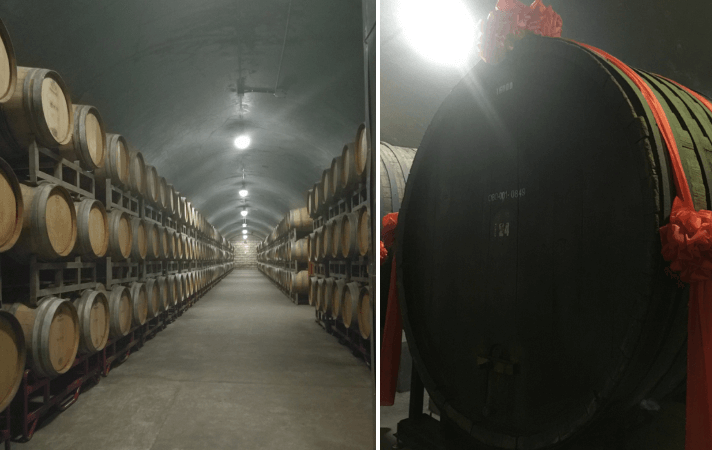 After the museum, we came to the end of our holiday. Except the weather in Dalian, the whole trip is quite relaxed and wonderful. We saw a lot, ate a lot, and most importantly enjoyed a lot. In the end, a picture of our group: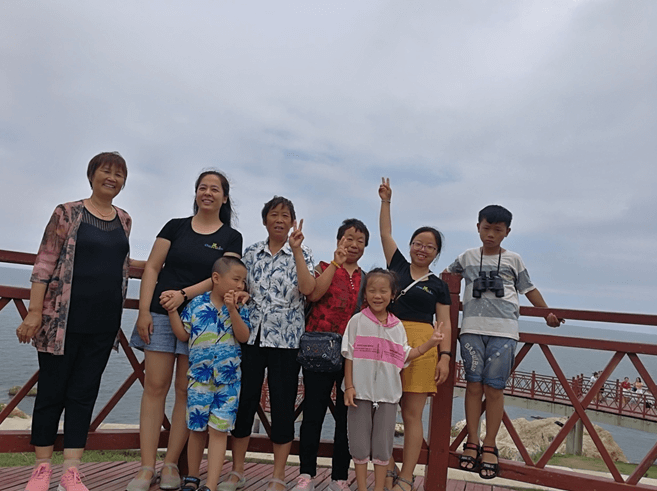 By Penney Shi --- Charmission Travel