Summer Trip to Guangxi province
Time: 2019-08-08
This summer (1-7 Aug 2019), I went to visit Yangshuo and Ping'an terraced fields with my family. It was not only because the child can play water in Yangshuo, but also for the nice views with karst mountains and beautiful rivers there. In China we always say: Guilin's scenery is the best in the world, while Yangshuo's scenery is the best in Guilin. And the grand terraced fields is another reason for us to go!
On the first day, we took high speed day train from Zhengzhou to Guilin, which takes about 6 hours on the train, a bit long but still acceptable. The high speed day trains in China develop very fast these years. They reach most major places and also cost less than flight. It is comfortable to sit on the train, also you can buy snacks or set meals during the train trip.
Yangshuo is a county of Guilin city and it takes about 1.5 hours by car from Guilin. When we arrived in Yangshuo, it was already early evening, so we just rested in hotel and got ready for the trip next day.
We first went to visit Li River in Xingping, which is the most beautiful part of this river. It is little far from Yangshuo county and we drived about 1 hour there. The river here is very nice and it is also the right place of the picture printed on Chinese 20 yuan note. There is a motor on the raft, but when you are deeply attracted by the nice views along the river, you won't be affected by the motor noise.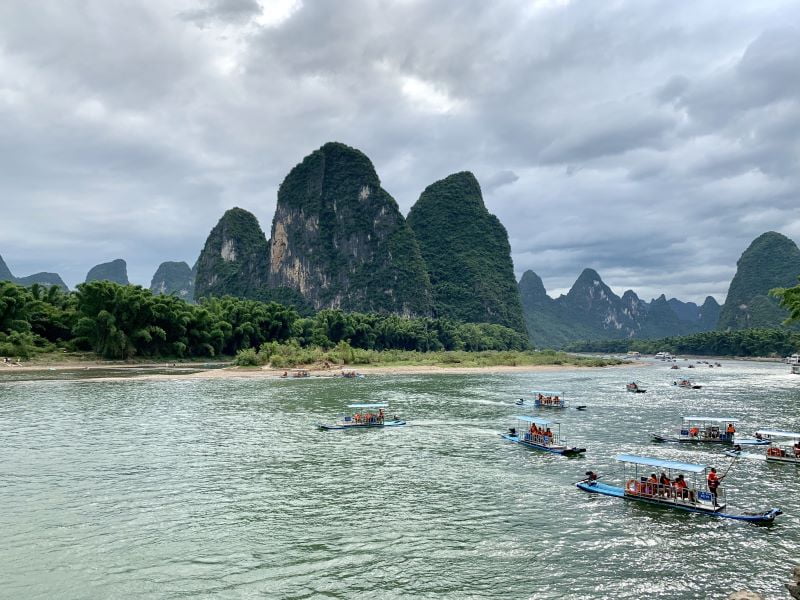 .
The raft ends at Nine Horse Painting Mountain, which is one of the famous landscapes of Li River. The mountains here look like a group of horses, standing or lying, neighing head or flying in the sky…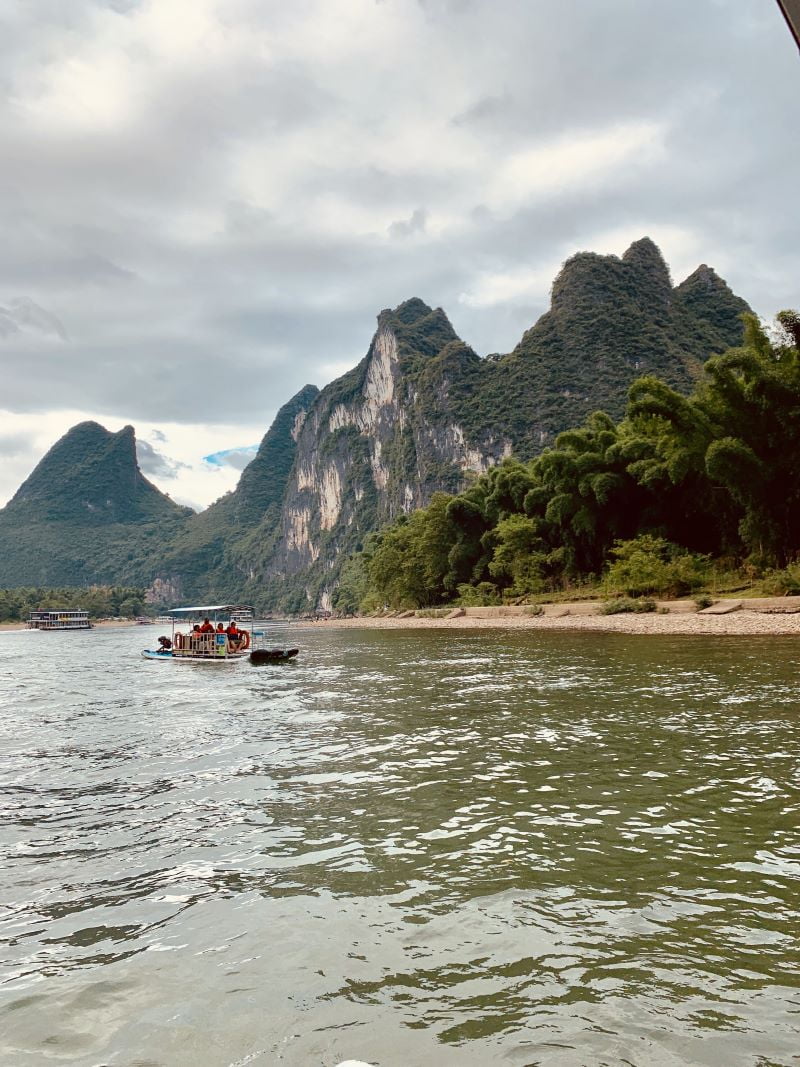 When the trip ends, you arrive at the dock and you can see the fish bird which helps fisherman to catch the fish. We paid CNY10 to take some pictures with it, very interesting!
The second place is Xianggong Mountain, which takes about 40 minutes from Yangshuo county. About its name,Xianggong refers to a government official in ancient times. The whole mountain looks like a man wearing an official hat and costume of feudal China, hence its name. It is also named Hebao Mountain by locals because of the Hebao Village at its foot.
It is not difficult to climb, also the mountain is not high and normally it takes about 15 minutes to the top.
When you reach the top, you will get a panorama of Yangshuo landscape.The meandering Li River, embraced by rolling hills on both banks, makes a 180-degree bend here. The sea of clouds, sunrise and rosy sunglows will surely not disappoint you. Looking downwards, boats and bamboo rafts sail down the river. What a marvelous views, just like a picture!
So if you come to Yangshuo, do not miss Xianggong mountain, the best place to have a bird view of Li River, it will be unforgettable memory for you!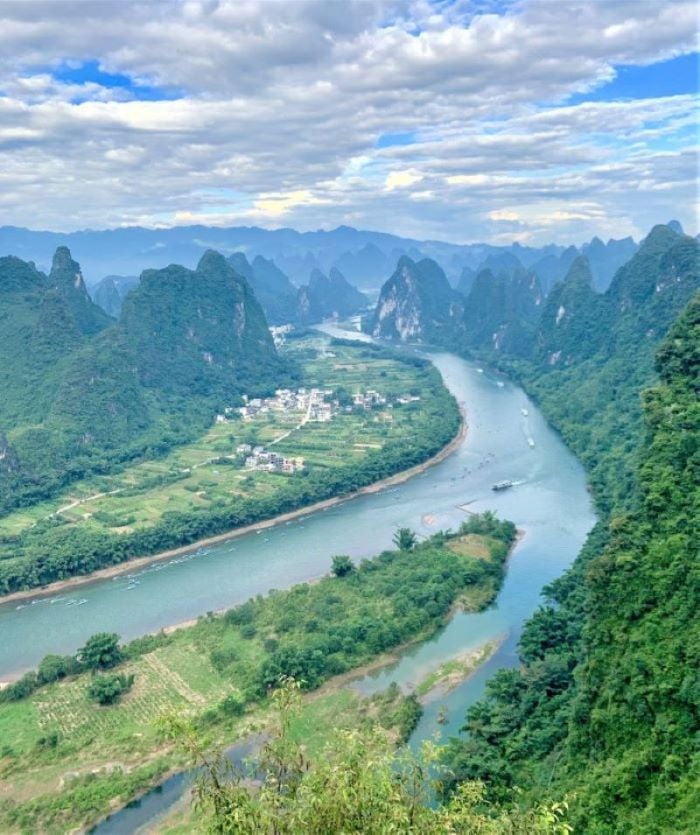 When we went back to Yangshuo, we met a group of ducks on the road. They just paced slowly and did not care the cars pass by, we took picture of them and you could not see this in the city, very adorable!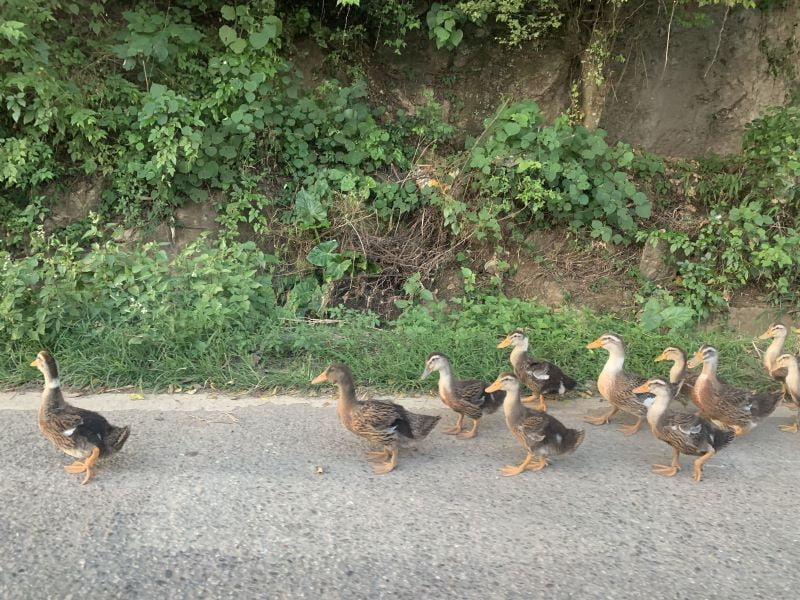 Then we saw the nice sunset on the way back, the typical karst mountains just like the wash painting with double images under the coulourful clouds. Then green lands also seems with more vitality with this views, you even could not imagine without seeing it by yourselves.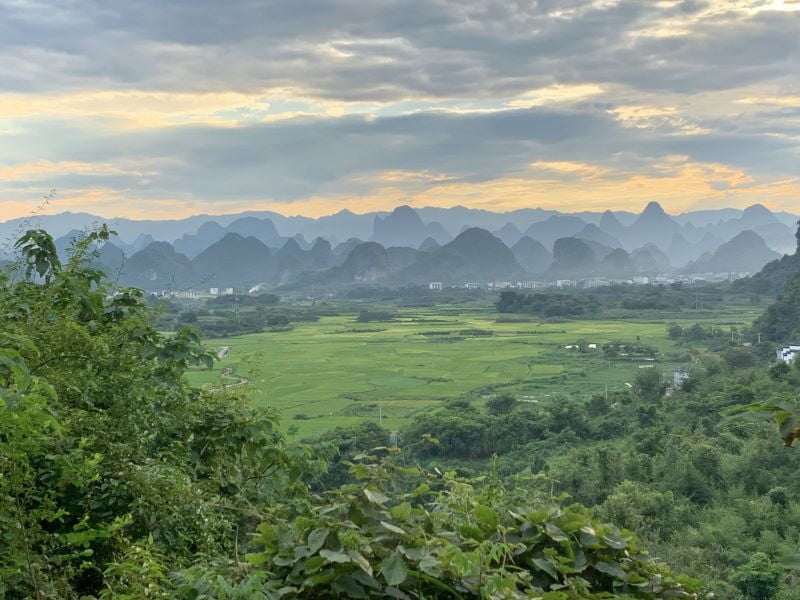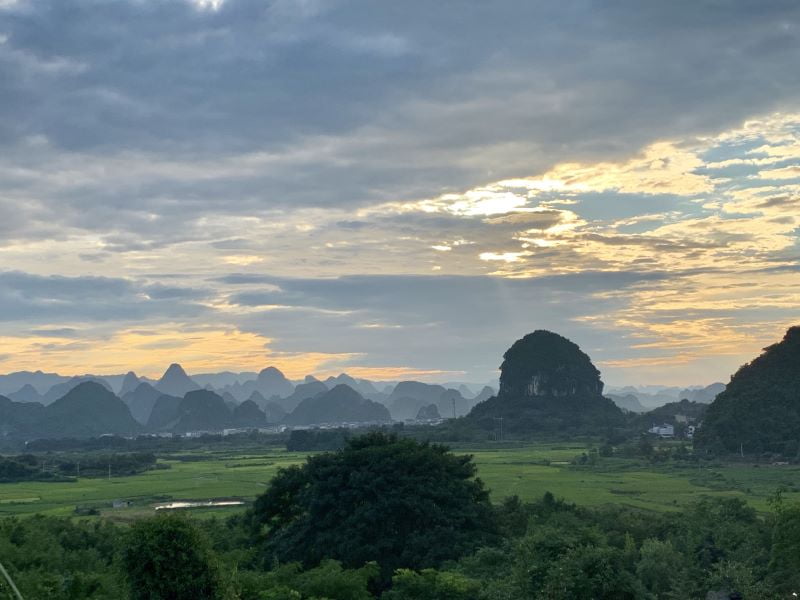 When you are in Yangshuo, another tour not to be missed is the bamboo raft on Yulong river. It is not so magnificent as Li River with grand mountains, but it is more elegant and quiet. Another difference is the bamboo raft here is poled by local people, no motor on it. Delicate mountains, peaceful river and traditional raft, it gives you different but very nice experience.
Sitting on the raft, take it easy, just enjoy and feel it! When you close your eyes, you can only hear the soft sound which local man poled the water. Then when you open your eyes, full with green and you will feel calm and relax.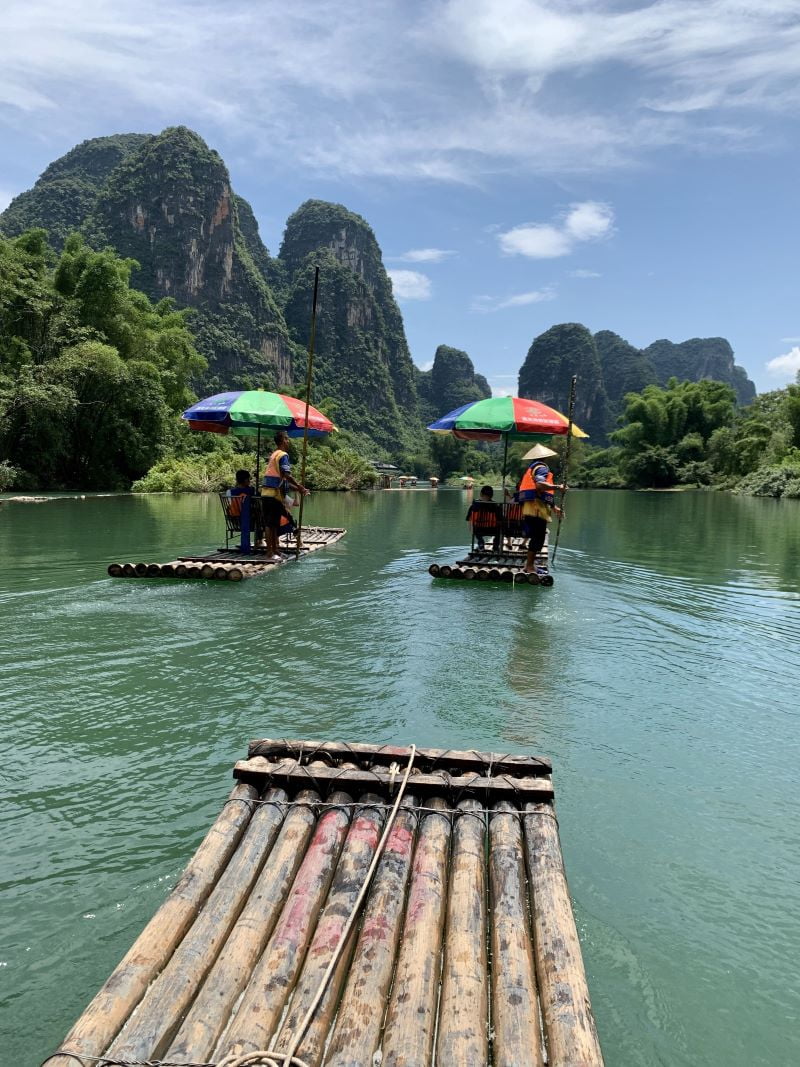 The river is peaceful, there are only several small slopes during the trip. But it is not dangerous and you will find it interesting. Just lift your feet to avoid the water, but if it is in summer time, it makes you feel more cool.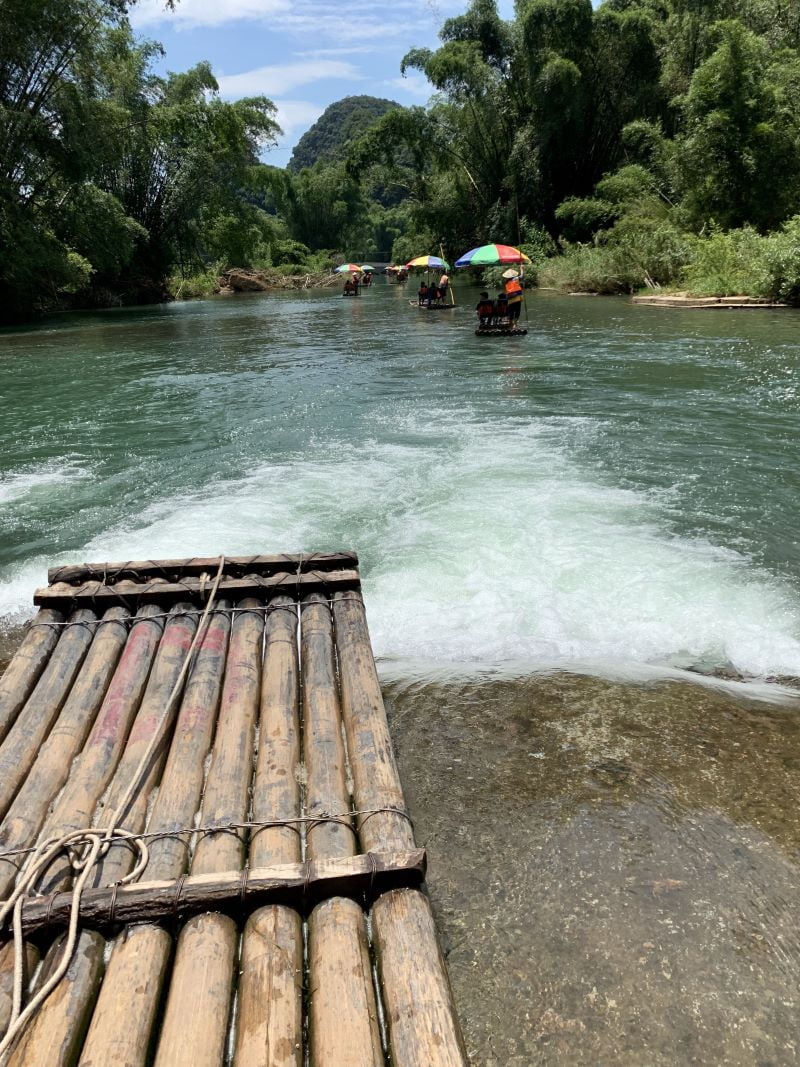 Another interesting trip in Yangshuo is the famous light show "Impression Liusanjie", it is an outdoor show based on a true story about sister Liusanjie, using the natural landscape of Yangshuo and you will see local people performed on the water. It is is directed by Zhang Yimou, who is a famous film director in China and directed the opening ceremony of Beijing Olympics. It took Zhang Yimou and his group several years to accomplish the project. Now it has become a must-see show for whoever comes to Yangshuo.
The performance takes the lmpression Liusanjie as the general theme, creatively combines the classical Liusanjie's Songs, ethnic groups'Culture and the fishing lights together to reflect the harmonious atmosphere between human beings and the nature. The performance lasts for 70 minutes and 600 plus actors and actress are involved.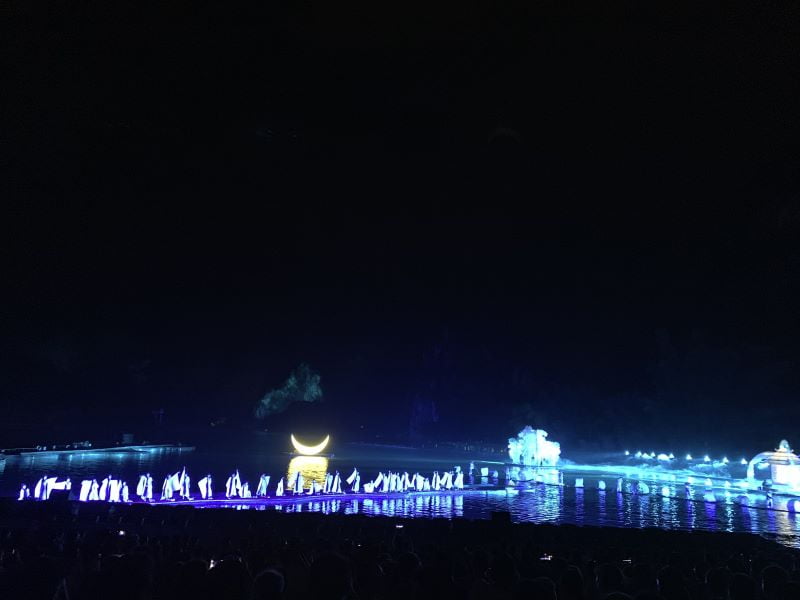 There are normally 2 shows each evening, starting at 20:00 and 21:35 in summer time. Also there are different standard of seats offered and you can choose to book it.
Here are some nice pictures of the show.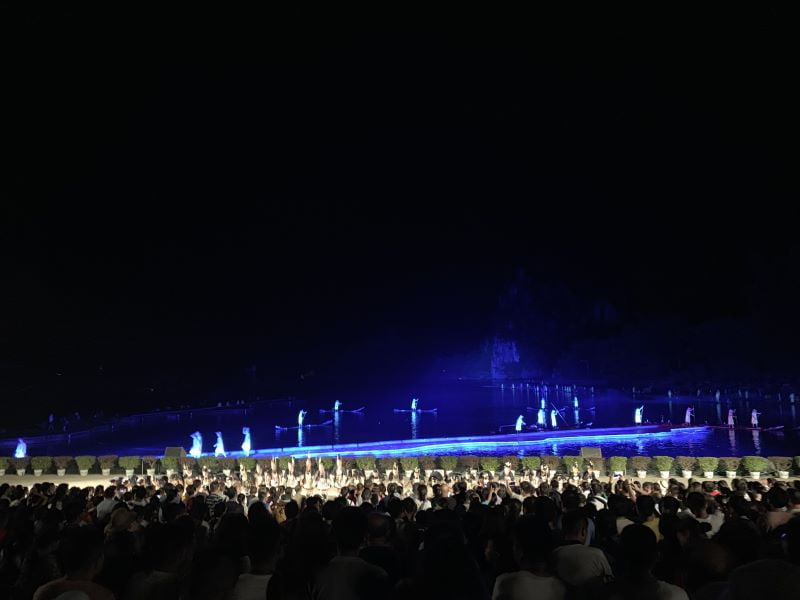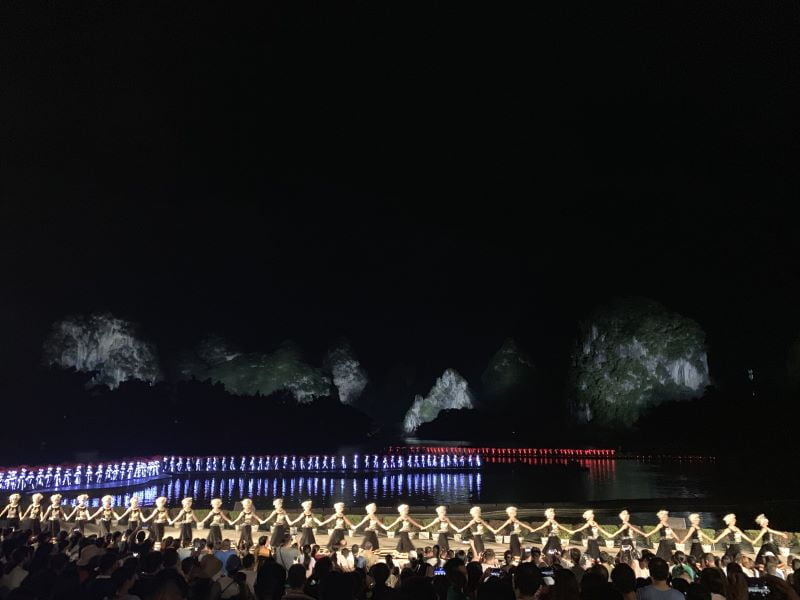 After Yangshuo, we went to Ping'an terraced fields by car about 2 .5 hours. There are 2 parking lots, you can buy the entrance at first parking (CNY 80 / per ticket) and then the car drives you to the second parking, which is at the entrance of village. There are many local people waiting at the entrance with basket on their back. They can help to take your luggage inside if you will stay 1 or 2 nights here, of course it need to be paid accordingly.
When we arrive in Ping'an, it was already lunch time, so we tried the famous local food: chicken cooked in bamboo tubes. The chicken is raised by local people and when they cook it in the bamboo tube, there will be special taste and different with others you had before, so do not forget to have a try.

After lunch when we wanted to make some hike in the village to see the terrace, it rained heavily and the sky darkened. But don't worry the rain in summer won't last long time and we are also lucky, it stopped in 1 hour and also little cool after the rain, we started for the hike.
Before we see the terraced fields, just some introduction about it to you.
The terrace here is called Longji terrace. The feature here is the terrace is a range of steep-sided farming rice fields on hills. The owners of these terraces are local ethnic communities who have inhabited here from ancient time, such as Zhuang and Yao minorities. The linked together rice terraces vary from season to season. In spring, the water is irrigated into the fields and the terraces look like great chains or ribbons hung on the hillsides. When the onset of summer, green waves rush continuously down the mountainside from the heaven.
The theme of autumn is the harvest, with the mountainside decorated with the gold of ripened millet. So if you come here before November,you will see a golden picture. Coming in winter, the whole mountain will be covered with white snow, just like dragons playing with water.
There are signs to show you the way in the village, sometimes different ways can lead you to the mountain. If you could not find it, don't worry and just ask help from local people or tourists there. We went on a different and also little difficult road, barely saw other tourists, peaceful and nice for hike.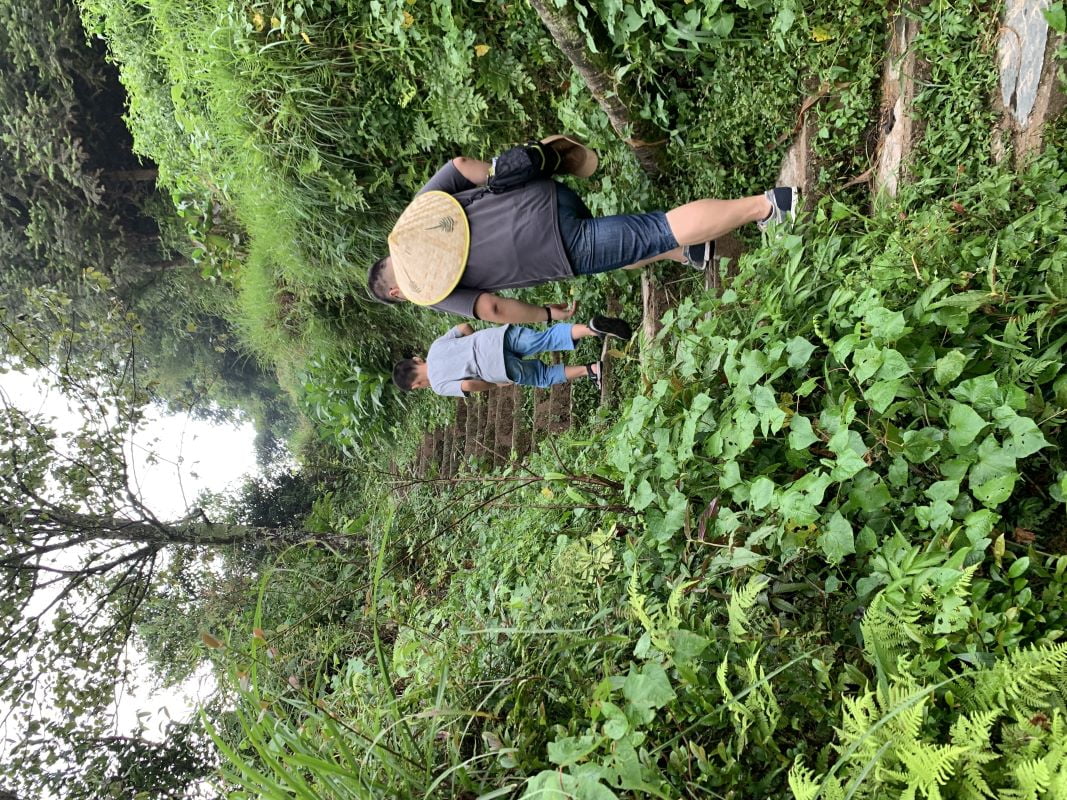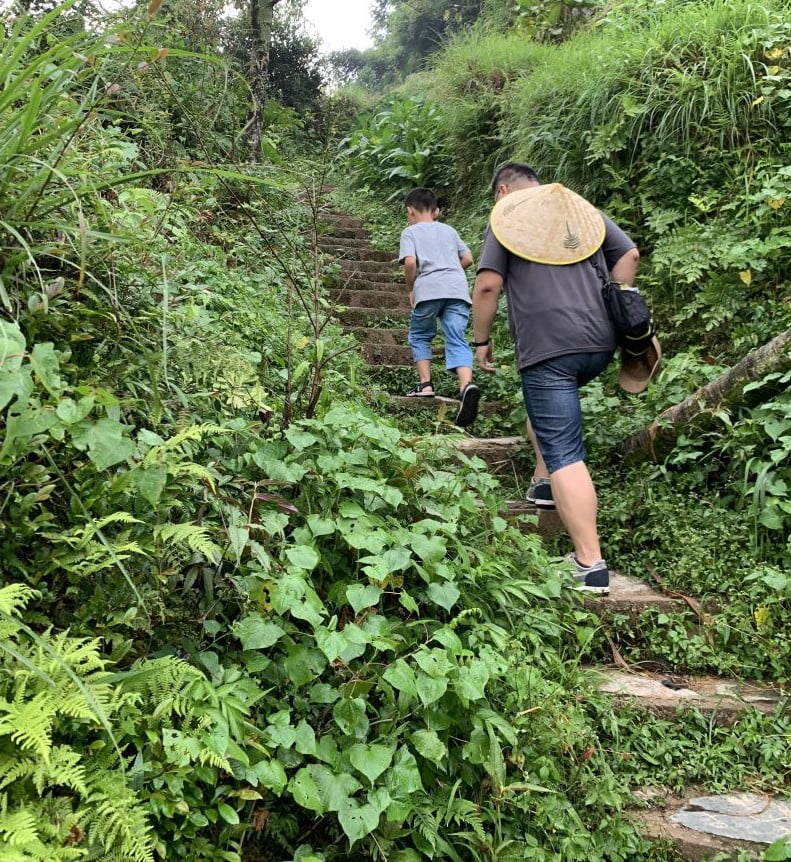 The views after the rain is nice, you will see the sunset along the mountain, then lots of green just before you, it is very good feeling!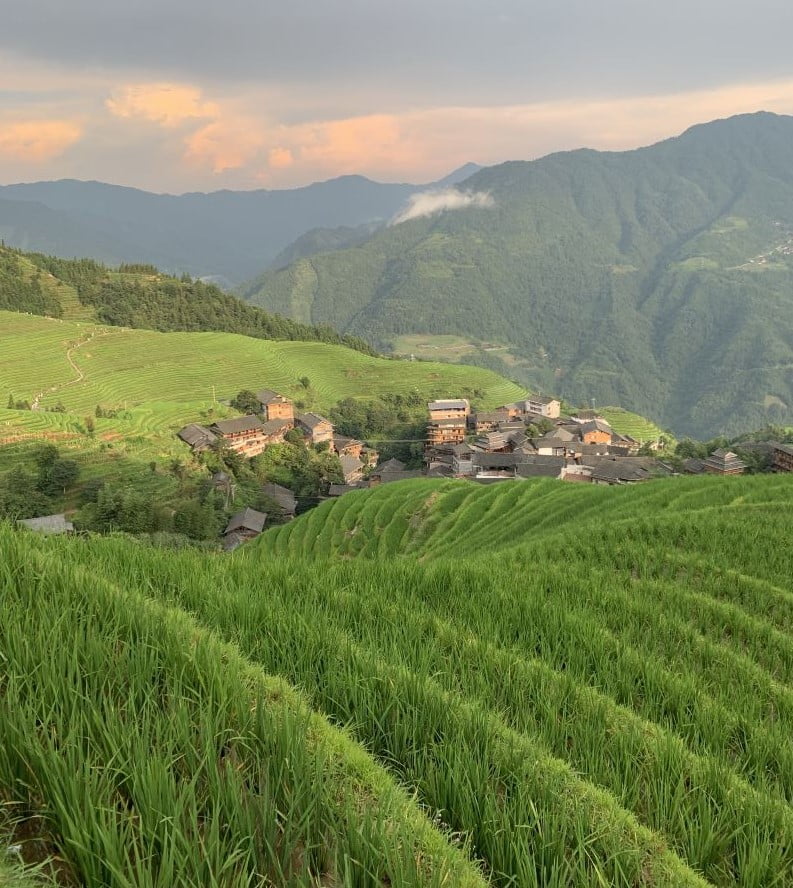 Here is a great place to take a hike tour, in Pingan village, you can hike among terraces to catch the best landscape. Climb up to the great lookouts at Seven Start with Moon and Nine Dragons and Five Tigers from which you can get superlative views of terraces and villages. Another long tour is hiking from Ping'an village to Dazhai village through the terrace, which takes about 5-6 hours and when you arrive Dazhai, you can come back by local minibus to Ping'an for lunch and rest.
After tours in Ping'an, we went to Guilin where we can take train back home. Guilin is the city where you can take trains, buses, flights to visit Yangshuo, so it is transfer city for you. If your train or flight leaves in early morning or arrive in late night, you can consider to stay 1 night in Guilin. Also if time available, you can visit this city.
We visited Reed Flute Cave in Guilin city, about 5 kilometers northwest of the city center. It is a cave on the southern shoulder of Guangming Hill and counted as one of the must see sights in Guilin.The length of the Reed Flute Cave is 240 meters and offers a majestic fairyland of karst caves with landscape and rural scenery. It is a magic fairyland of stalactites, stalagmites, stone pillars, stone curtains, birds, plants and animals in fantastic shapes and colors, all glistening in colorful lights.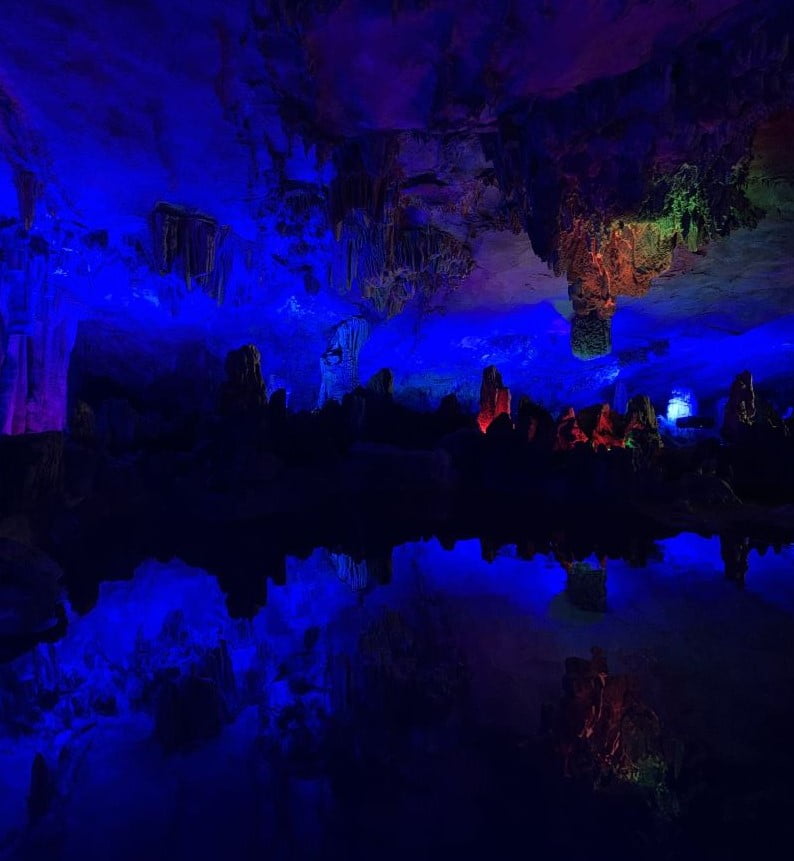 Despite the fantastic natural scenery inside Reed Flute Cave, there are many writings on the wall. According to some statistics, there are 77 travelogues and poems left, which are said to be derived from the Tang Dynasty (618-907), making the cave a popular tourist site at that time.
The cave is highly praised as the ' Huge Art Palace of the Nature'. Tourists began to visit here in the Tang Dynasty. There are 77 stone inscriptions covering many years of history.
One grotto, called the Crystal Palace of the Dragon King, can hold about 1000 people.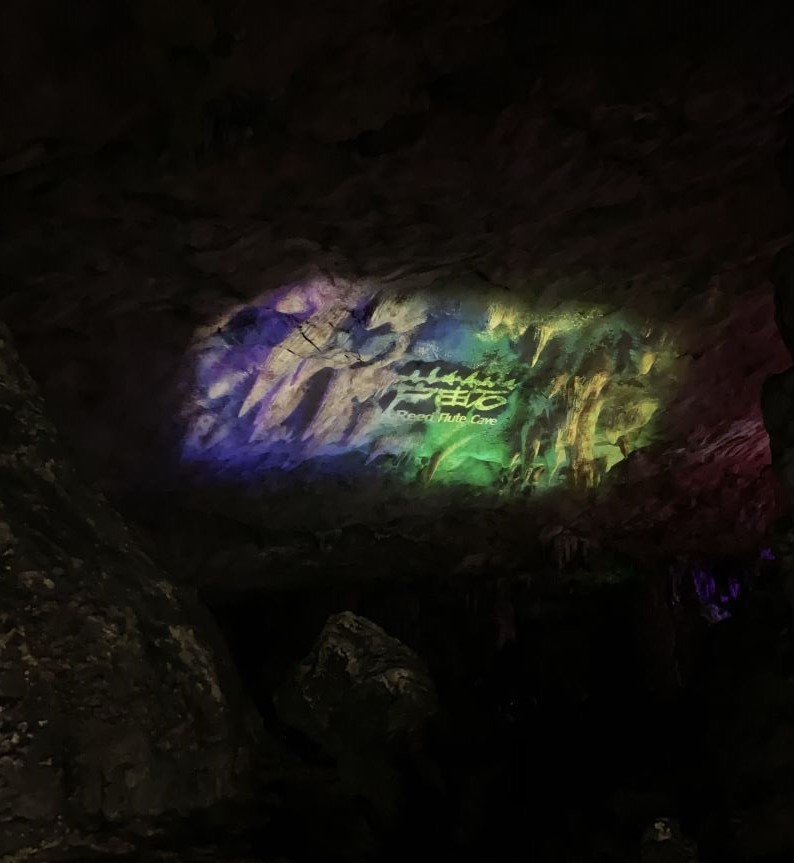 After the nice visit in Guilin, we took high speed train back to Zhengzhou. It was really a great trip in Guangxi province!
By Fiona Sun - Charmission Travel