My Trip To The Northeast Of China
Time: 2020-08-26
From 9 Aug to 23 Aug 2020, I had a trip to the Northeast of China, covering Liaoning Province, Jilin Province and Heilongjiang Province, reaching the the easternmost point that is 1720 km from Beijing. I posted it every day on linkedin during my trip and here I include all posts in this one article.
This picture was taken by me at 0:00 on 10 Aug 2020, in Shenyang, the capital city of Liaoning Province. People are eating hotpot; the convenience store is open 24/7. I am touched by these small blessings that we used to ignore before covid-19.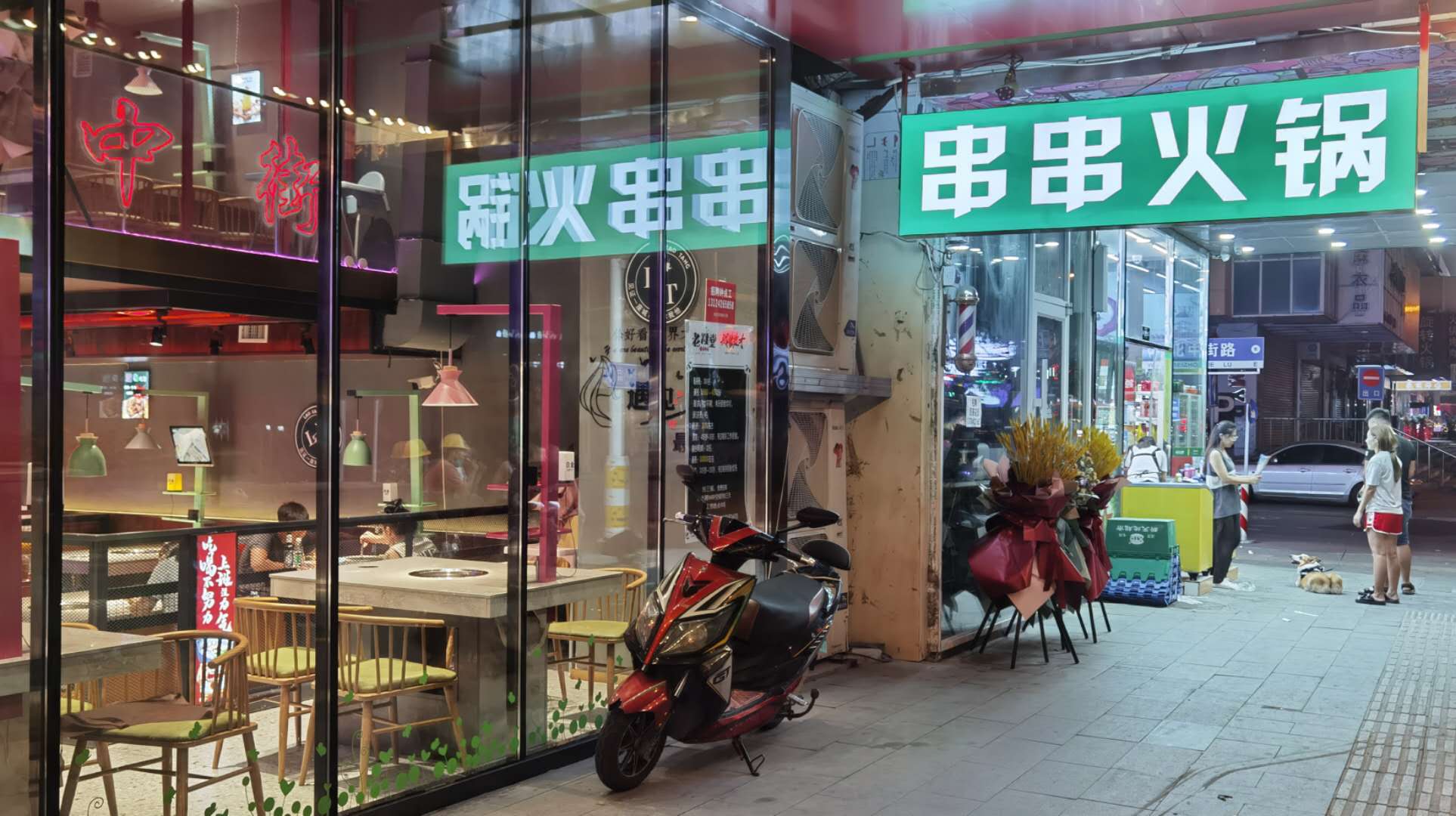 Day 1, 9 Aug 2020

City views of Shenyang.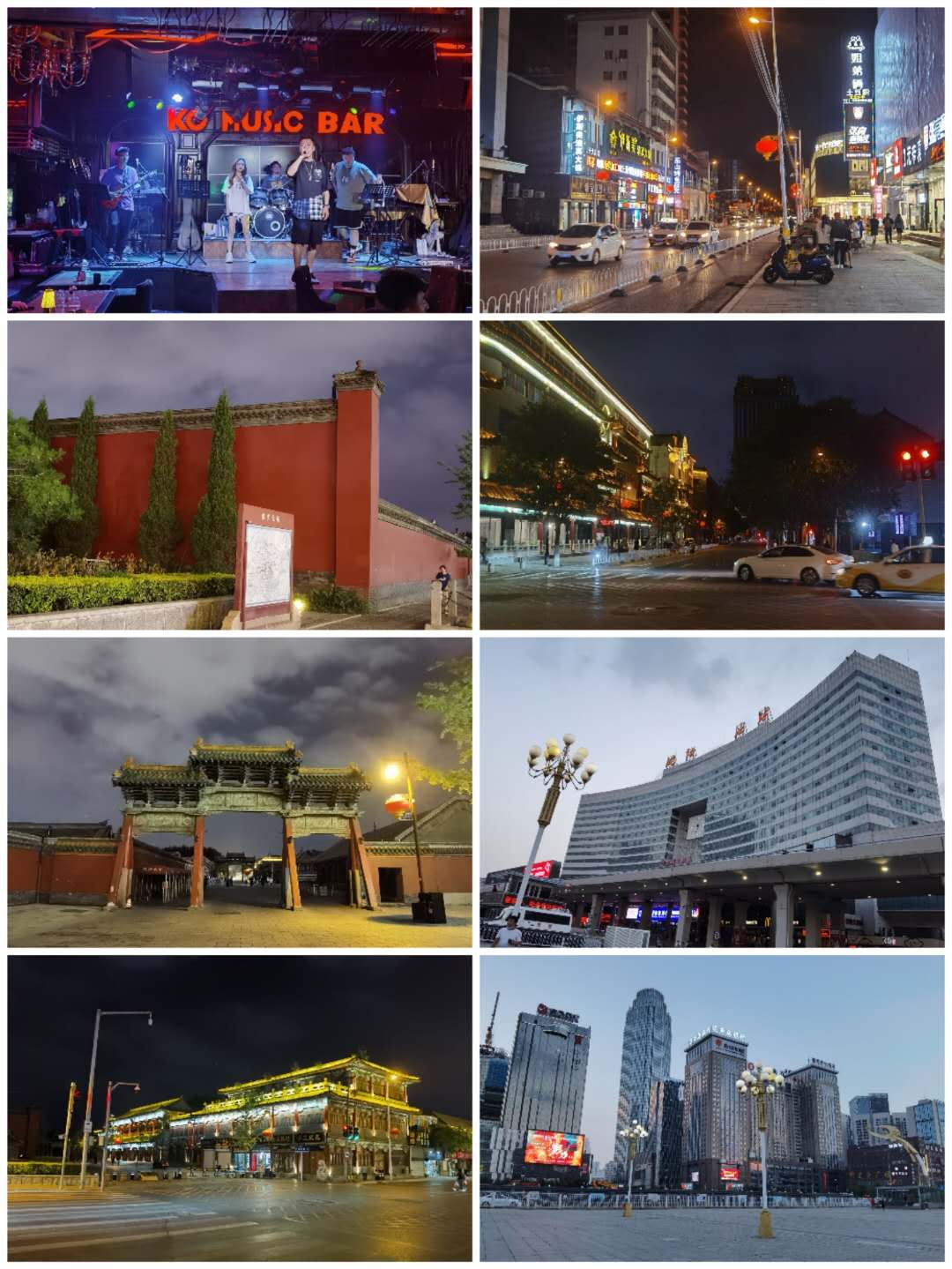 Day 2, 10 Aug, AM

Bird Island, about 25-minute drive from the city centre, is literally a big island in the middle of the Hun River. Beautiful, relaxing and cool, with all kinds of plants, plus the various kinds of birds, is a nice place to walk around or just sit there doing nothing. I feel happy for the birds that are free in the open field and sorry for the birds that are caged.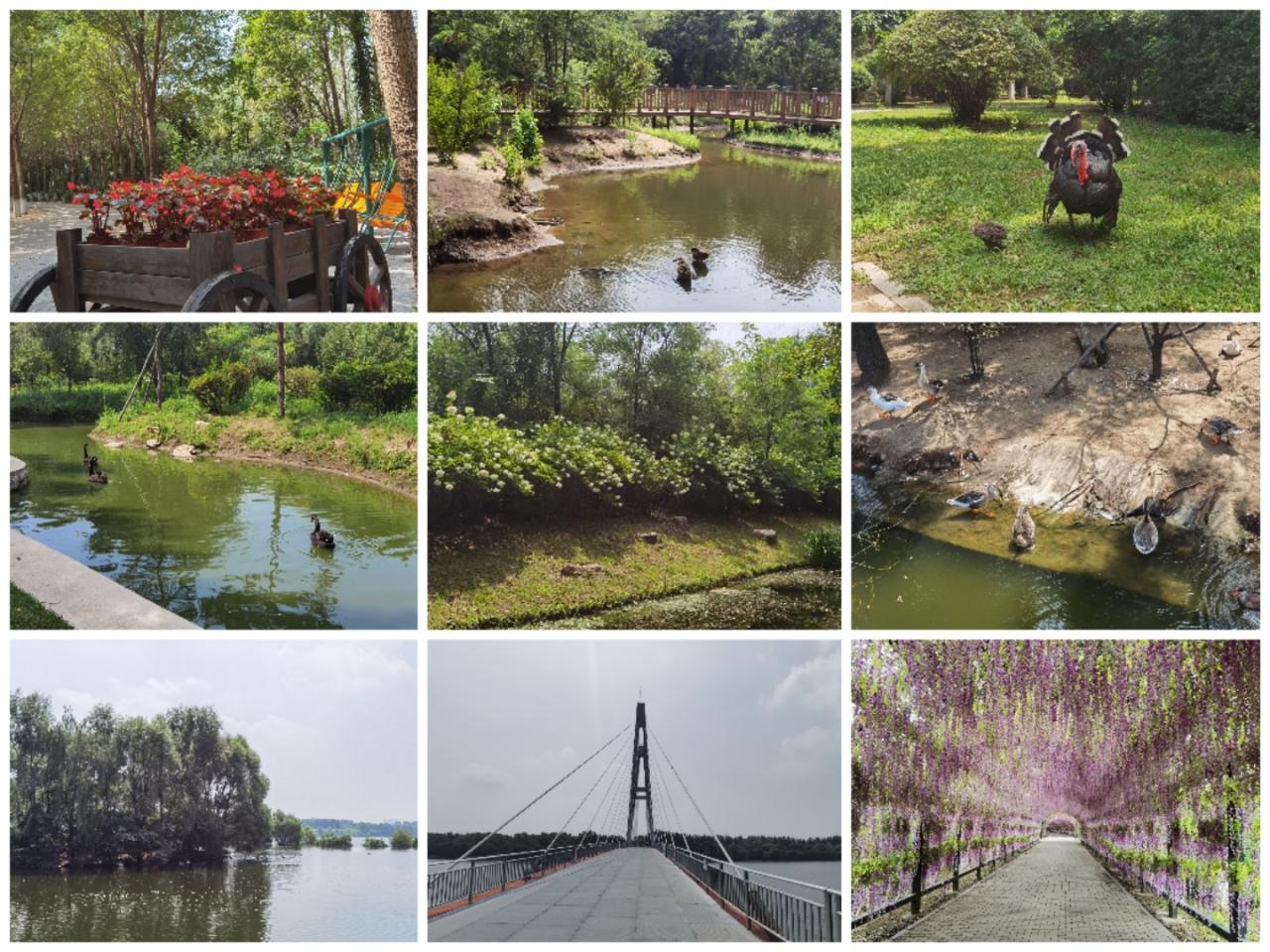 Day 2, 10 Aug, PM

Qing Zhaoling Tomb

It was built from 1643 to 1651 for the first emperor of the Qing Dynasty Huang Taiji who died in1643. His empress and concubines were also buried here. The buildings above the ground are arranged as the real palace in a simpler way. The coffins are under the mound in the back of the whole set of buildings and have never been excavated.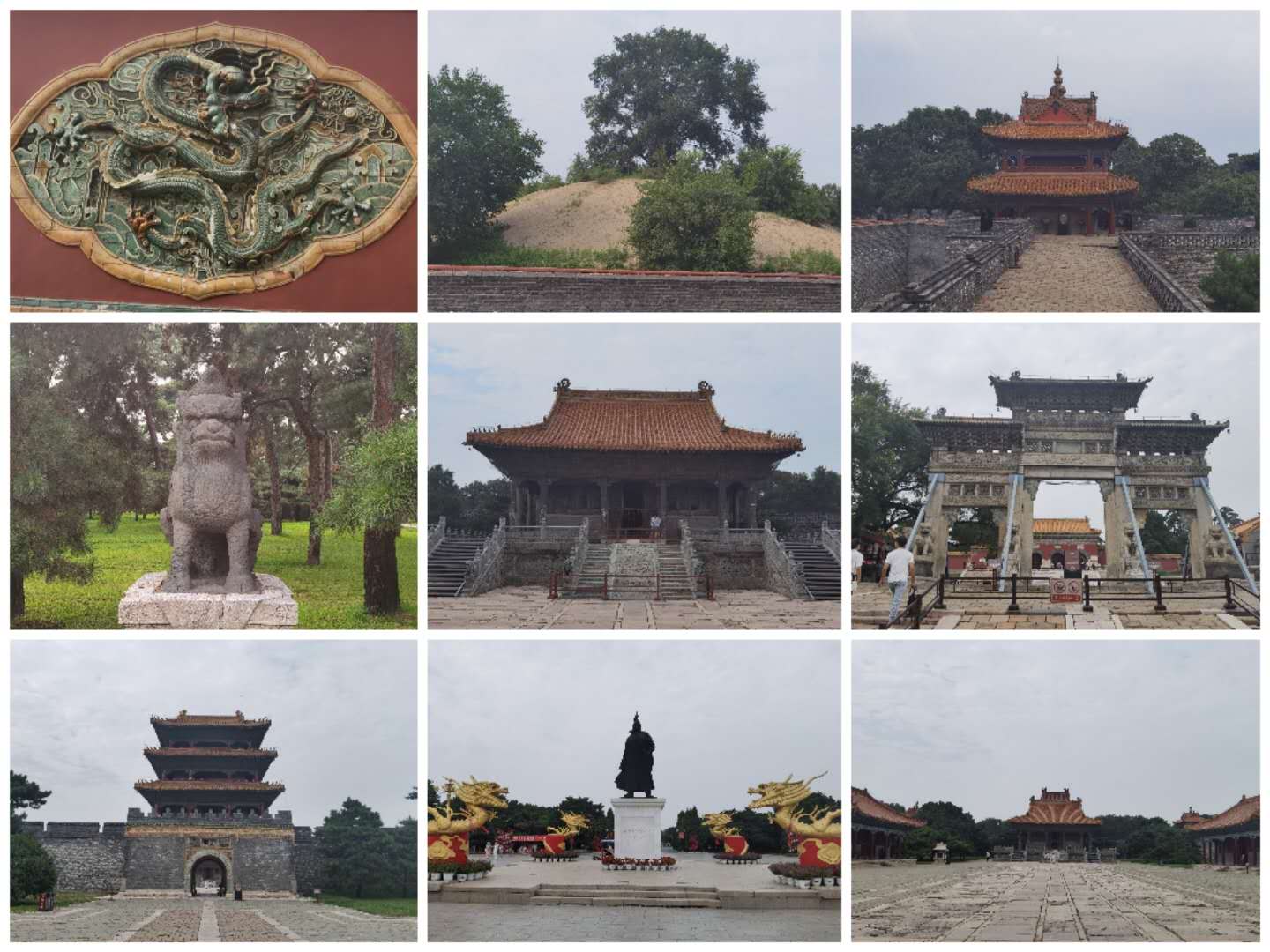 Day 3, 11 Aug, AM

Shenyang Imperial Palace

This is a must-see world culture heritage. It was firstly built by the founding emperors of the Qing Dynasty since 1625. In 1636, Huangtaiji officially ascended the throne here and changed the title of the dynasty to Great Qing. After the Qing Dynasty moved their capital to Beijing(and took over the Imperial Palace of Beijing), Shenyang Imperial Palace were protected and continued to be expanded until 1783. It's smaller than the Imperial Palace in Beijing but it makes me have a rough idea how the royal family live, where their guards and staff live for the first time. And the exhibition here told me the written Manchu was invented by two officials based on the written Mongolian in 1599! No wonder they look similar.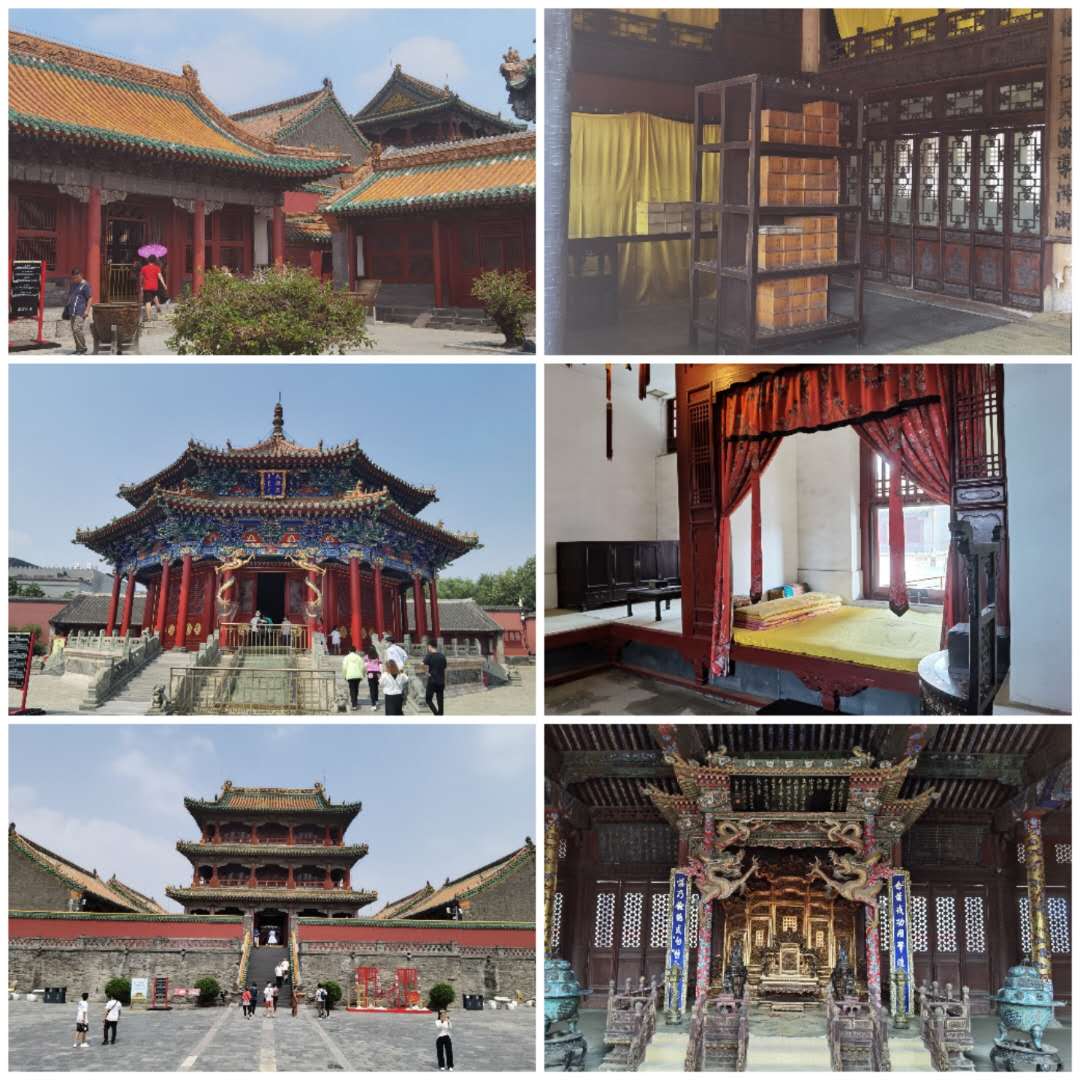 Day 3, 11 Aug, PM

Marshal Zhang's Mansion

Built in1914, covering 53000 square meters, it was the official mansion and private residence of Zhang Zuolin, the last chief of Beiyang Government and of his son, the great patriot general Zhang Xueliang. It's the best preserved celebrity residence in the North East of China. It's quite an educational visit for me to learn about the history during the first half of the 20th century which was full of wars and fights.
Day 3, 11 Aug, Night

Taking overnight train to Songjianghe Town, (18:39/05:48+), which is about 30km from Changbaishan West entrance. It was several years ago that I took my last overnight train in China. High speed trains connect all major cities.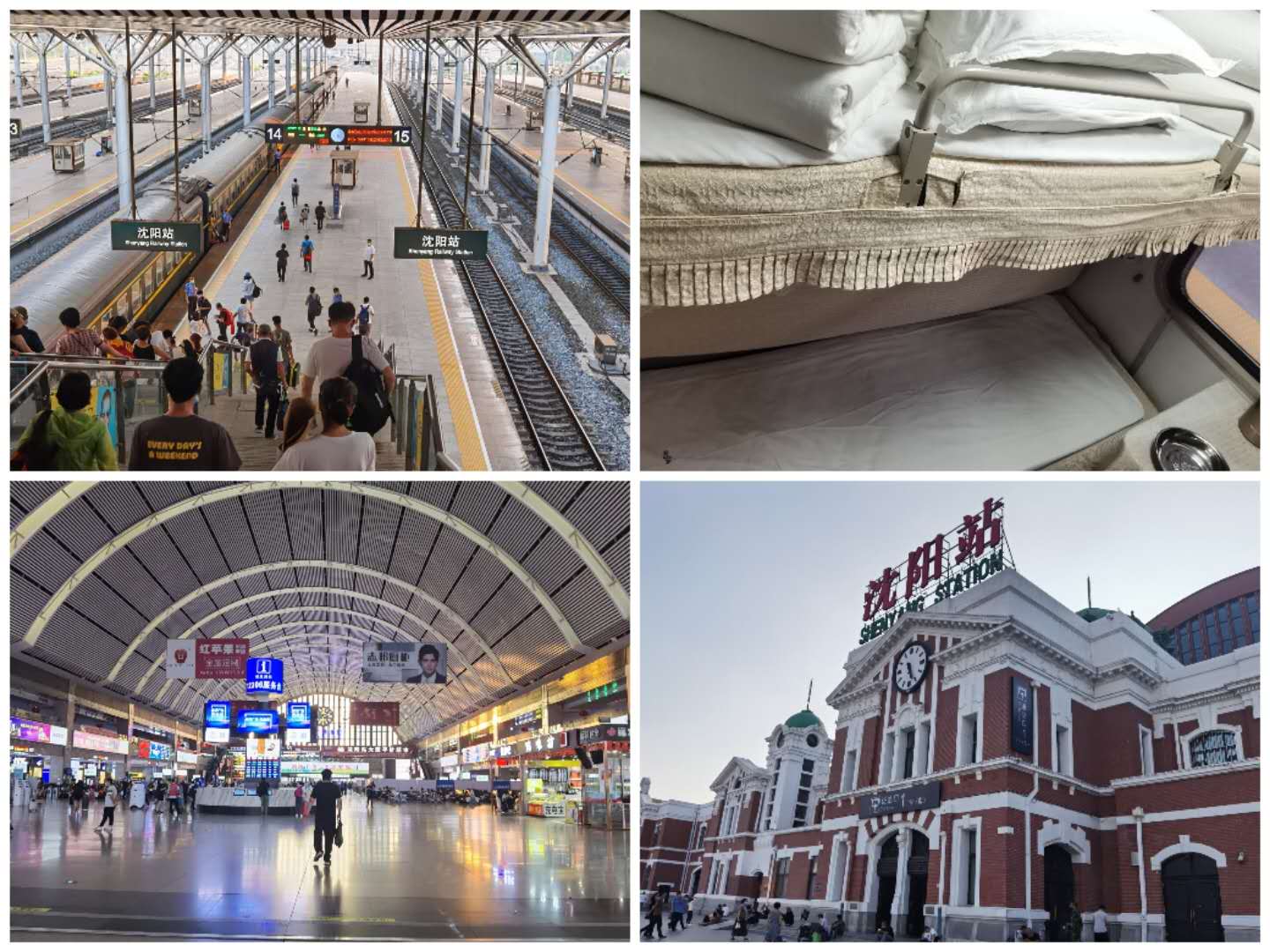 Day 4, 12 Aug 2020 Tianchi Lake, Changbai Mountain, west slope.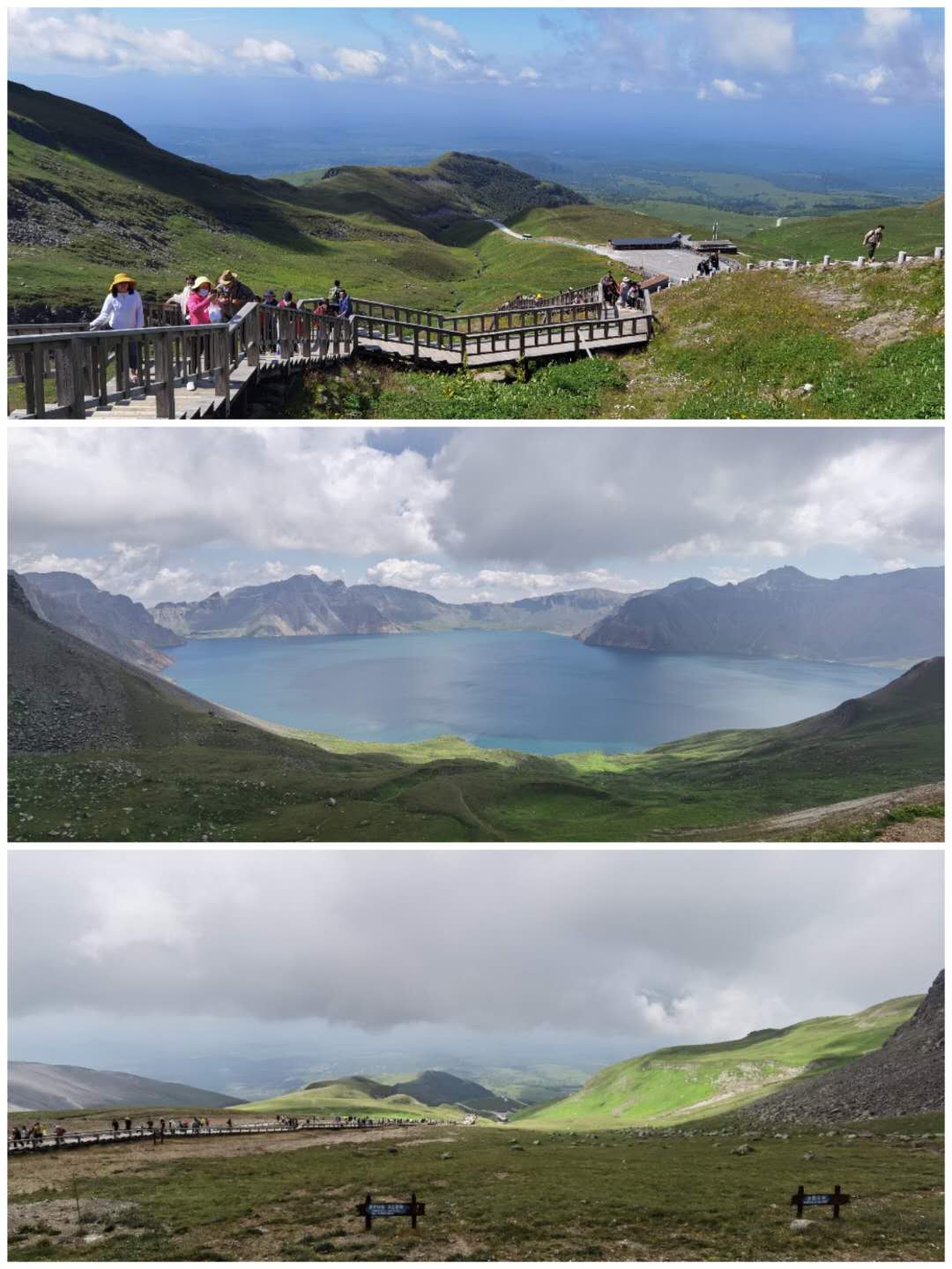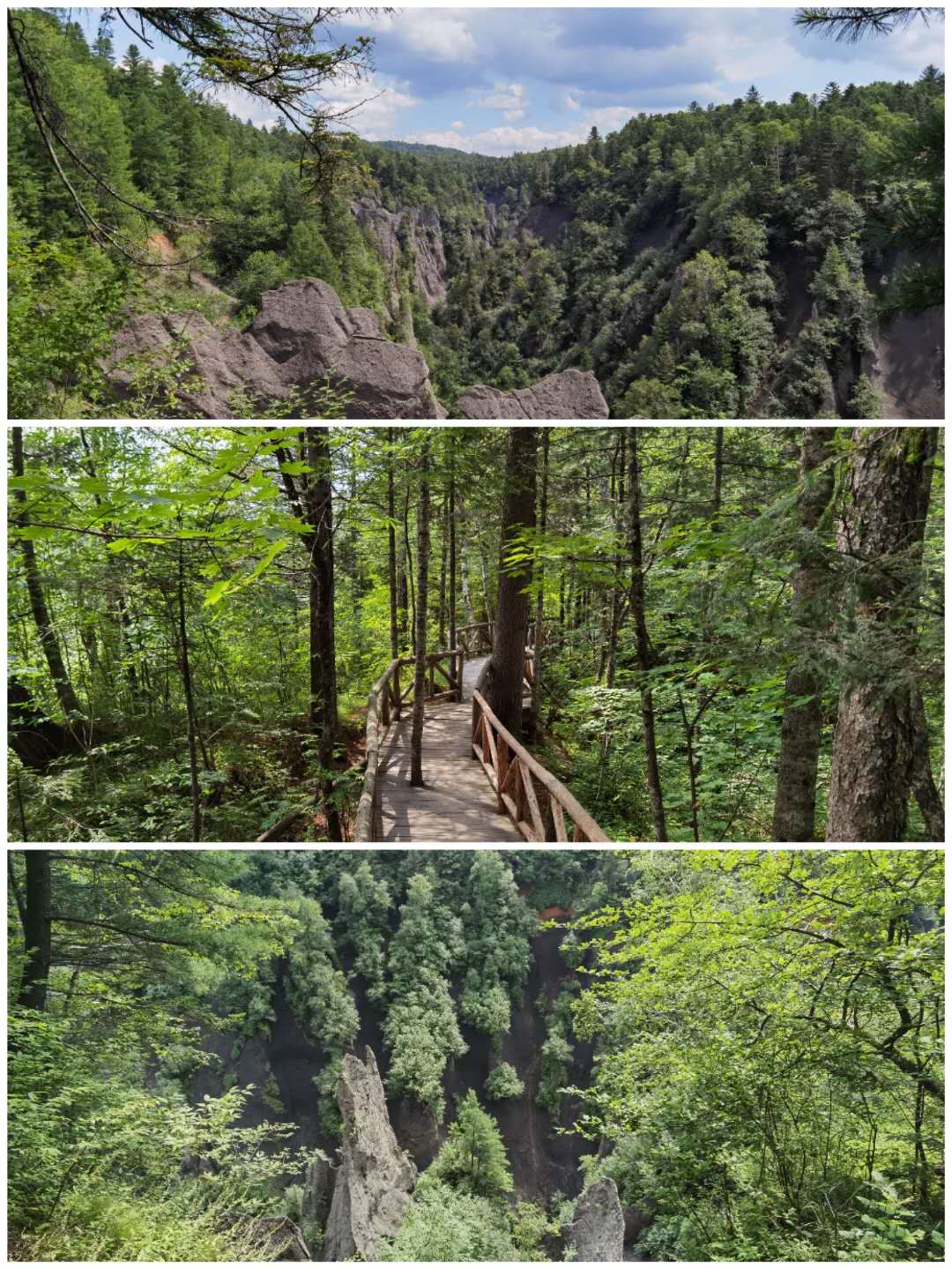 Day 4, 12 Aug 2020 King Pond, Changbai Mountain, west slope.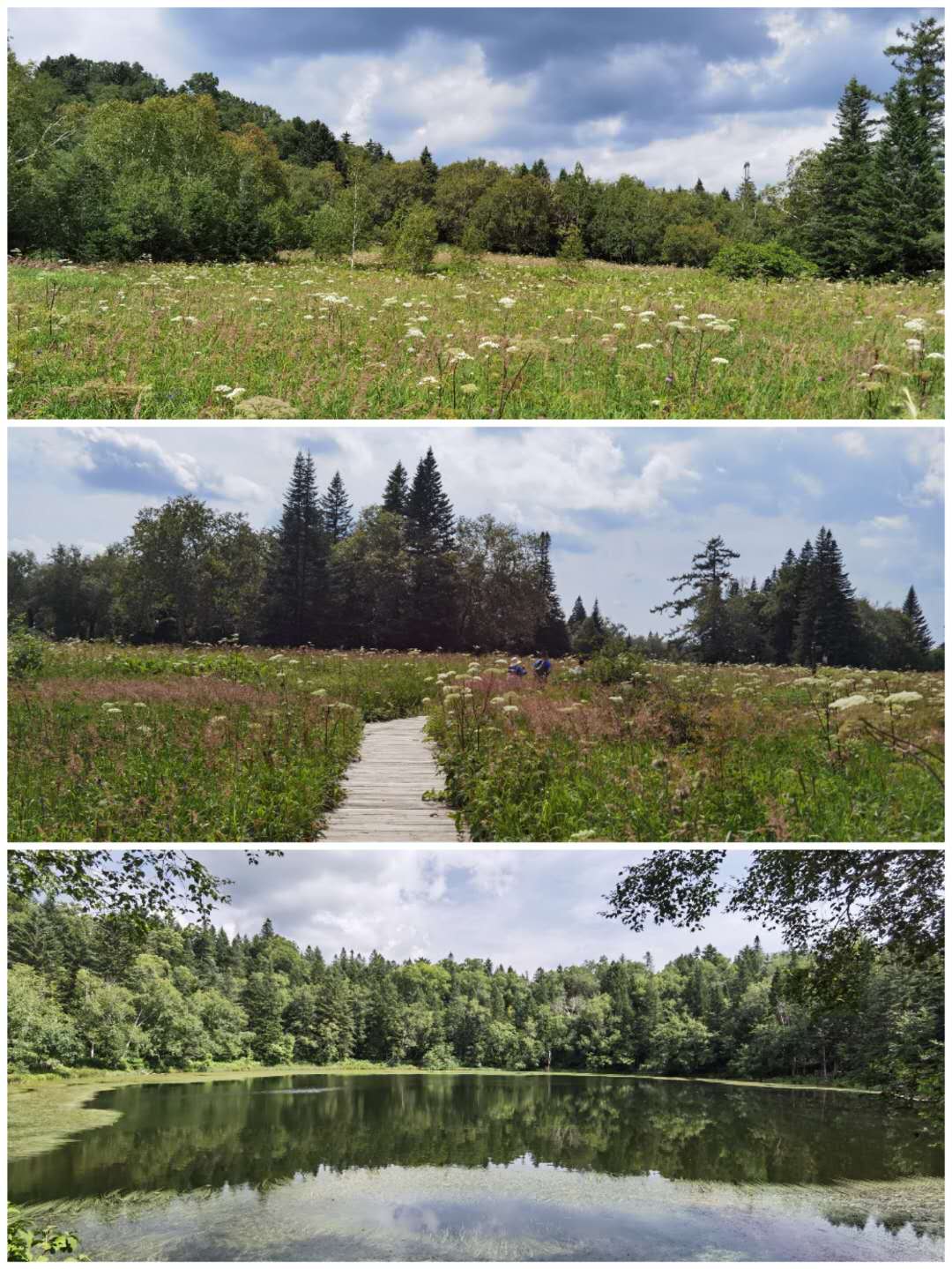 Day 4, 12 Aug 2020
Some practical information on the day trip:
From the tourism centre in Songjianghe Town, take 33-minute shuttle bus ride to the West Gate of Changbai Mountain, then change to Eco bus for a 45-minute drive to Tianchi Lake Parking lot. From there climb 1442 steps to reach the lake. Not too easy but you can sure do it.
The steps takes roughly 25-50 minutes. It took me 40 minutes to the top. I was quite slow and took some breaks along the way. Tianchi is the Crater Lake with the Highest Elevation in the world. The view is rewarding.

From Tianchi parking lot, take a 30-minute shuttle bus ride to the Jinjiang Great Canyon. It's about 1 hour walking in the forest here. Easy and relaxing, and the forest air is so refreshing!

From the Great Canyon, take several-minute shuttle bus to the parking lot for King Pond. Change for a 3-minute bus drive to the start point for King Pond. It takes 20 minutes to walk to the pond. Take a walk round the pond and come back. Roughly you spend 50-60 minutes here. The way to the pond is flowers and grass against the mountains, quite a nice scene.

Then take shuttle bus directly to the tourism centre in the town which takes 40 minutes. This time we didn't change bus. I am not sure if this is always the case.

Around the tourism centre, there are many restaurants offering special local food for a good price with a huge portion.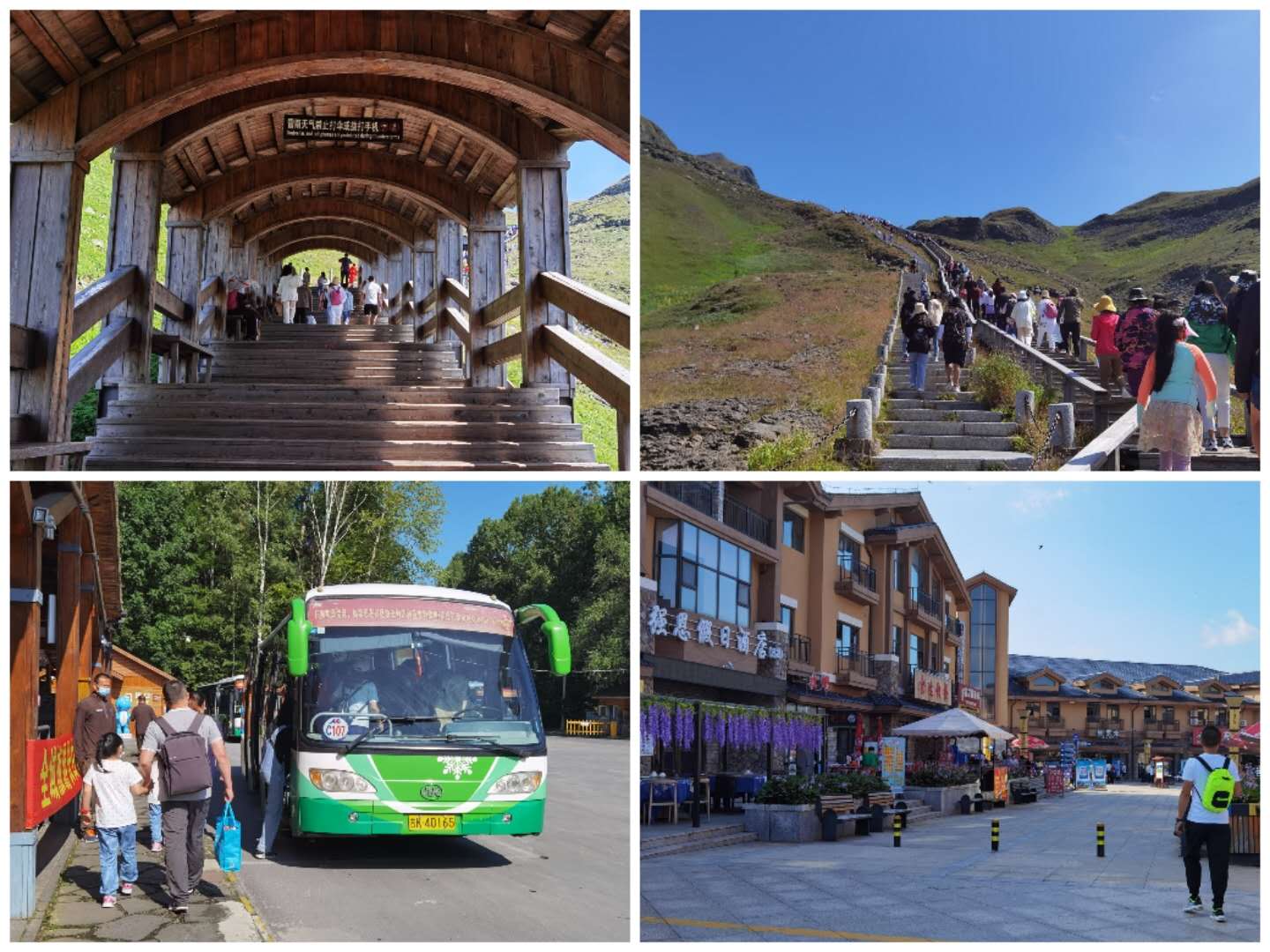 Day 5, 13 Aug 2020

Tianchi Lake, Changbai Mountain, north slope

Compared with the beautiful mild, green, flat west slope, the north slope is wild and rough but full of glamour, awe-inspiring. If you prefer to take the circles and circles of mountain drive than the 1442 steps on the west slope, you should come here as well. It's like real life roller coaster with beautiful scenes along the way.
Day 5, 13 Aug 2020

Songhua River Fall, Changbai Mountain, north slope

This fall comes out of Tianchi Lake and is the origin of Songhua River. Feel amazed to see where a river starts.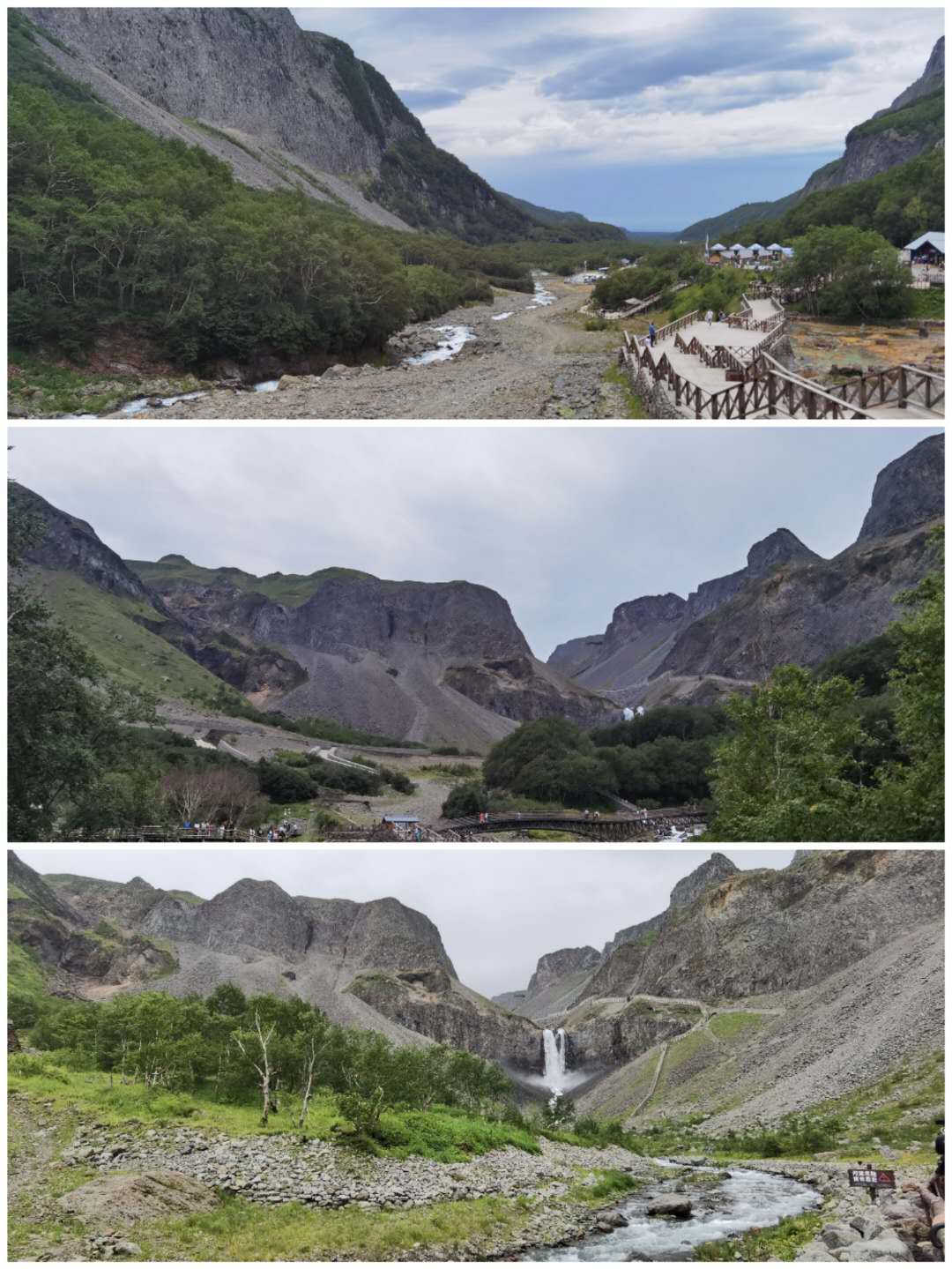 Day 5, 13 Aug 2020

Lvyuan Pool(green water pool), Changbai Mountain, north slope.

I show you the picture with and without visitors. ;-)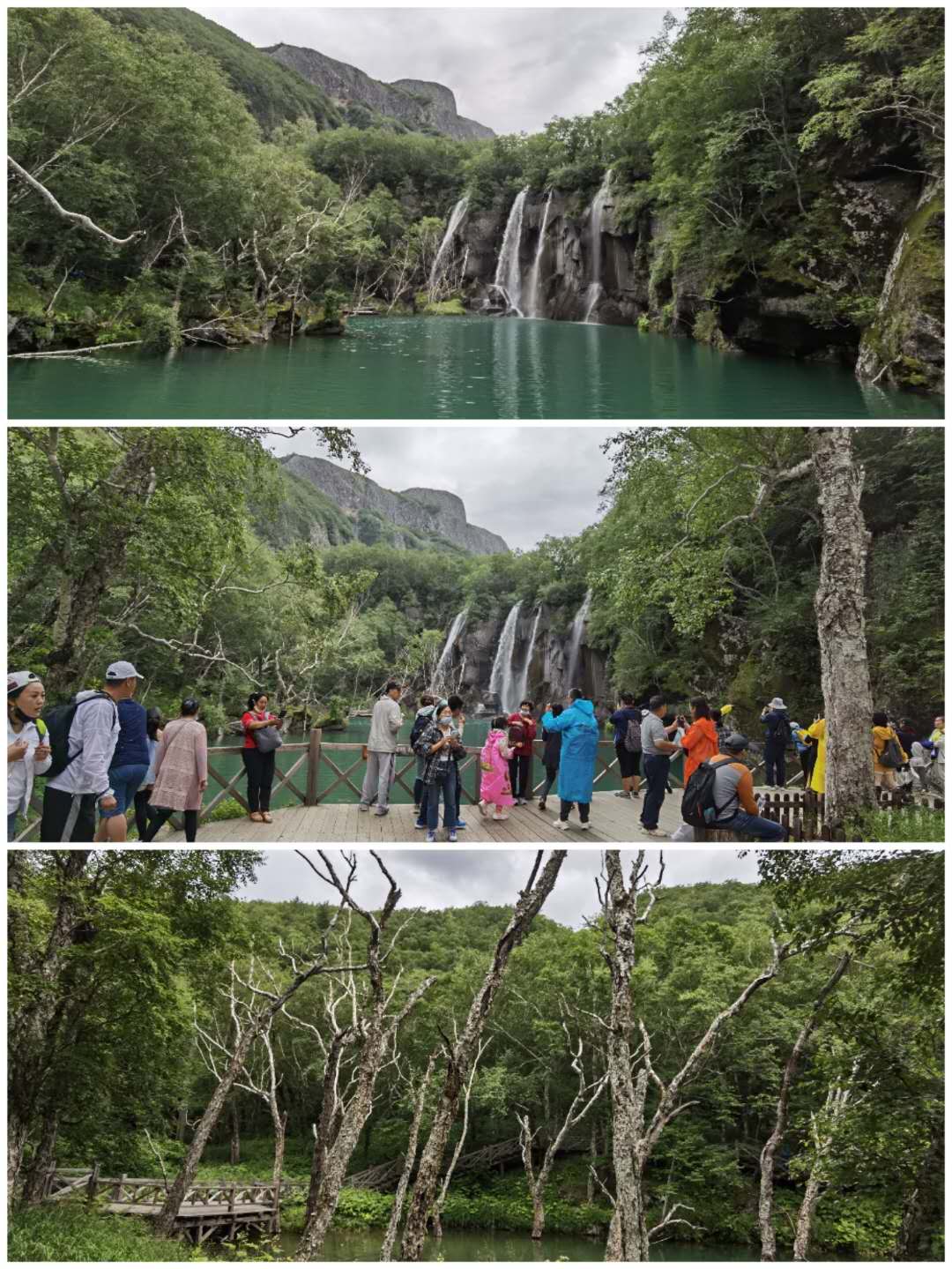 Day 6, 14 Aug 2020

Jinjiang Wood House Village

Only 30 minutes drive from Songjianghe Town, there's the last wood house village in Changbai Mountain area, Jinjiang Wood House Village. It was founded by a team of Manchu soldiers by the order of Emperor Kangxi in 1677. The houses are made of wood, wood walls, wood tiles, wood chimneys. Some of the walls are covered with clay. People still live here and it's free for visit. Some of the residents turn their houses into restaurants. The village looks nice and harmonious with the surroundings. You can walk by the houses or just climb the mountain where it's located.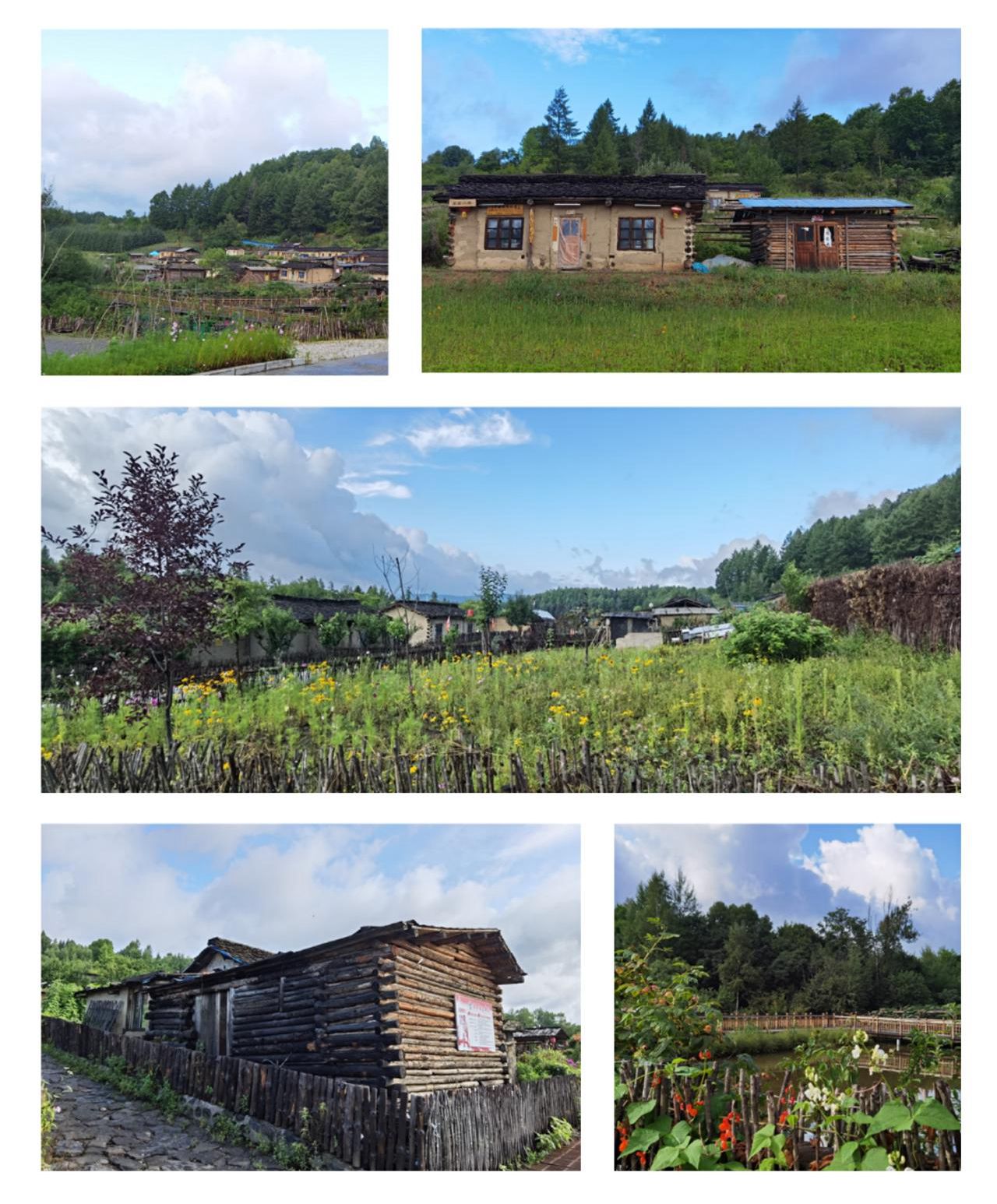 Day 6, 14 Aug 2020

Scenes along the Yalu River

From the Wood Village we continue our way. A big part of the road to Swan-gazing Scenic Area is along the Yalu River, which separates China and North Korea. The view is very beautiful with green mountains on both sides. Let me say it kept me awake during the car ride which is not always the case. With a few stops on the way, I had a glimpse of some villages and a city on the North Korean side. At one spot, it felt so close as if you can just walk across the river within several minutes.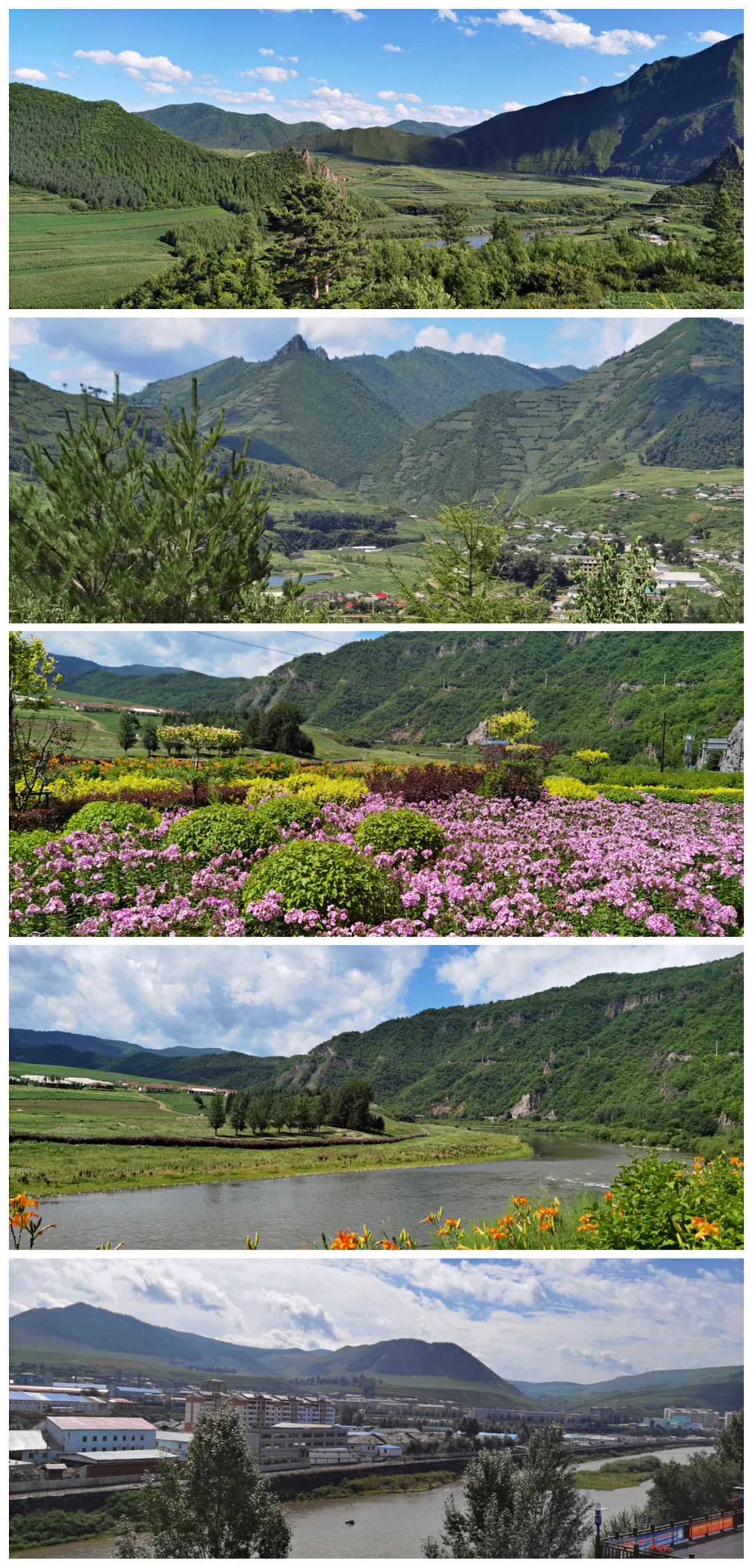 Day 6, 14 Aug 2020

Swan-gazing Scenic Area(Wang Tian'e)

It's located in Shiwudaogou Valley, one of the many valleys in Changbai Korean Autonomy County, about 3.5 hours drive from Songjianghe Town. A vibrant river flows through the valley. It is a pleasure to walk the plank road in the forest on the slopes. You see many big and small falls, springs, strange stones. The water is everywhere, not only in your eyes, but also in your ears. It's an ensemble by the running river, the falls, the drippings, and the creeks.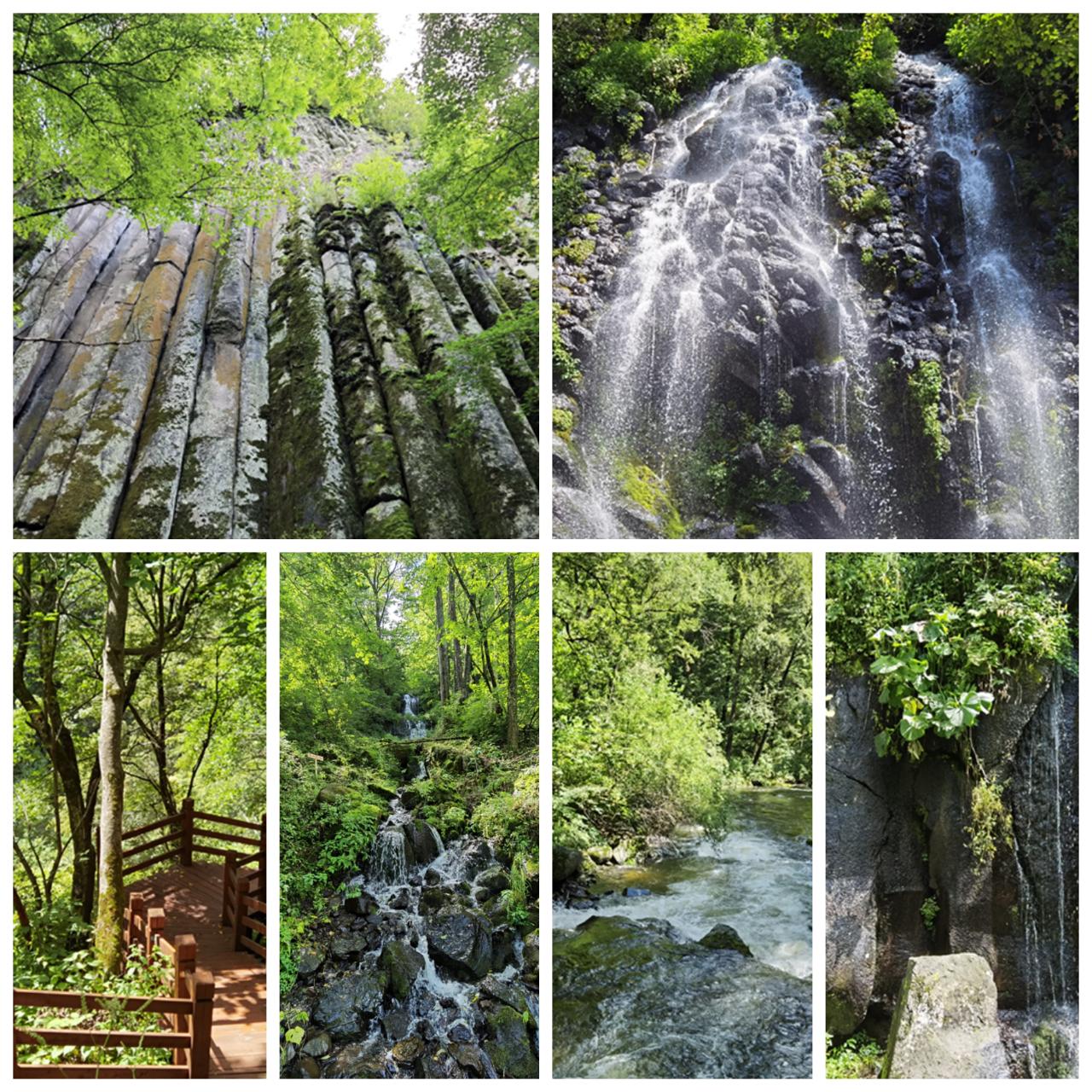 Day 7, 15 Aug 2020 Today I visited two free places: Songjianghe National Forest Park, 4 km from the town center, an original forest with plank roads to walk through; The Flower Sea in Fusong County, 11km from town center, a vast field of flowers. Not very impressive compared with previous places but it's good to slow down a little bit before the bus journey to Changchun city. At 14:00 the express bus departed Songjianghe and arrived in Changchun city at 17:30. Glad it is one hour early then mentioned on the ticket.
Day 7, 15 Aug 2020

Changchun City, capital of Jilin Province
After 3 quiet nights in Songjianghe Town, back to the busy city night, not bad! But I am so sorry I ate more than I should.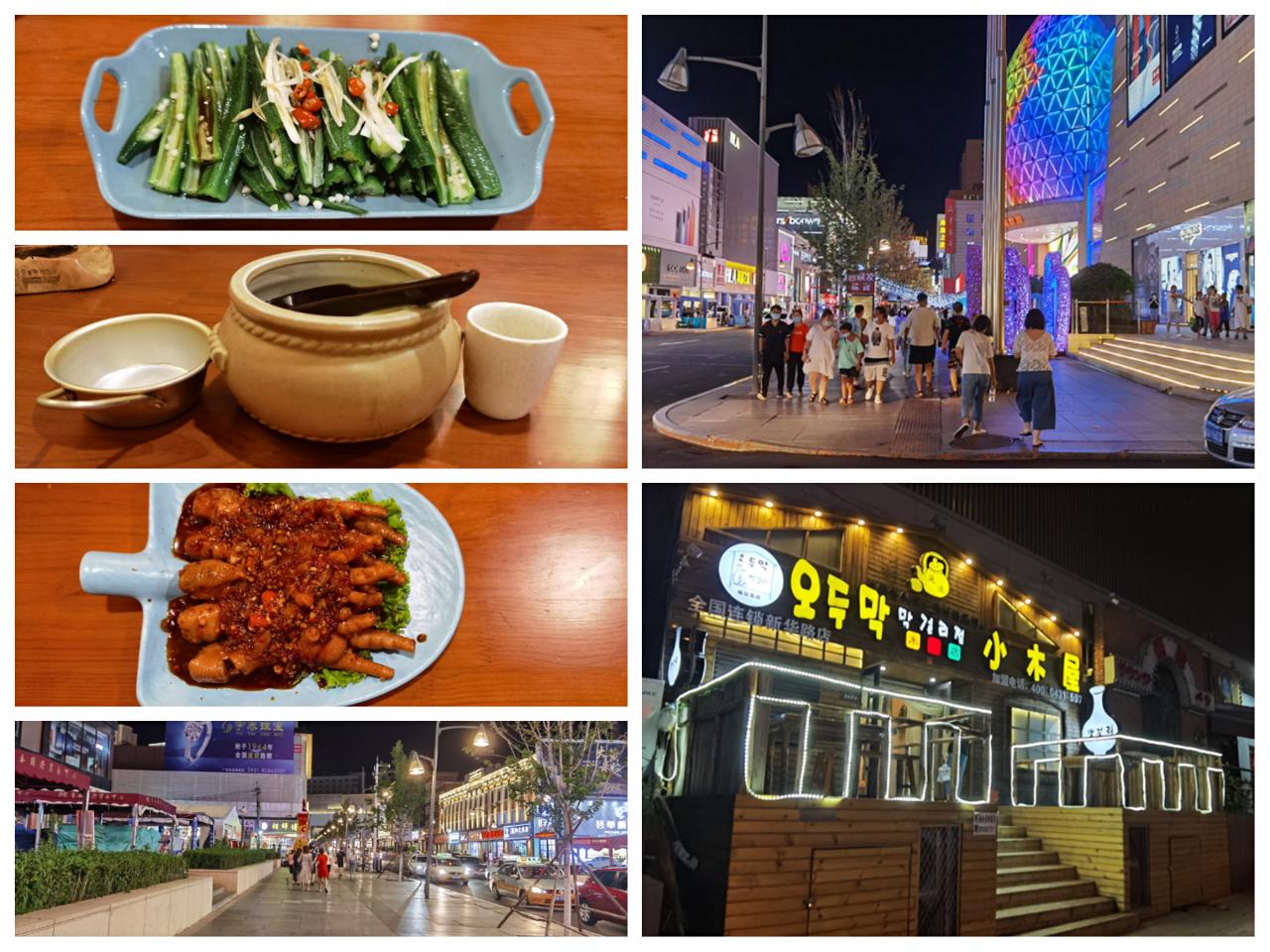 Day 8, 16 Aug 2020

Palace Museum of the Manchurian Regime

It's the top one must-see in Changchun, at least for a Chinese visitor. There is barely any English introduction here. With many buildings and exhibitions, it's very educational regarding the life of the Last Emperor Puyi and the Manchurian Regime(1932-1945) controlled by the Japanese. I have been here for 3.5 hours and still haven't finished the visit, exhausted physically and mentally. ;-)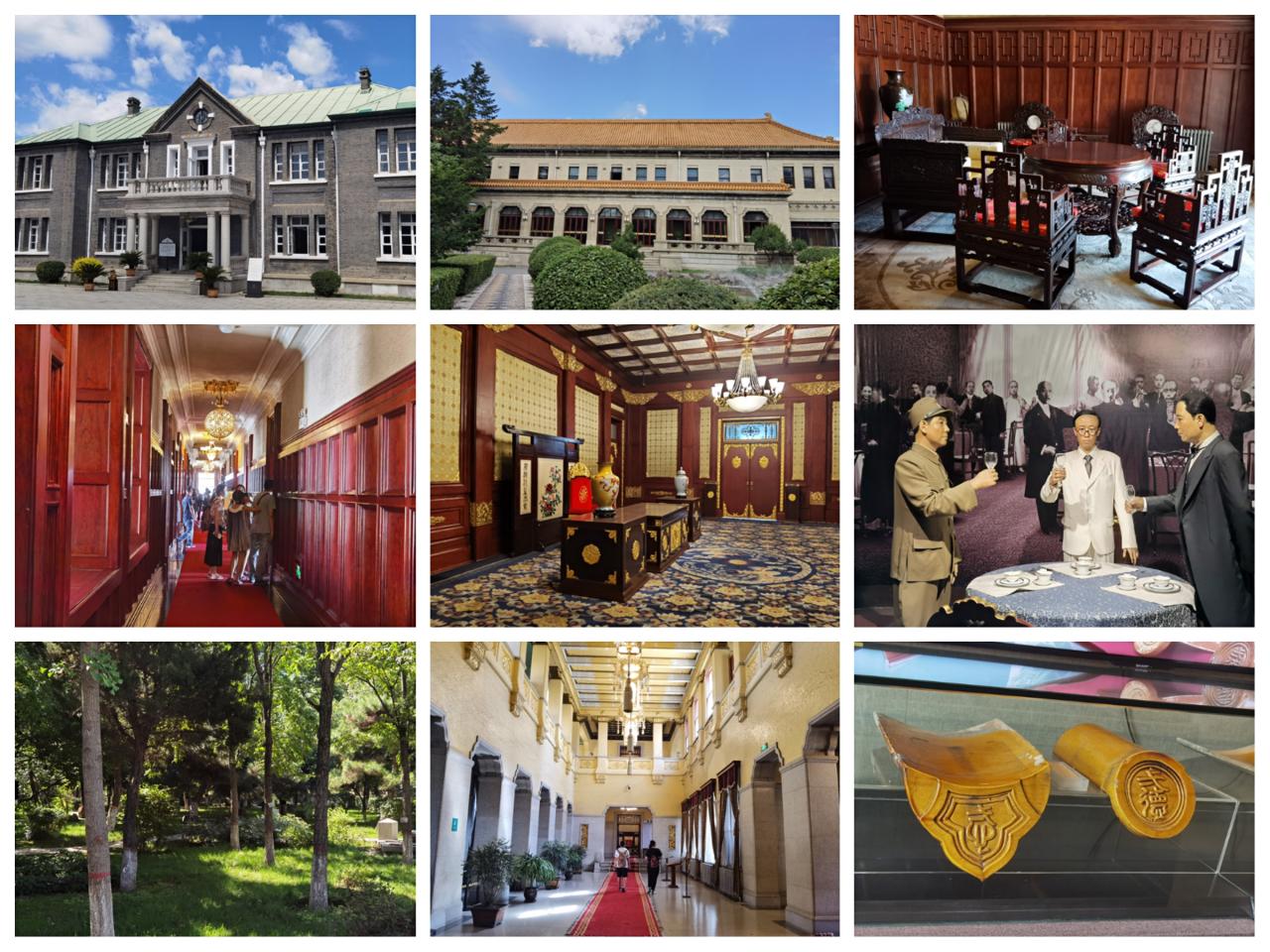 Day 9, 17 Aug 2020

I went to Jingyuetan National Scenic Area by metro which took about one hour from Renmin Square. It's a very green park with a big pool surrounded by forests and wetlands. You can walk the forest footpath around the pool or take the shuttle bus if you feel tired. I wanted to finish the walk but it turned out not possible for its size, also because it's raining. Then I took metro to Guilin Hutong(lane) which is flanked by small restaurants all the way. I had my lunch/dinner in a bigger restaurant nearby. Mind you, in the North East of China, the food portions are bigger than elsewhere. In Changchun, there are two other most popular tourist spots that are worth visiting but I didn't go: Changying Century City, a special effects movie theme park, and World Sculpture Park.

Tonight I will take 1.5-hour high speed train to Harbin.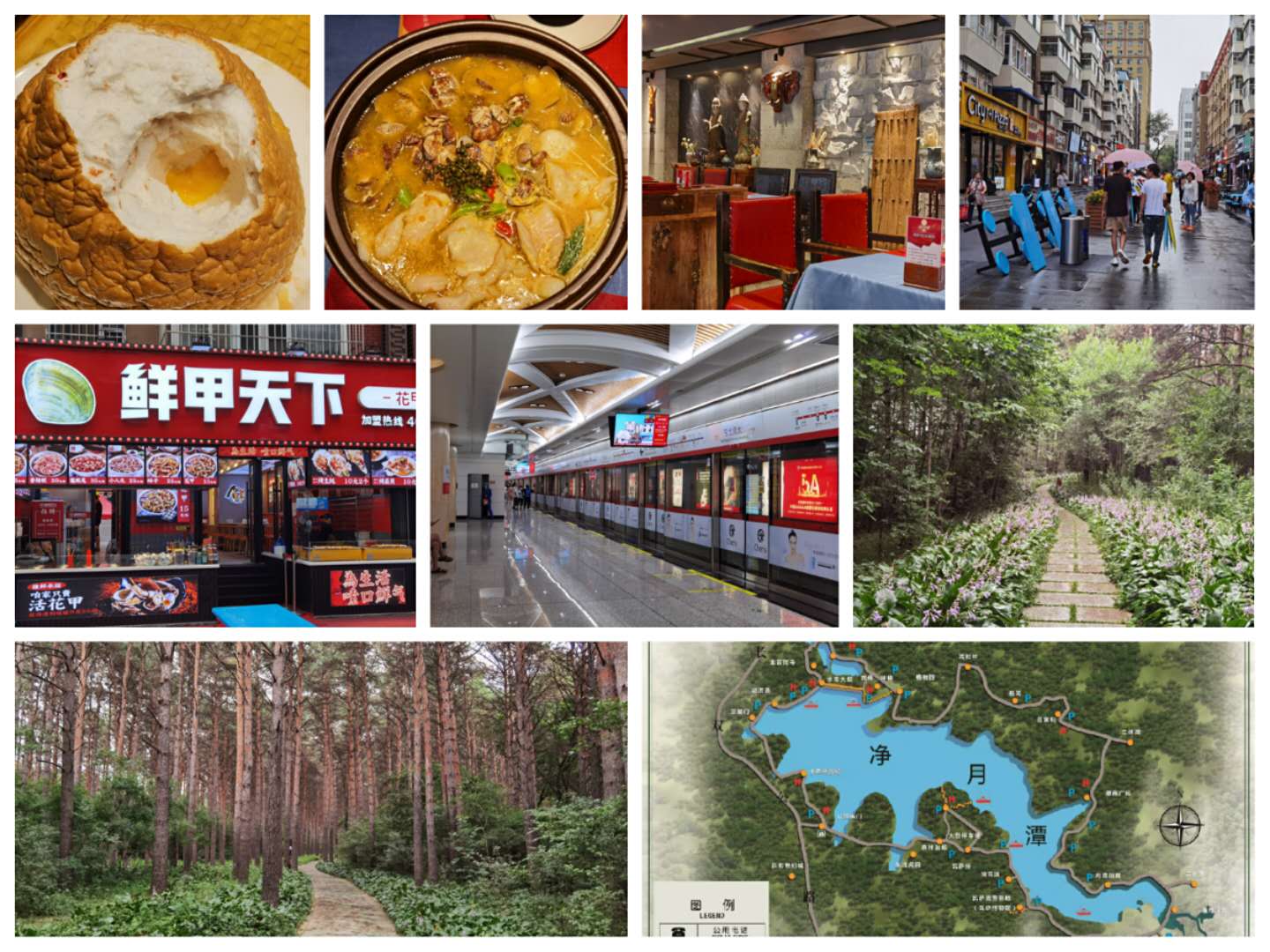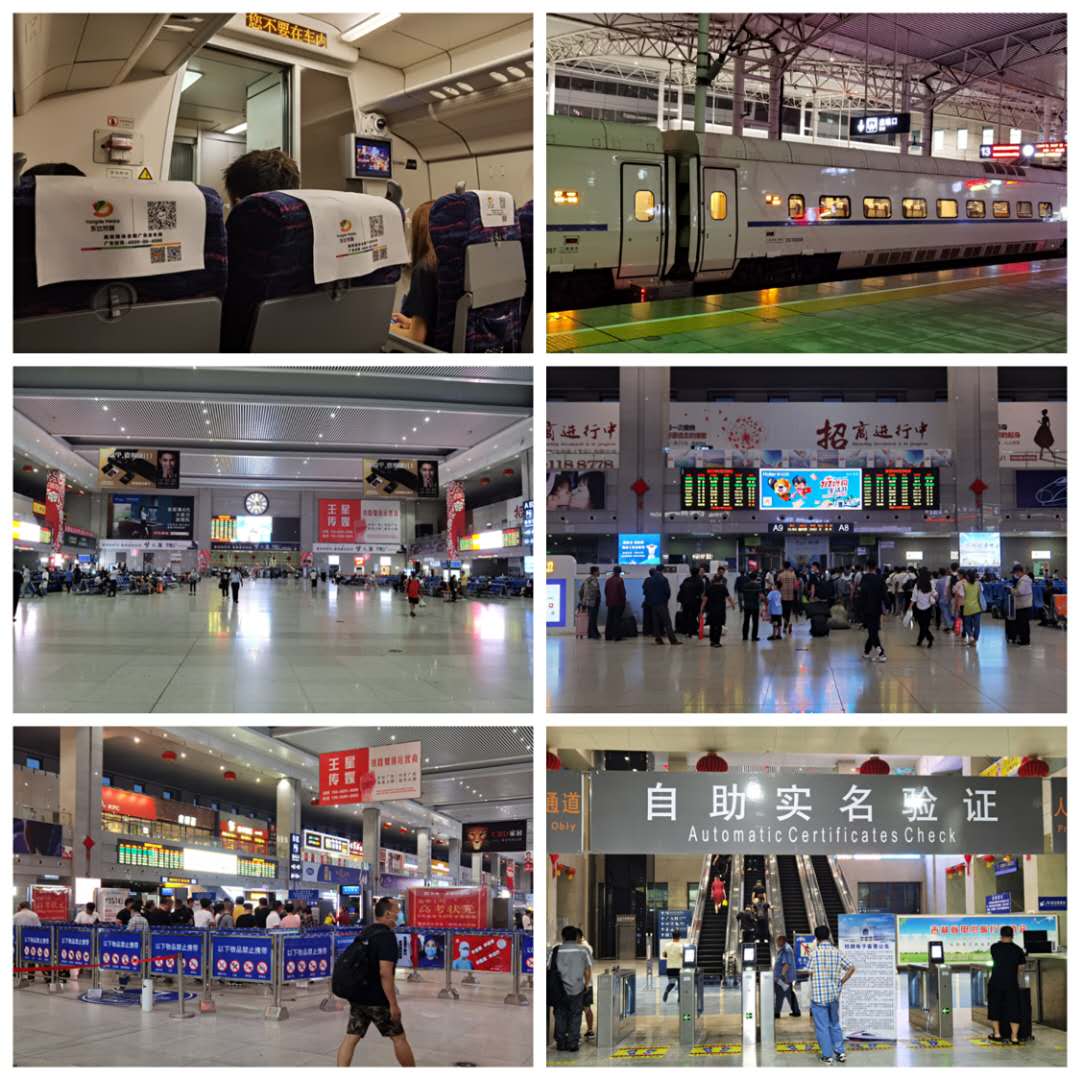 Day 10, 18 Aug 2020

As a visitor, I can conclude the impression of Harbin, the capital city of Heilongjiang Province, with 2 words: Russian Influence.

The beginning of the modern urbanization of Harbin is inseparable from the construction of Chinese Eastern Railway, which started in 1898, by the intention of the Russians. Thousands of strong industrial and commercial enterprises were established by Russian immigrants within 10 years. Now walk around the city you can see Russian style old buildings in many locations. You come across the sign"heritage architecture" very often. The one place that you can see most Russian style buildings is Zhongyang Street(central street) which is still the most popular place in the city with many restaurants, shops, cafe, department stores, hotels, stalls etc.

The Russian influence is also in the daily life of the local people, what they eat and drink, even how they entertain and appreciate art.

Harbin is named Music City by the UN not without a reason. Walk along the Zhongyang Street, you hear the Russian music playing through the broadcasting system.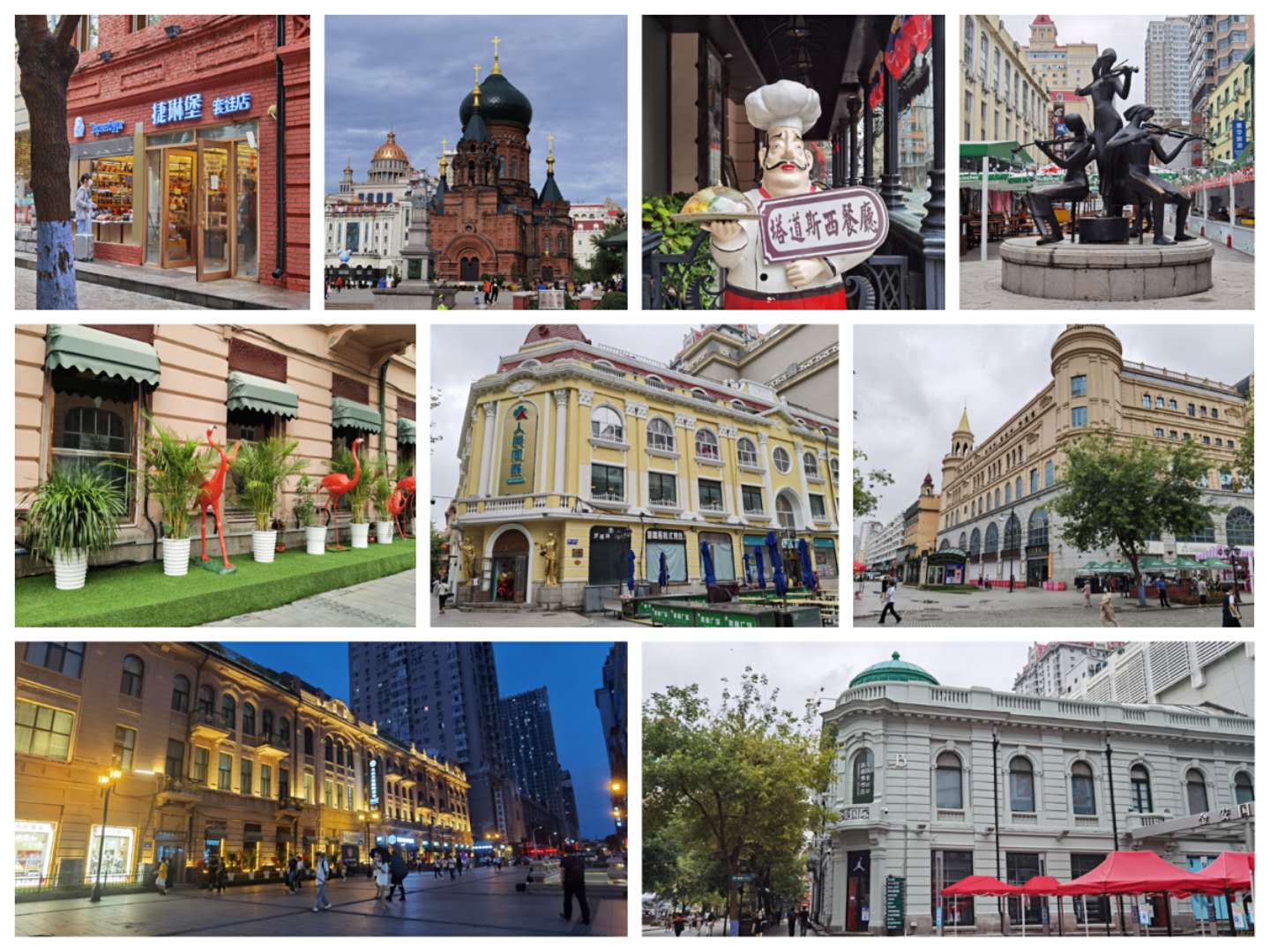 Day 10, 18 Aug 2020

Other places of Harbin

I have wanted to come to Harbin for years, because of one place: Ice and Snow World. Check how fairy it is online. But it doesn't exist in summer time. So I went to some other places, mostly by bike and foot. 1.Heilongjiang Provincial Museum Again very worth visiting for a Chinese. I get to know the history and culture of this vast area more. 2.Guandong Old Street(Guandong Guxiang) It's an indoor street designed to relive the old times in Harbin. Not interesting. But I had a good lunch in the adjacent department store. 3.Zhaolin Park A very lively park with entertainment facilities, close to Zhongyang Street. 4.The long park along Songhua River(originates from Tianchi Lake, remember?) A cool place to walk and chill.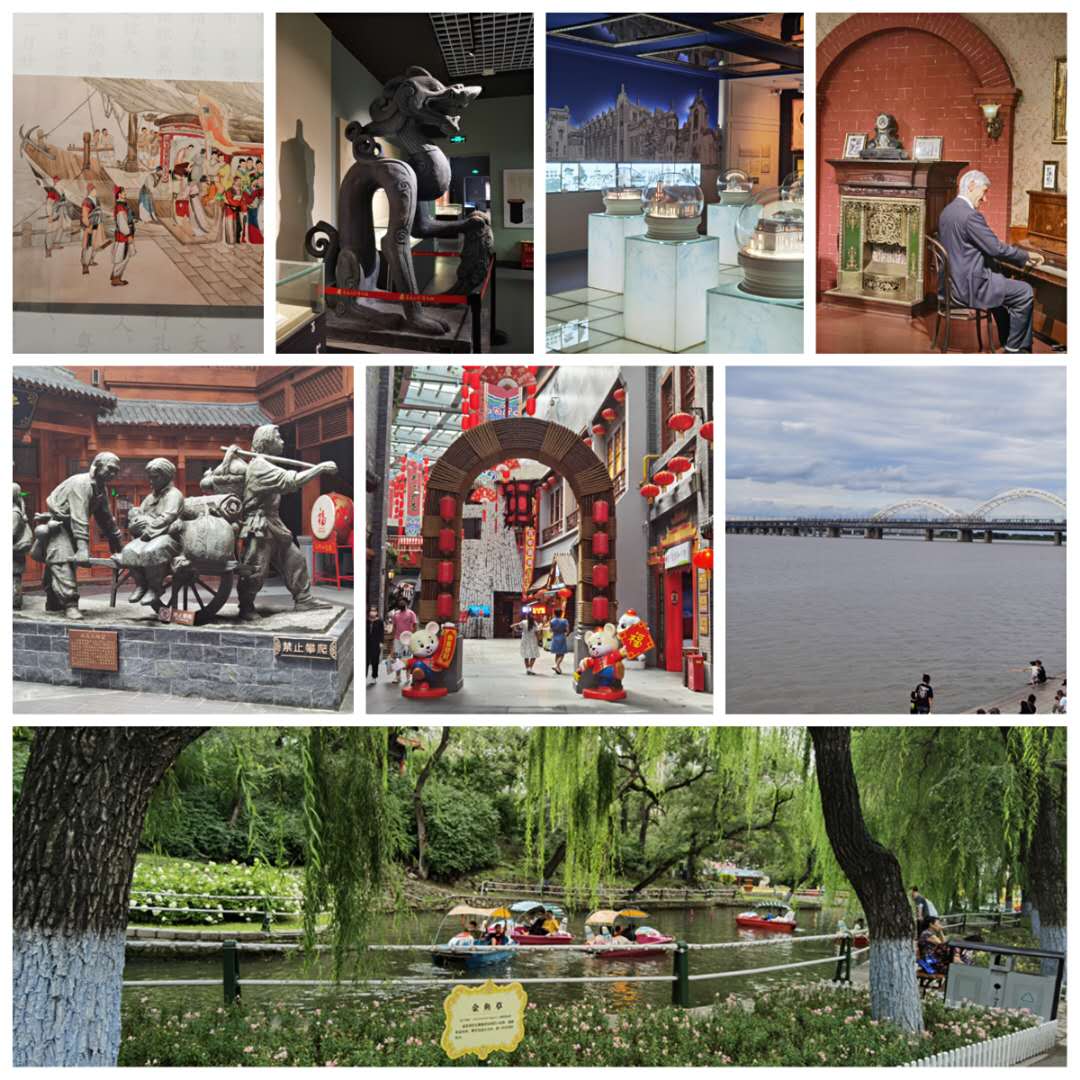 Day 10, 18 Aug 2020 Night life on Zhongyang Street!

Surprised to see the number of people on the street at night is about triple that in the morning. Food, books, clothes, gifts, all for sale. There is even a small concert held on the balcony of the famous Modern Hotel. Good to stay on this street.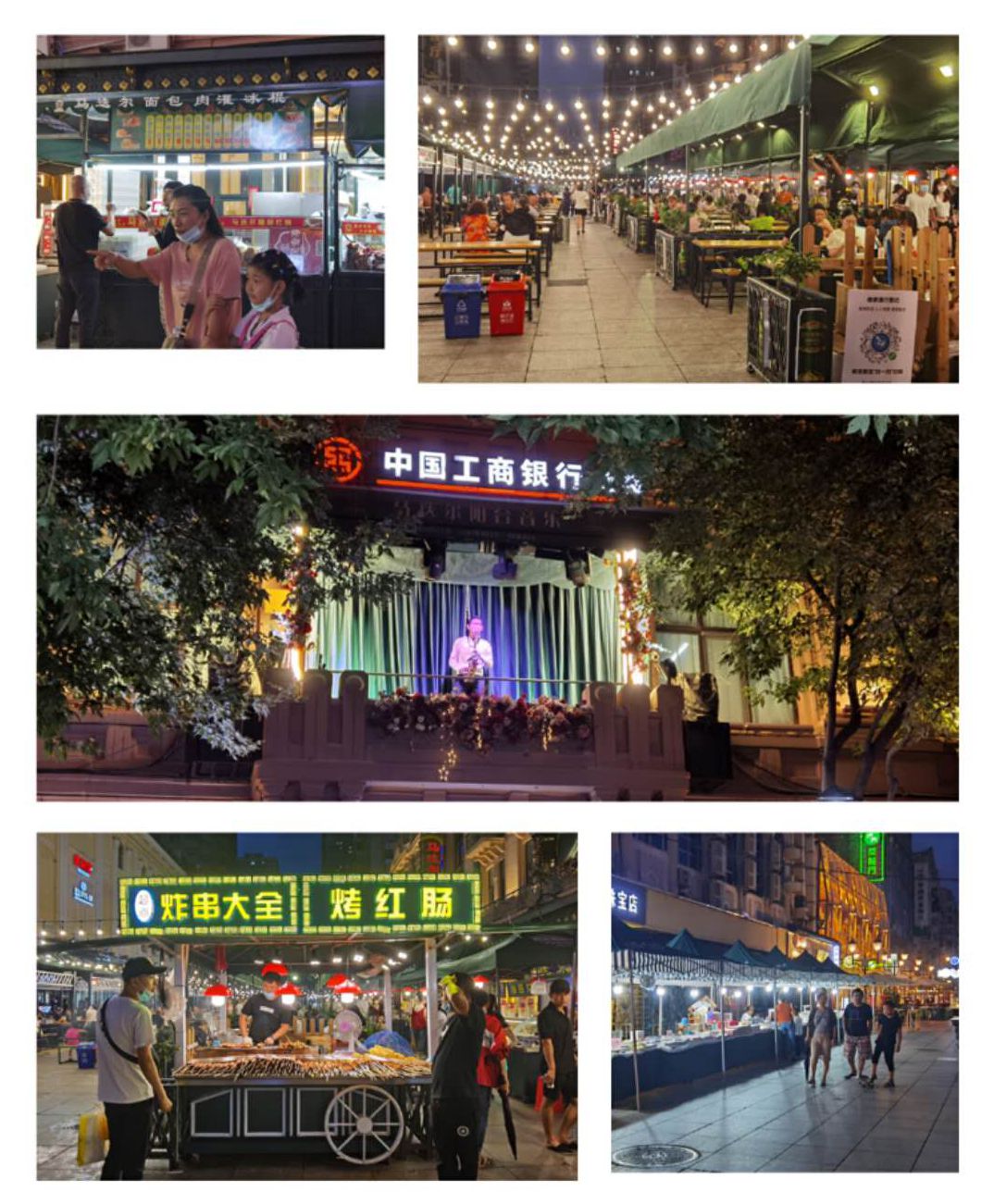 Day 11, 19 Aug 2020

I took high speed train Harbin-Jiamusi(0806/1037), then walked several minutes to the long distance bus station to take bus Jiamusi-Tong Jiang(1130/1450). Tong Jiang is a small city under the administration of Jiamusi City. I just walked around the Tong Jiang bus station and checked in a hotel. Later I took a10-minute taxi drive to Sanjiangkou Scenic Area, which is AAAA level but free for visit. Sanjiangkou is where Heilongjiang River and Songhuajiang River meet but not mix. You can see the black Heilongjiang water runs parallel to the yellow Songhuajiang water. On the north bank of Heilongjiang, is Russia's land. It's an international port city that has a lot of trading with Russia. Tong Jiang is famous for its fish cuisine. I could only order one dish. It tasted good but the small bones were a bit hard to deal with.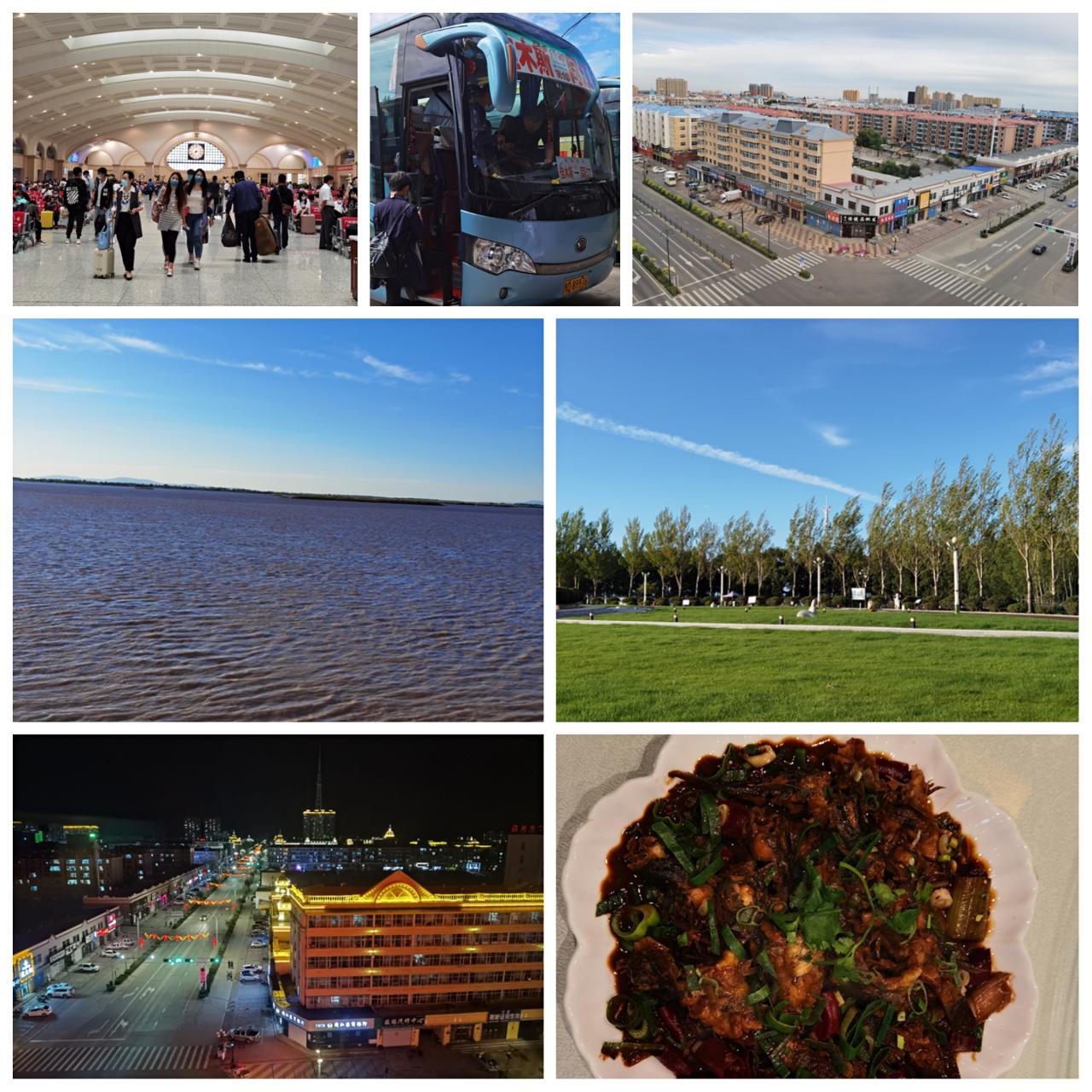 Day 12, 20 Aug 2020

Morning starts early here. I woke up at 04:10 am because it felt like day light in the room and there's the sound of a group of soldiers/or police training on the street. Then through the window I saw the sun was rising halfway. Didn't know the sun could be so early. Then I got up at 6:10 and walked to the bus station to take the bus that departed Tong Jiang at 07:20 and arrived in Jiejinkou Village at 08:30. The village is 45km away from Tong Jiang, at the foot of Jiejin Mountain, with a lake closeby, and facing Russia across the very wide Heilongjiang River. I walked in the village, climbed the mountain and took a 10-minute speedboat ride on the river. Very good combination of activities. For me, as a person who has always lived inland, it's especially fascinating to look at Russia across the river though I only saw some trees. It feels open, boundless.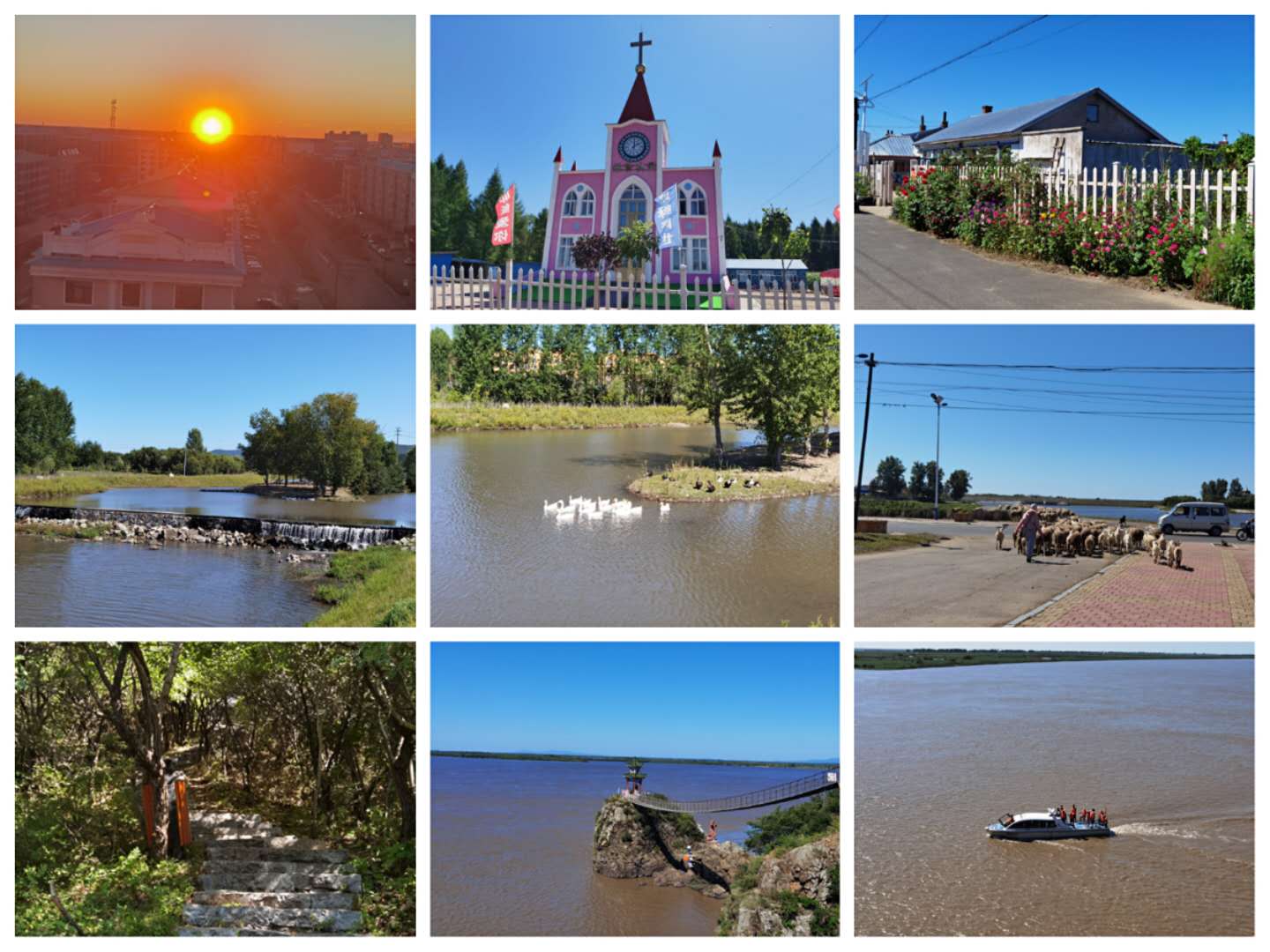 Day 12, 20 Aug 2020

Jiejinkou Village is where Hezhe people live. It's one of the smallest ethical groups in China, with a population of about 5000 only. Their life used to depend on fishing. In Jiejinkou Village, fish is still everywhere. There are fish paintings, fish sculptures, fish skin handicrafts, fish decorations etc. Of course the most predominant food is fish. They have many ways to cook the many kinds of fish from the river. This time I chose a fish without bones, yummy!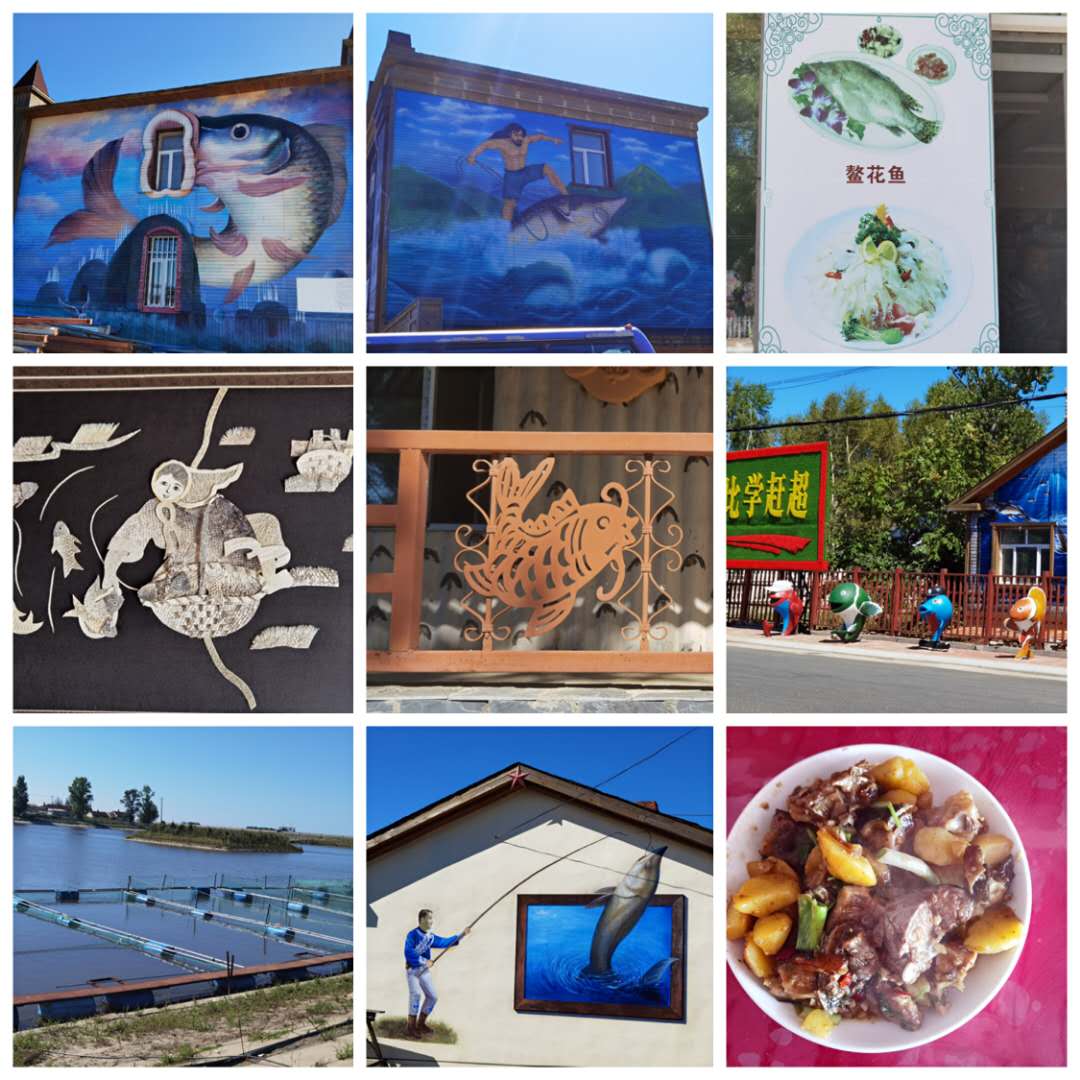 Day 13, 21 Aug 2020

At 6:30 my bus left Tong Jiang and arrived at Jiansanjiang Station around 7:50. Then I took train Jiansanjiang-Fuyuan(0802/11:49) which is a slow old train. You can choose seat, hardsleeper or softsleeper. Fuyuan is a small city. On the Northeast-southwest roads, you see Heilongjiang River at the Northeast end and the mountain/hill at the Southwest end. On the Northwest-Southeast roads, you see mountains/hills at both ends. It's easy and enjoyable to walk around. Besides the river side, the hills, I also visited Fish Museum and a fish market. Fish Museum takes only less than half an hour to visit but costs 50CNY, not very worthwhile.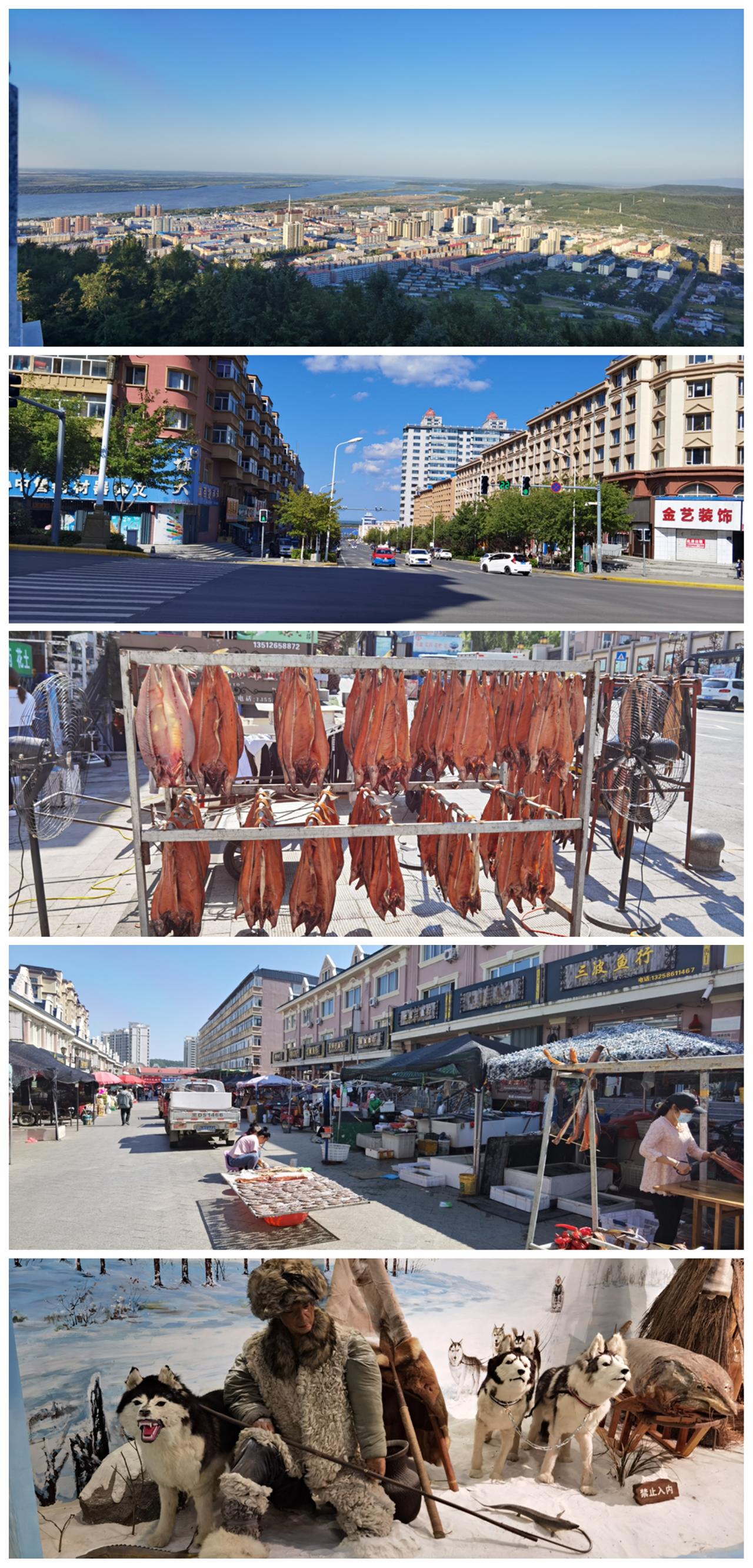 Day 13, 21 Aug 2020

I almost got lost in the forest on one of the hills today. For a person who doesn't often encounter adventures, that makes an adventure story. The hills around the city look small. My plan was to walk from the West Hill, through the forest trails, all the way to the South Hill. At first it felt normal, then the trails got narrower and I started to wonder why there was nobody there. After around 40 minutes walk, the trail seemed less and less visible. I felt uneasy and stopped to check the route on my phone. There was no signal. It could only tell the direction. I decided to turn eastward, the city side, though there was no paths in sight. On the way I got spider nets on my cap and my glasses. I felt something on my bare feet and saw several huge mountain ants there. And there were many many ants on the ground...It seemed they hated the intruder and wanted to scare me away. I concluded this was not a good idea and wanted to go back to the trail where I came. For some time I couldn't find it. I picked up a big tree branch as a weapon to help move and also as a weapon in case there's snakes. To be honest, I was a little scared. I told myself to focus on finding my way back and finally I was on the trail.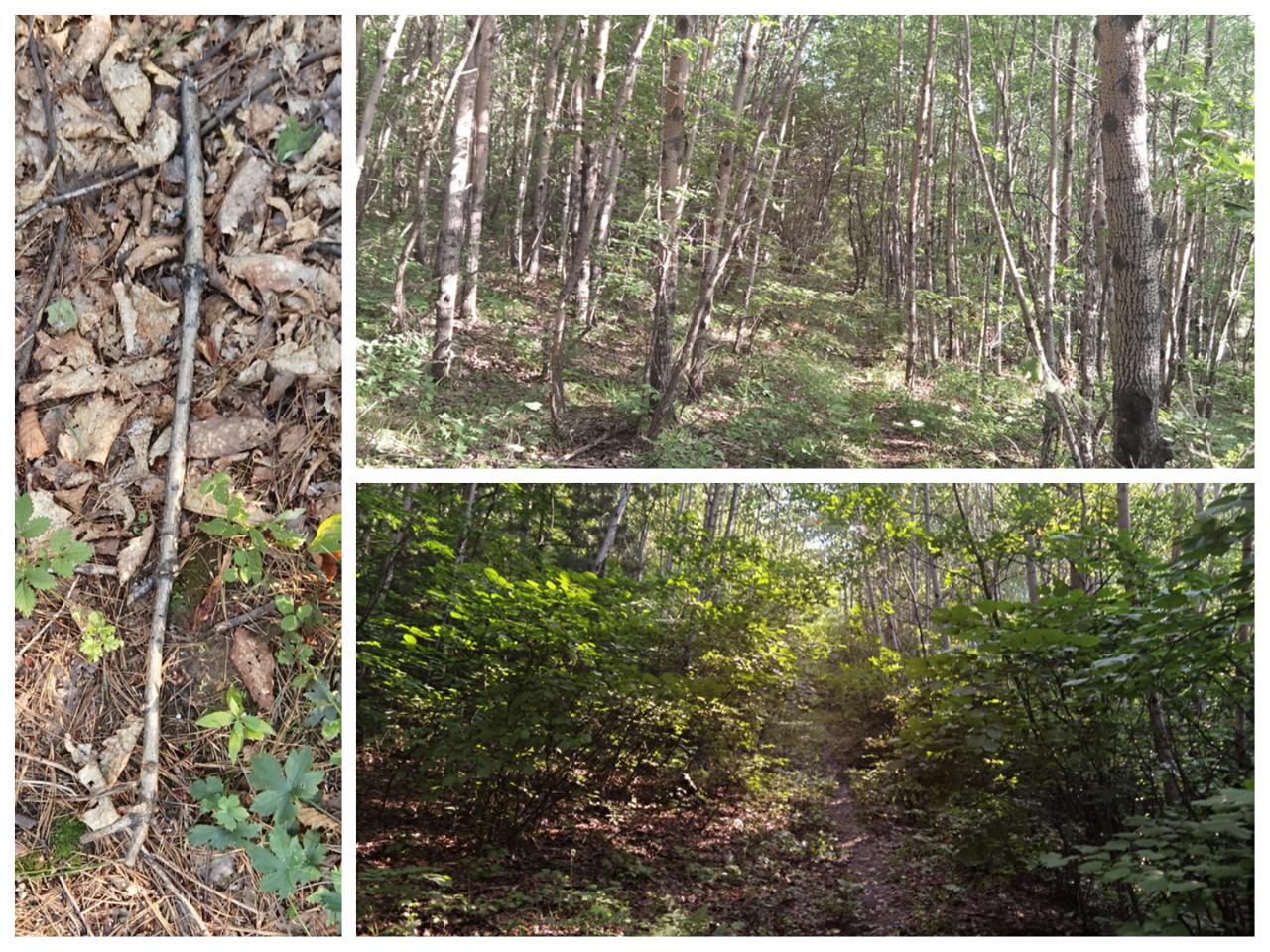 Day 13, 21 Aug 2020

Later I met some locals at a crossroad on my way back. They told me the trail I took has a dead end and I should take another one. I finished the right trail which ends at a temple. The temple offers the best point to overlook the city and the surrounding areas. Felt good up there!

Lessons learned:

Don't underestimate a hill/forest;

Don't go deep into a strange forest;

Stick to the paths in a forest;

If you feel something is wrong, it's wrong... Stop it.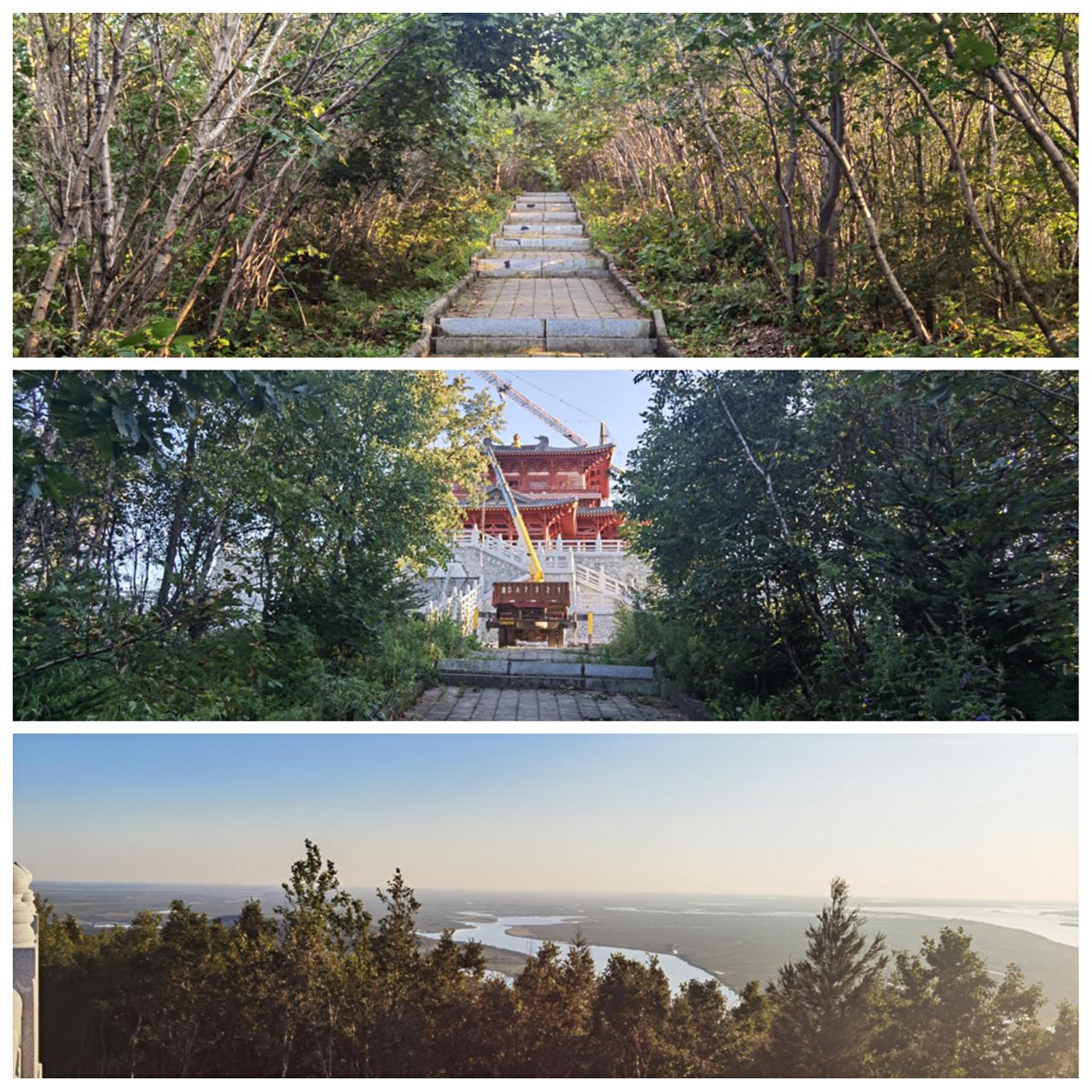 Day 14, 22 Aug 2020

The public bus departed Fuyuan bus terminal at 8:30 and arrived at Dongji Square(easternmost square) at 09:10. As a sign shows, it's 1714km from Beijing!

In the center of the square there's a huge sculpture of the character East, which looks exactly the same from 4 directions. The highlight here is: Heilongjiang River and Wusulijiang River meet here and join together. The left(west) side is Heilongjiang which is yellow now after Songhuajiang mixes with it in Tong Jiang. The right(east) side is Wusulijiang River which is black/blue(in fact clear, unpolluted). They are both border rivers between Russia and China. Here Heilongjiang runs West-eastward, Wusulijiang runs South-northward. You can see the Russian village on the other side of the river.

I like to see border rivers because it feels they don't care which country they are running through; they just run their own course. I also like to see great rivers join because it feels they come from afar, make friends with each other, and gladly become one.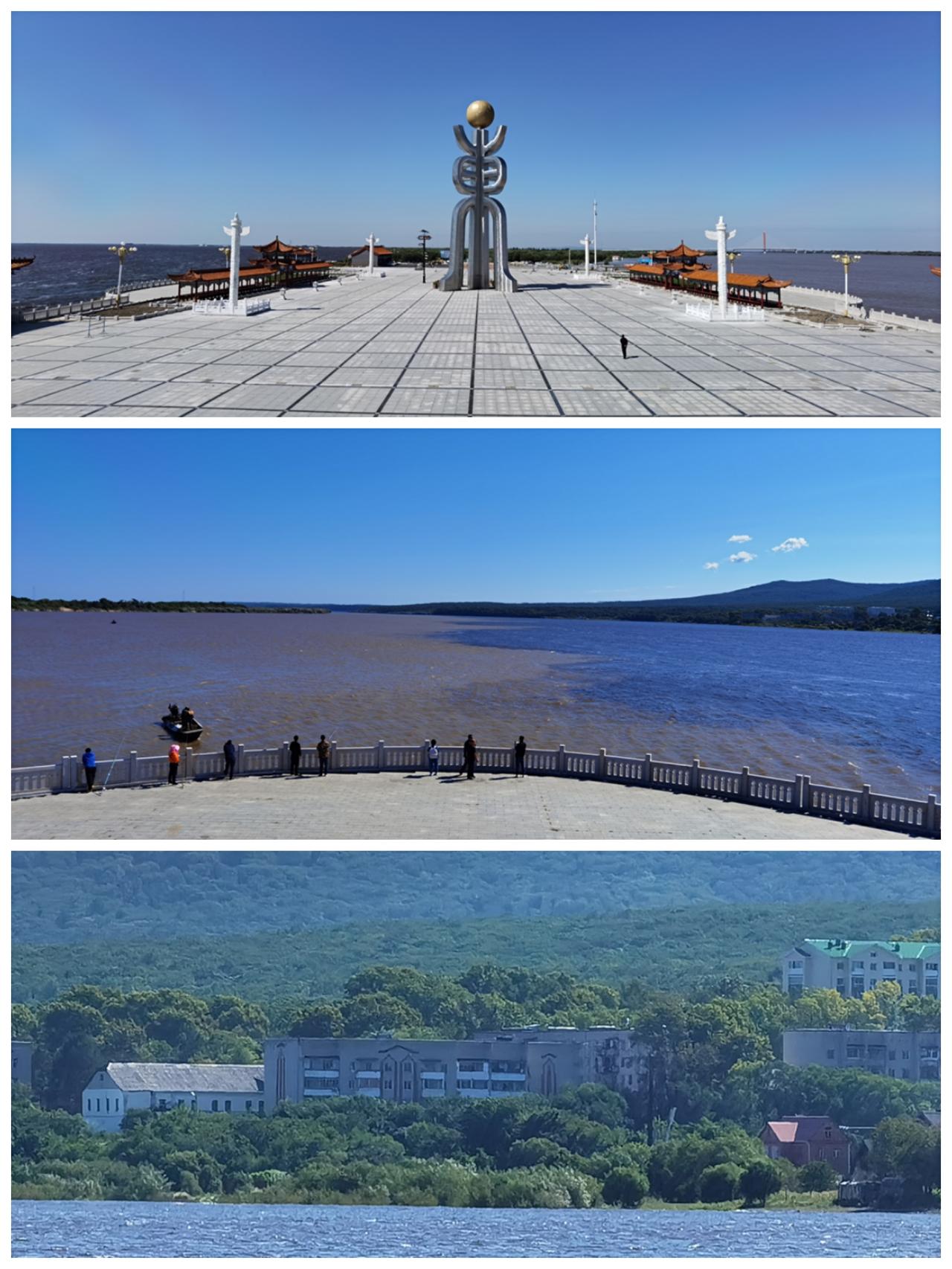 Day 14, 22 Aug 2020

From the square we continued to the nearby Heixiazi Island. The west half of this island belongs to China, and the east half belongs to Russia. The island's name Heixiazi means the black blind, which is a nickname for the black bear in China. 3 sites to visit here, connected by shuttle bus: Wetland: enjoyable to walk through the wetland on the wooden plank road. Beautiful scenes. Dongji Tower: offers great bird's view of the vast and broad area. Wild Bear Park: there are over 120 wild bears here. I also saw a wild boar.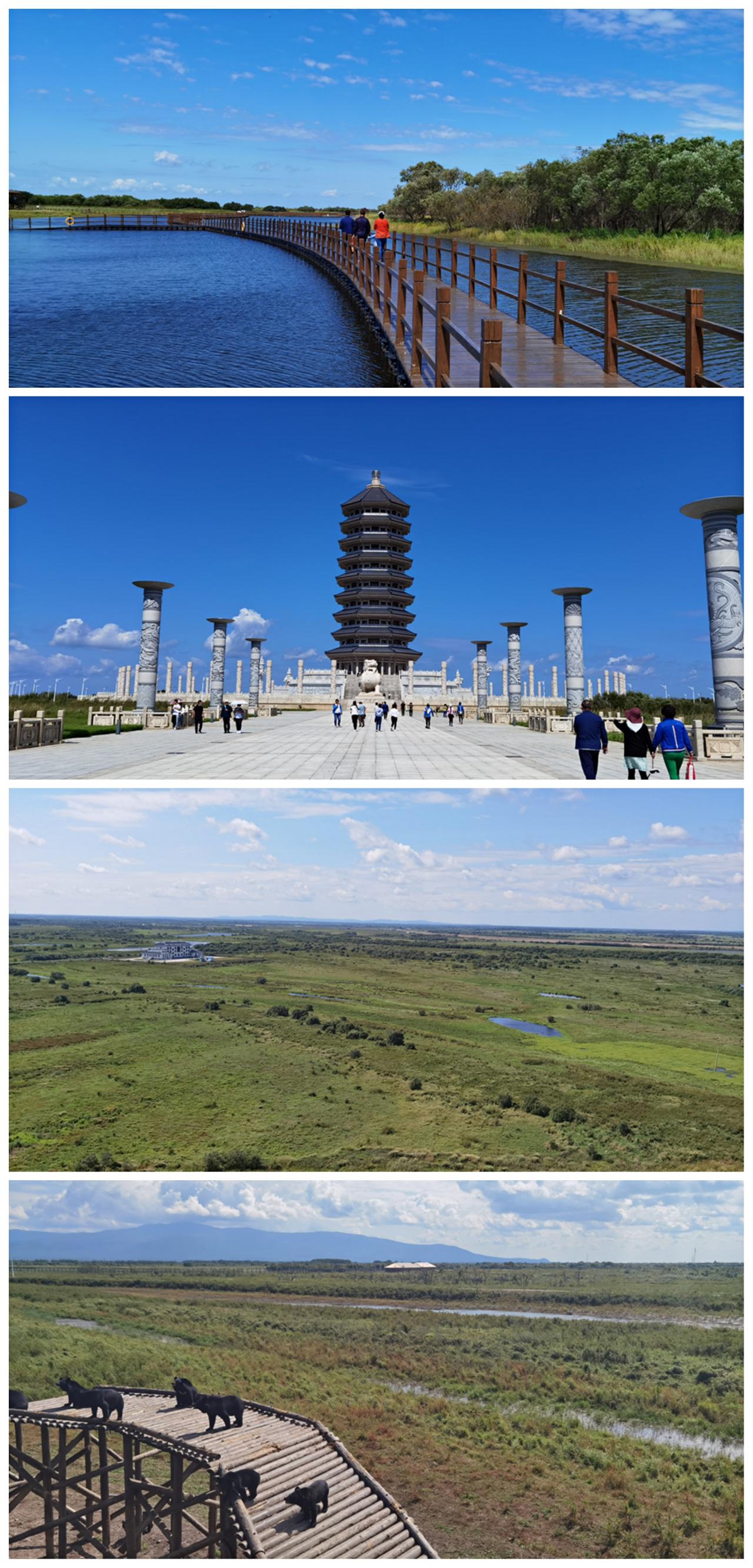 Day 16, 24 Aug 2020 Back home in Beijing this morning.

The long journey began yesterday morning, flight Fuyuan-Harbin, Harbin-Tianjin(original Beijing was changed to Tianjin due to storm), overnight in Tianjin, then high speed train Tianjin-Beijing. Had a fun trip. Very Grateful.
By Angie Guo - Charmission Travel